Als je de afgelopen Deep Dives hebt gevolgd, dan weet je dat we niet moeten vergeten om voorzichtig te blijven met het investeren in cryptocurrencies, en al helemaal met het praten over het fenomeen. Want crypto is een fenomeen geworden vandaag de dag, dat mogen we wel stellen. Maar dat geldt niet voor alle landen. Bepaalde landen lijken bijvoorbeeld een significante positie in goud te hebben, en dat zal niet zonder reden zijn. Wij denken dat dit grote gevolgen kan hebben, en dat het de spil wordt van een mogelijke machtsstrijd tussen de verschillende geopolitieke spelers.
Hiervoor moeten we de wereldkaart erbij pakken. Als je het nieuws van de afgelopen paar jaar een beetje hebt gevolgd, dan weet je dat een belangrijke bron van geopolitiek en economisch nieuws China is. Waar het land in de vorige eeuw nog niet noemenswaardig was op internationaal vlak is het tegenwoordig één van de belangrijkste landen ter wereld. China heeft inmiddels op verschillende vlakken wereldwijd een flinke vinger in de pap. Hoe groot de economie van China precies is is discutabel, China houdt zich namelijk niet aan exact dezelfde maatstaven als veel andere landen.
Economieën kampen met een zogenaamd 'trilemma', dat inhoudt dat landen van een vrij kapitaalverkeer, soeverein monetair beleid en een vaststaande wisselkoers er slechts twee kunnen kiezen. China denkt dat het mogelijk is om dit alle drie tegelijkertijd te doen. Hier zijn veel economen het echter niet mee eens. Het oosterse land lijkt echter een uitweg te hebben.
Oosterse landen zijn namelijk met name gebaseerd op een soort eerbeginsel, terwijl westerse landen vooral vrijheid en openheid als belangrijkste waarden beschouwen. Daarom is de Chinese overheid in staat om ongelofelijk veel macht uit te oefenen op zijn bevolking, en is er vaak maar weinig informatie over Chinese staatsbedrijven. Het land is ook enorm georiënteerd op de lange termijn. Dat is een enorm pluspunt voor China, veel bedrijven in andere ontwikkelde landen lijken namelijk het eerstvolgende kwartaal belangrijker te vinden dat het komende decennium.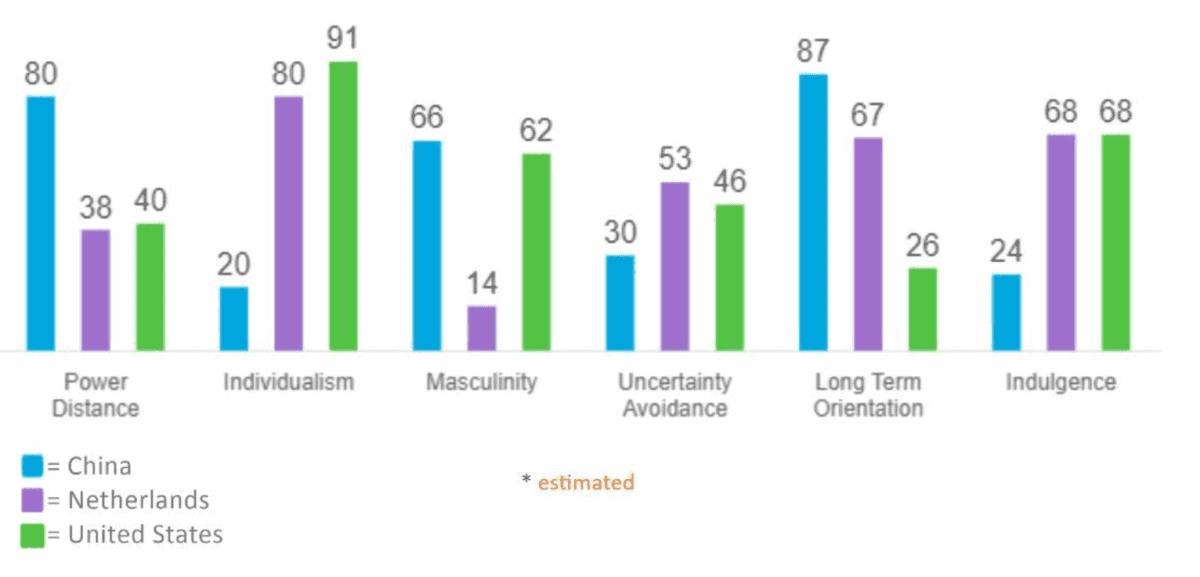 Afbeelding 1: In China vindt men een lange termijnvisie belangrijker in het westen. Bron: Hofstede Insights.
Dit grote verschil is zeker in de discussie rondom cryptocurrencies en goud belangrijk. China's 'spel' is namelijk wie de langste adem heeft, terwijl Europa en Amerika hier niet echt in mee lijken te gaan. Het westen was de afgelopen eeuwen namelijk de 'top dog', dus waarom zouden westerse landen zoveel moeite doen om hun positie te behouden? Dat is wat de afgelopen eeuwen immers vrijwel moeiteloos ging. Het vasthouden van goud is voor sommige landen niet gemakkelijk. Veel critici zeggen doorgaans 'goud heeft geen yield'. Je moet het zien als een soort spaarpotje, en daarom hebben landen uithoudingsvermogen nodig om het vast te kunnen blijven houden.
Een beroemde uitspraak van de gelijknamige oprichter van JP Morgan is 'goud is geld, de rest is krediet'. Landen worden welvarend doordat ze ooit een grote hoeveelheid goud in bezit hadden dat gebruikt werd als onderpand voor fiat-valuta. Maar sommige landen lijken veel meer goud te bezitten dan dat ze officieel aangeven. Officieel heeft de VS met ruim 8.100 ton het meeste goud en Duitsland komt met ruim 3.300 ton aardig in de buurt. Als we de EU als een geheel zien, dan heeft de EU officieel ongeveer 11.700 ton.
Echter is het bijzonder dat China de grootste goudraffinaderijen ter wereld heeft. Het heeft niet alleen binnenlandse mijnbouwactiviteiten, ook haalt het veel goud uit bijvoorbeeld elektronica. In 2018 was dit ongeveer 404 ton. Dat lijkt het bovendien al een flink aantal jaren te doen, en daar komt nog een bepaalde hoeveelheid importen bovenop. Afgelopen april en mei alleen al vloeide er zo'n 150 ton goud het land binnen.
Het is zelfs nog een stuk extremer. De Chinese bevolking is namelijk toegestaan om zelf goud aan te schaffen als investering, maar het is verboden om Chinees goud naar het buitenland te verplaatsen. Al het goud dat in China ligt blijft dus in China, maar toch staat de officiële teller op ongeveer 1.800 ton. Als we alles bij elkaar optellen komen we op minimaal 30.000 ton uit. Dat is meer dan drie keer zo veel als wat de VS officieel heeft. Wel is het lastig om in te schatten hoeveel hiervan van de Chinese overheid is en hoeveel van de bevolking zelf.
Verder heeft met name India veel goud in Azië. Officieel heeft het maar 703 ton aan goudreserves, maar deze hoeveelheid is discutabel. India heeft een enorme binnenlandse goudmarkt, met name in de vorm van sieraden. Het metaal heeft er altijd al een belangrijke culturele status gehad. Als we kijken naar importcijfers stroomt er per jaar vaak een paar honderd ton het land binnen. Geschat wordt dat het land in werkelijkheid zo'n 20.000 ton goud tot zijn beschikking heeft.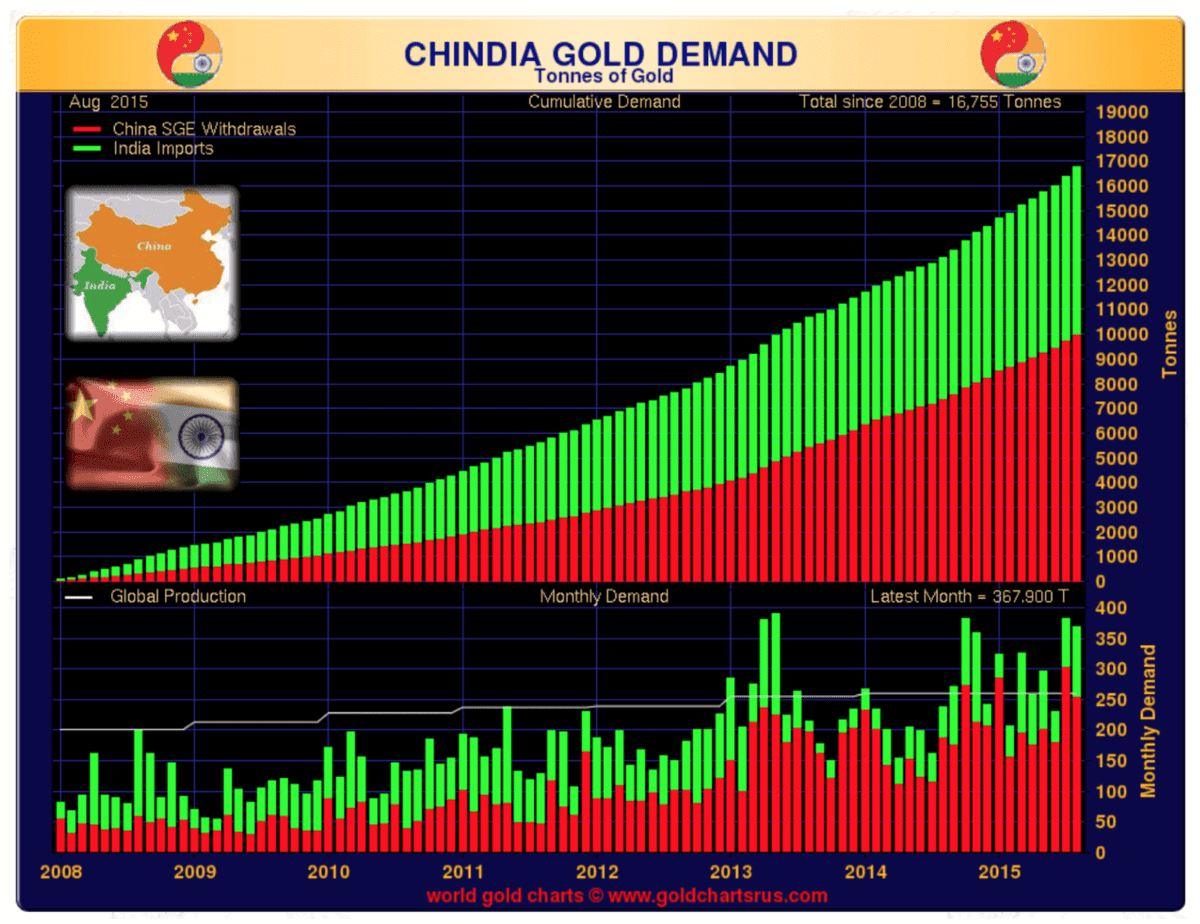 Afbeelding 2: Van zowel China als India weten we dat de landen een enorme vraag naar het gele edelmetaal hebben.
Rusland is ook een moeilijk geval. Of we dit land tot Europa of tot Azië moeten rekenen is lastig is discutabel, maar omdat Rusland vaak lijnrecht tegenover Europa en de VS lijkt te staan en samenwerkingsverbanden met China heeft rekenen we het voor nu als een Aziatisch land. Momenteel heeft het land zo'n 2.300 ton goud in de officiële reserves, en dit neemt gestaag toe. Daarnaast is Rusland een grote goudproducent en -exporteur, met jaarlijks een productie van ongeveer 300 ton. Met de geopolitieke situatie en strategieën van Rusland in het achterhoofd is het aannemelijk dat het veel meer goud heeft dan dat het officieel zegt te hebben, hoewel het nooit helemaal duidelijk is wat Rusland precies doet. Zo weten we dat de centrale bank van Rusland regelmatig grote hoeveelheden goud koopt om het risico van een te volatiele dollar te verminderen. Bovendien is het in 2020 begonnen met het opkopen van het edelmetaal van zijn eigen mijnbouwbedrijven, om zo te voorkomen dat ze failliet gingen. Rusland is duidelijk bereid om extreme maatregelen te nemen om zijn internationale machtspositie te versterken.
De enige conclusie die logisch is, is dat China van plan is om van de yuan de internationale reserve currency te maken. Want waarom zou een land zo ongelofelijk veel goud importeren? Als het komende decennia inderdaad wordt gekenmerkt door inflatie, dan is meer vertrouwen in de economie en de overheid belangrijk.
Echter is het niet helemaal duidelijk of de officiële cijfers daadwerkelijk kloppen. Als we ervan uitgaan dat deze data wél klopt, dan hebben we ook nog de non-officiële hoeveelheden. Hoeveel dit precies is bijna onmogelijk om precies te bepalen. Zo weten we niet precies hoeveel goud er precies boven de grond aanwezig is. Veel goud bij financiële instellingen wordt onderworpen aan audits en zijn dus verplicht om elk jaar zijn investeringen op te geven aan overheidsinstanties, maar voor zover we weten heeft niemand zich er ooit aan gewaagd om de duizenden banken, publieke en besloten investeringsfondsen en de hoeveelheden van individuen te peilen. Daardoor kunnen we helaas alleen maar een goede gok wagen op de totale waarden.
De officiële waarden zien er misschien rooskleurig uit voor Europa, maar het lijkt erop dat de totale markt voor landen als China, India en Rusland veel robuuster is dan die van Europa. Of er daadwerkelijk een groot verschil is is niet duidelijk.
Officiële en geschatte landelijke goudvoorraden (Q2 2021)
Officieel (centrale bank)
Geschat totaal

Europa

11.774 ton

?

Noord-Amerika

8.234 ton

?

Rusland

2.292 ton

?

China

1.948 ton

30.000+ ton?

India

704 ton

20.000+ ton?
Zelfs als het westen weinig goud verkoopt is er een verschil; de besproken oostelijke landen lijken procentueel steeds meer van de totale goudvoorraad in handen te krijgen. Of ze het nou uit de grond halen of van andere landen kopen is niet zo belangrijk — het gaat om het totaal. Het enige waar consensus over lijkt te zijn is dat het verre oosten procentueel steeds meer goud krijgt dan het westen. Dit zou voor China dé oplossing kunnen vormen als het niet meer in staat zou zijn om alle drie de aspecten van het trilemma vast te houden. Een goudstandaard (of iets wat erop lijkt) kan in theorie de gevolgen van het niet meer vast kunnen houden van China's opmerkelijke monetaire beleid op kunnen vangen.
In een volgende Deep Dive schrijven we dat de opkomst van cryptovaluta niet alleen zou kunnen komen door het monetaire beleid van centrale banken en het fiscale beleid van overheden. Het zou ook kunnen dat het de spil zal vormen voor een machtsstrijd tussen landen met veel goud en landen die dit niet hebben.