De vorige Deep Dive ging over inflatie. Om precies te zijn, over drie verschillende scenario's omtrent inflatie. Inflatie betekent weliswaar dat je fiat-valuta minder waard wordt, maar toch is het begrip een stuk breder dan je denkt. In deze Deep Dive hebben we het over hoe je beter in kan spelen op inflatie. Er zijn namelijk een hoop kleine details waar je erg goed op moet letten als ze alles uit je portfolio wilt halen.
Minder uitgeven
Om te beginnen is het altijd handig om de Consumer Price Index (CPI) in de gaten te houden. Vorig jaar schreven we dat we hier soms wat sceptisch op moeten zijn, omdat sommige overheden de neiging hebben om te sjoemelen door de meetmethode zelf aan te passen. Daardoor kunnen de cijfers in theorie lager uitvallen dan dat ze in werkelijkheid zijn. Toch is het handig om een concreet, grotendeels geaccepteerd inflatiecijfer bij de hand te hebben. Dan kun je je rendement namelijk aftrekken van dit cijfer, zodat je een beter beeld hebt van welk rendement je in werkelijkheid maakt. Uiteraard kun je je eigen geschatte inflatiecijfer hanteren. Het is wel belangrijk om niet te overdrijven.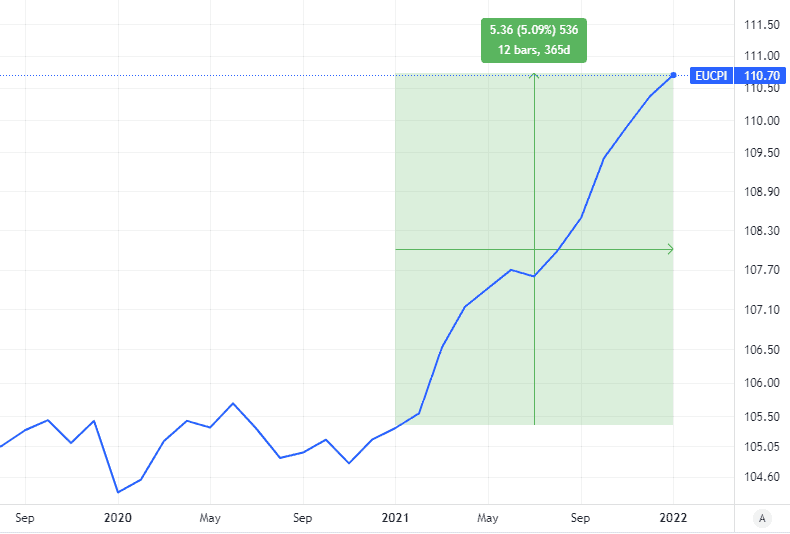 Inflatie is voor een deel een persoonlijk cijfer. Op het moment van schrijven zijn bijvoorbeeld de brandstofprijzen harder gestegen dan andere prijzen, maar dit heeft weinig invloed op je als je bijvoorbeeld geen brandstofvoertuig bezit. Je zou ook kunnen overwegen om een tweede auto te verkopen, als je die hebt. Of misschien heb je helemaal geen auto nodig, als je in de stad woont bijvoorbeeld. Als je een arm en een been uitgeeft aan huur kun je overwegen om kleiner te gaan wonen. Als je erg weinig verdient heb je meer last van hard gestegen voedselprijzen dan iemand die veel verdient.
Je kunt het zo gek maken als je zelf wilt. Als je geld uitgeeft is het namelijk weg. Maar als je je bedenkt dat je óók tijdens inflatie geld kunt verdienen door het te investeren, dan heeft het misschien juist nut. Zeker als je in je achterhoofd houdt dat je met cryptovaluta een rendement kunt behalen dat je leven kan veranderen.
Vastgoed: niet altijd de beste optie
Voor veel mensen geldt dat als ze aan het woord 'investeren' denken dat ze meteen een mooi huis in hun hoofd hebben. Het klopt misschien dat het erg schaars is omdat je niet zomaar ergens meer land op de planeet tovert, maar investeren in vastgoed hoeft je niet altijd wat op te leveren. Daar zijn verschillende redenen voor.
Allereerst is vastgoed alléén nuttig als het ook overeind blijft staan. Vastgoed kopen in risicogebieden is dus link als er vreemde dingen gebeuren in de wereld. Veel mensen in Oekraïne hadden nu liever geen koophuis willen hebben, maar het is nu te laat om te verkopen voor een mooie prijs.
Daarnaast zijn huizen (en andere gebouwen) vaak één van de eerste dingen die hard in prijs stijgen tijdens perioden dat het goed gaat. Er valt wat voor te zeggen dat de huizenmarkt daardoor nu in een enorme bubbel verkeert. Zoals we de vorige keer beschreven kan een crash in financiële markten ook leiden tot inflatie, alhoewel dit in eerste instantie vaak gepaard gaat met deflatie. Daarna komt pas inflatie. Hoe de huizenmarkt zou reageren is dus moeilijk in te schatten. Je kunt verwachten dat overvloedige speculatie ervoor zorgt dat de markt daalt in waarde voordat het weer gaat stijgen.
Een goed voorbeeld van wat mogelijk is was de VS in de jaren '70. Toen stegen de prijzen van vastgoed ook, maar de inflatie was zo hoog dat de huizenprijzen gemiddeld genomen niet eens boven de inflatie uitkwam. Een echte crash is er toen niet echt geweest. Mensen in Turkije verkopen hun huis voor goud. Waarom? Met name omdat het harder stijgt. Maar een andere reden kan zijn omdat het veel meer liquide is, je kunt het dus gemakkelijker verkopen.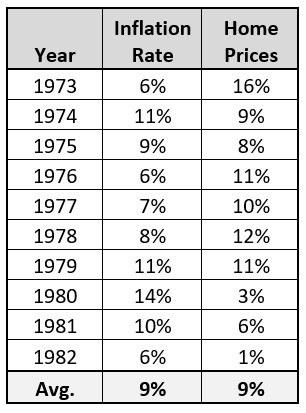 Het is dus belangrijk om hier ook op te letten als je een crypto-token koopt die zich met vastgoed bezighoudt, of als je besluit om je huis te tokenizen. Want ja, dat kan. Je kunt er donder op zeggen dat dat ook veel gaat gebeuren de komende jaren.
Commodities, commodities, commodities
Waar regel één van vastgoed 'locatie, locatie, locatie' is, heb ik mijn eigen regel voor inflatie: commodities, commodities, commodities. Er is op het moment niets wat zo ondergewaardeerd is als commodities. Je zou kunnen zeggen dat sommige cryptovaluta hier ook onder vallen. Crypto zou je kunnen zien als een soort alternatief voor goud, en goud is een commodity. Het is verstandig om wel heel erg selectief te zijn. Een hoge inflatie is voor veel mensen een soort recessie, dus nemen ze vaak minder risico.
Als je genoeg winst hebt gemaakt op crypto, dan kan het verstandig zijn om het geld naar commodities te verplaatsen. Stablecoins brengen je een aardig rendement, maar ze worden wel minder waard. In een toekomstige Deep Dive gaan we het over de verschillende rendementen hebben — en over de bijbehorende risico's.
Aandelen: ja, maar welk soort?
Als je dan toch iets anders wilt dan bijvoorbeeld relatief veilige dingen zoals commodities en (sommige) cryptocurrencies, dan kun je na gaan denken over aandelen. Maar je moet wel erg goed nadenken over wat je precies koopt. Tijdens inflatie is alles wat te maken heeft met de financiële wereld chaotisch. Zoals we vorige week bespraken kan inflatie er ook voor zorgen dat de markt door zijn hoeven zakt. Je moet dus heel specifiek zijn in welke sectoren en in welke bedrijven je je geld stopt.
Een goed voorbeeld van een sector die goed kan toeven tijdens inflatie zijn mijnbouwsector. Met name goud- en zilvermijnbouwbedrijven staan erom bekend dat ze goed kunnen presteren tijdens inflatie. Goud en zilver kunnen tijdens zo'n periode stijgen in waarde, waardoor het aandeel werkt als een soort hefboom. Wel is het belangrijk dat goud en zilver niet altijd hoeven te 'werken'. Dat zag je bijvoorbeeld de afgelopen jaren, veel cryptocurrencies zijn compleet door het dak gegaan en lieten goud en zilver in het stof achter.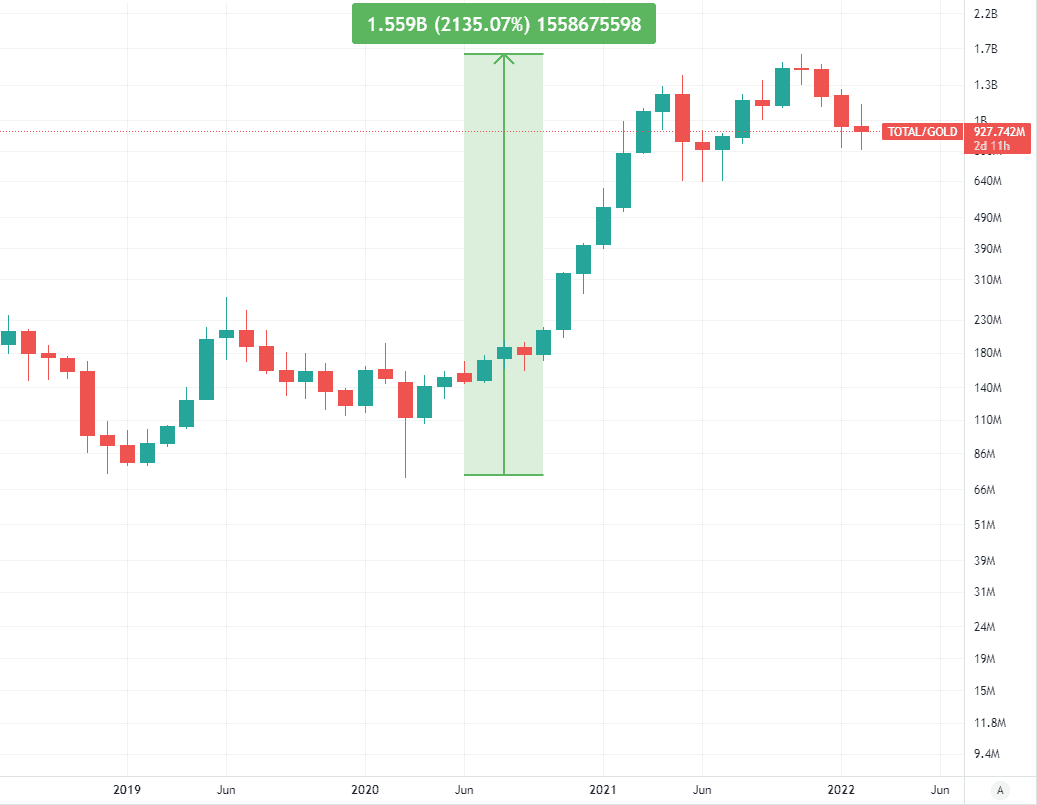 Schuld: gevaarlijk, maar wel effectief
De euro wordt dan wel minder waard, maar je kunt hier wel handig gebruik van maken. Als je een verantwoordelijke hoeveelheid schuld aangaat, dan kun je hier geld mee verdienen door het te investeren. Tegelijkertijd kun je je schuld steeds gemakkelijker terugbetalen. Dat geldt uitsluitend als je er ook winst op maakt, natuurlijk.
Als je niet zeker weet dat je goed weet wat je doet, dan bestaat er een serieus risico dat je margin calls krijgt en je schuld met verlies terug moet betalen. Ook moet je rekening houden met het risico van derde partijen, zoals banken die hun geld terug willen en beveiligingsexploits van decentrale partijen en andersoortige leningplatformen. Als je kiest voor schuld gebruiken met een bepaalde valuta op deze manier, dan ben je eigenlijk de valuta aan het shorten.
Conclusie
Het kan lastig zijn om geld te verdienen en te behouden tijdens reguliere omstandigheden, maar tijdens inflatie is dit nog moeilijker. Toch blijkt maar weer dat er genoeg manieren zijn om positieve resultaten te boeken.
Overigens helpt het niet om investeren tijdens inflatie te zien als 'geld verdienen op pijn'. Veel mensen hebben geen makkelijk leven tijdens hoge inflatie, maar als je het goed doet kun je een hoop betekenen voor de maatschappij. Je kunt bijvoorbeeld helpen om te voorkomen dat er tekorten ontstaan. Dan is iedereen blij.
Cryptovaluta zijn ongelofelijk nuttig in zo'n situatie. Er is namelijk een grens aan wat een 'sociale' investering is en wat niet. Als een klein groepje mensen al het eten opkoopt, dan blijft er weinig meer over voor veel mensen. Dat zag je goed toen de hamsteraars tijdens maart van 2020 alle supermarkten leeghaalden. Dat geldt ook voor commodities in het algemeen. Als mensen cryptovaluta zouden kopen om hun koopkracht te behouden, dan zijn de tekorten in theorie minder extreem.
Over het algemeen is er een soort balans in de markt. Eerst stijgt het ene, daarna stijgt het andere. Dus als je eerst geld hebt verdiend op crypto, dan kun je er baat bij hebben om toch te kijken naar specifieke aandelen, commodities of iets anders.