Journalist en cryptoanalist Kasper Wienk schrijft elke week een artikel voor 'Kaspers kijk'. Hierin werpt hij een blik op de markt met als doel de lezer te informeren en waarschuwen over het nieuws, de gevaren en de mogelijkheden die crypto met zich meebrengt. Deze keer praat hij over de bitcoin dominantie (BTC.D).
De dominantie van bitcoin is het percentage van de crypto markt dat in bitcoin zit. Deze dominantie steeg enorm afgelopen dagen. Dit betekent dat er geld naar bitcoin stroomt en het percentage altcoins zakt. Een gevolg hiervan is dat de meeste altcoin pairs dalen ten opzichte van BTC.
Daarbij kwam ook nog eens de grote koersstijging van bitcoin afgelopen week. De bitcoin koers steeg maar liefst dertig procent over de afgelopen zeven dagen. Dat is gigantisch ten opzichte van de week ervoor, waarbij de prijs tussen $40.000 en $45.000 schommelde. Dit is mede verantwoordelijk voor een toename van de dominantie. Van tevoren was al te merken dat de bitcoin dominantie higher lows maakte en tegen een belangrijke zone aanbotste. Het resultaat: een flinke spurt omhoog en vandaag zet deze stijging door.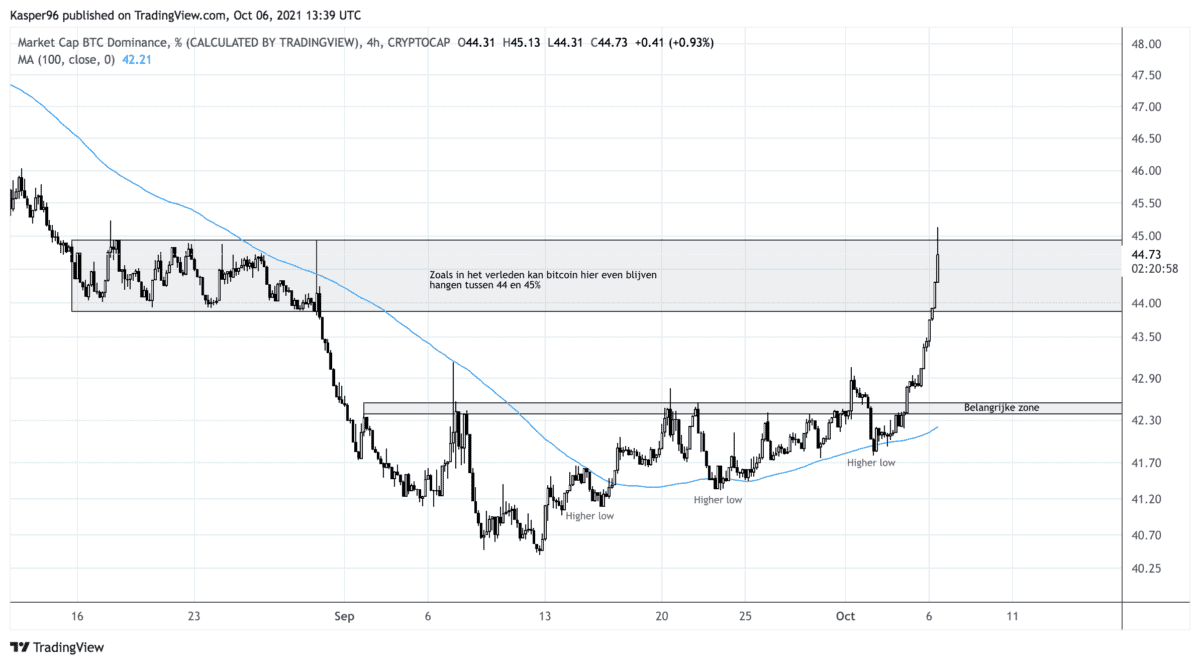 We zien vandaag dat altcoins nauwelijks bewegen. Een stijgende dominantie en een steady BTC zorgt voor een grote verschuiving van altcoins naar bitcoin. De meeste altcoin holders zien daardoor hun portfolio krimpen ten opzichte van bitcoin.
Wat gaat de bitcoin dominantie doen?
We moeten opletten of de dominantie hier verder gaat, blijft hangen, of dat het terug beweegt vanaf dit belangrijke level. Elke factor heeft een ander effect op de markt. De dominantie is op het moment van schrijven rond de 44,5 procent. Ik verwacht zelf dat bitcoin hier even blijft hangen, aangezien bitcoin dat in het verleden ook heeft gedaan. Als de dominantie hier naar boven breekt en verder gaat, kan ik iedereen aanraden om nog wat langer in bitcoin te blijven.
Wanneer de rust toekeert bij de bitcoin dominantie, kunnen altcoins zich weer een beetje herpakken. Dit is het punt waarop ik weer grotere alt-posities op ga bouwen in mijn portfolio. Door deze dominantie spurt zal ik nu niet te veel op gokken op altcoins, al is er één altcoin die wel erg goed presteerde afgelopen dagen: shiba inu (SHIB). Ondanks een stijgende dominantie bleef deze munt alsmaar gaan.
Een verassende altcoin
SHIB-holders zagen hun portfolio met wel 150% stijgen in een paar dagen. Dit zijn de geluksvogels in een dalende altcoin-markt. Shiba wist namelijk uit een consolidatiezone te breken met een kracht van jewelste. In tegenstelling tot andere altcoins kreeg shiba een zetje van Elon Musk. Een tweet van Elons hond én het breken van de consolidatiezone waren de perfecte combinatie voor deze 'doge-killer'. Op de grafiek kan je zien wat voor een kracht deze break had.
Wanneer terug naar altcoins?
Omdat ik nooit groene candles achterna ga, laat ik SHIB voor wat het is en focus ik me op de toekomstige trades. Het is een kwestie van geduld totdat de dominantie rust vindt. Tot die tijd blijft mijn portfolio saai. Ik zal in bitcoin blijven totdat de kansen zich weer ontwikkelen voor altcoins. Door deze stijgende dominantie heb ik op BTC-pairs wel orders klaargezet. Als altcoins dalen ten opzichte van BTC, kan je ze op mooie plekken oppikken.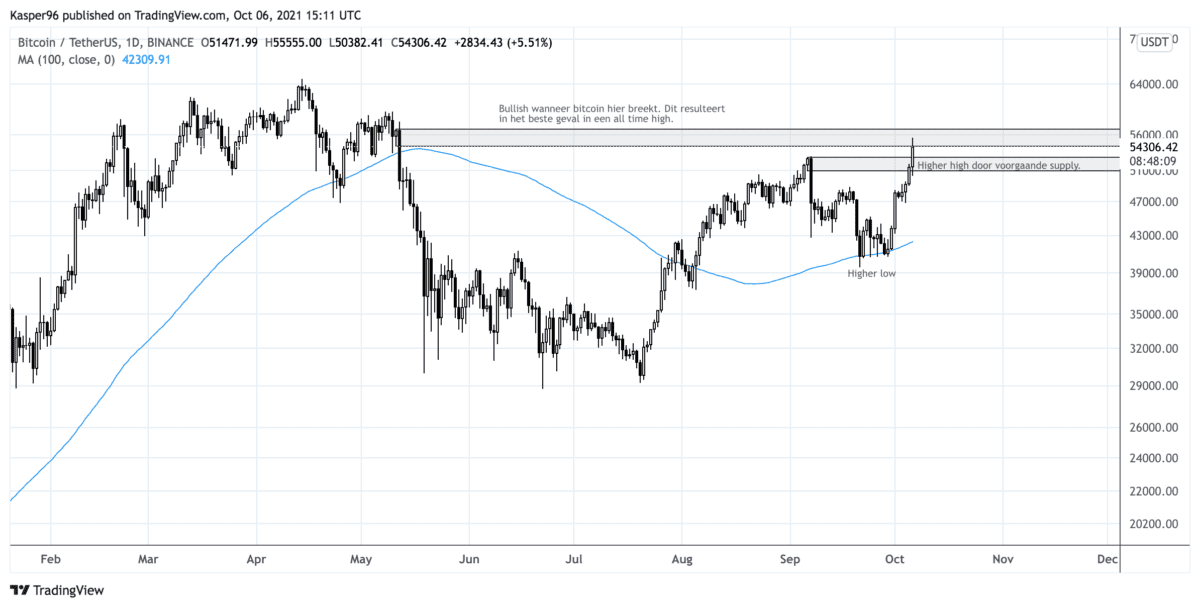 Het is mogelijk dat de stijging van BTC nog even doorgaat. Bitcoin brak vandaag de voorgaande top rond de $53.000. Ik zie de prijs vanaf hier verder stijgen naar $57.000. De laatste move maakte namelijk een higher high, wat voor mij een kleine up-trend bevestigt. Mijn tip: houd de dominantie in de gaten.
Je kan de grafiek van bitcoin dominantie (BTC.D) bekijken op tradingview.com. Als je vragen hebt over bitcoin dominantie of tradingview kan je Kasper bereiken via de discord van Crypto Insiders.