In de premium omgeving van Crypto Insiders worden dagelijks actuele technische analyses gedeeld door ervaren analisten. De afgelopen periode kwam Chainlink (LINK) hier regelmatig ter sprake. In deze rubriek blikken we terug op deze technische analyse en brengen we de recente ontwikkelingen en verwachtingen voor de komende periode in kaart. Mocht je na het lezen van dit artikel nog vragen hebben kun je deze eenvoudig stellen in onze Discord community, hier worden onze technische analyses doorgaans 48 uur eerder gedeeld met onze leden.
LINK is over de afgelopen 24 uur met ongeveer 0,5% gedaald. Over de afgelopen zeven dagen zagen we een diepere daling. In deze periode daalde de koers met ongeveer 15%. LINK staat op het moment van schrijven op de 23e plaats op basis van marktwaarde.
Wat is Chainlink (LINK)?
Chainlink is een op Ethereum (ETH) gebaseerd gedecentraliseerd netwerk van oracles die ervoor zorgen dat smart contracts worden verbonden met externe informatie. Een oracle-netwerk faciliteert de connectie tussen een gebruiker van het netwerk en de server waar hij op zit. Via die verbinding krijgen de smart contracts externe informatie. Men kan met de LINK token betalen voor de server op het netwerk.
Recente ontwikkelingen Chainlink (LINK)
Aan het begin van juni kwam het team van Chainlink met een interessante aankondiging via een blogpost. In deze blogpost heeft Chainlink aangegeven eindelijk staking mogelijkheden te bieden. In deze blogpost hebben ze ook beschreven hoe ze dit willen bereiken. Ze gaan de staking functionaliteit namelijk over vier verschillende fases uitrollen over de lange termijn.
In de staking roadmap van Chainlink is op te maken dat er drie verschillende versies zullen uitkomen, namelijk V0.1, V1 en V2. Het doel hiervan is om het LINK staken steeds wat toegankelijker en veiliger te maken.
Technische analyse LINK
Voor LINK was er in de Discord omgeving een interessante analyse gedeeld op 12 juni toen de koers nog op $8 stond. In deze analyse werd er een flinke daling richting de $4,41 verwacht. Deze target was bepaald aangezien we op de grafiek een 12345 Elliott Wave patroon zagen waarvan de wave 5 aan het vormen was. Deze valt vaak tussen de 127,2 en 161,8 van de Fibonacci retracement. Helaas heeft de koers dit niveau in haar daling nog net niet bereikt echter blijft de verwachting staan.
In de Discord omgeving zal de technische analyse up-to-date worden gehouden. Verdere ontwikkelingen in de koers zullen hier direct gedeeld worden.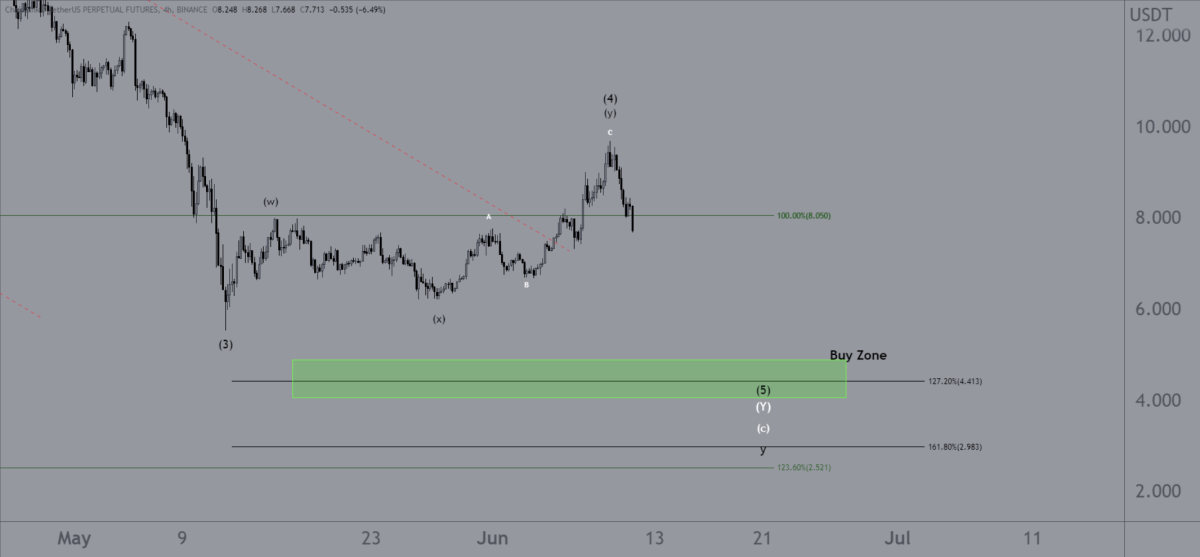 Wat zijn de verwachtingen voor Chainlink (LINK)?
Vooralsnog is de eerder genoemde staking roadmap de enige roadmap van het project die beschikbaar is. Chainlink zet dus flink in op dit project. Mogelijk dat wanneer dit project compleet is, er weer een nieuwe roadmap komt voor het project.
Of bovenstaande ontwikkelingen nog verdere impact gaat hebben op de prijs is afhankelijk van een groot aantal factoren die dagelijks verschillen. De crypto-markt en zwaar onderhevig aan economische gebeurtenissen en traditionele aandelenmarkten. Dit maakt het soms lastig om het juiste moment te bepalen om in een bepaald project te investeren.
LINK kopen of verkopen?
Wil jij graag dit soort koersanalyses van crypto eerder zien? Dan verwijzen wij je graag door naar onze Discord community voor leden. Hier bediscussiëren ervaren analisten en handelaren dagelijks hun eigen handelsplannen. Ook delen we hier regelmatig aanvullende koersanalyses en updates van projecten die we eerder in deze rubriek hebben behandeld. Via Discord kunnen we 24/7 kennis met elkaar delen en proberen we samen met onze leden de markt voor te blijven.
Disclaimer: Beleggen brengt risico's met zich mee. Onze analisten zijn geen financieel adviseurs. Raadpleeg altijd een adviseur bij het maken van financiële beslissingen. De informatie en tips die op deze website worden verstrekt zijn gebaseerd op eigen inzichten en ervaringen van onze analisten en dienen alleen voor educatieve doeleinden.