In de Premium omgeving van Crypto Insiders worden dagelijks actuele technische analyses gedeeld door ervaren analisten. De afgelopen periode kwam Polkadot (DOT) hier regelmatig ter sprake. In deze rubriek blikken we terug op deze technische analyse en brengen we de recente ontwikkelingen en verwachtingen voor de komende periode in kaart. Als je na het lezen van dit artikel nog vragen hebt kan je deze eenvoudig stellen in onze Discord community, hier staan onze technische analyses doorgaans 48 uur eerder klaar voor onze leden.
DOT is over de afgelopen 24 uur met ongeveer 2% gestegen. Over de afgelopen zeven dagen zagen we een lichte daling. In deze periode daalde de koers met ongeveer 3%. DOT staat op het moment van schrijven op de 12e plaats op basis van marktwaarde.
Wat is Polkadot (DOT)?
Polkadot is naar eigen zeggen de volgende belangrijke factor is de evolutie van de blockchain-technologie waarop ontwikkelaars hun eigen projecten en cryptocurrencies op kunnen bouwen. Polkadot verbindt meerdere gespecialiseerde blockchains met elkaar om een groot netwerk te maken en is volledig open-source.
Daarnaast is Polkadot druk bezig met ontwikkelingen bewerkstelligen in de Web3 sector. Polkadot is van plan om binnen deze sector een volledig infrastructuur bouwen.
Laatste Polkadot nieuws
Revolut, een digitale bank, heeft in samenwerking met Polkadot een cryptocurrency leerplatform opgezet. Het op Polkadot gebaseerde 'Learn and Earn', ofwel leer en verdien, educatieplatform wil door dit platform ervoor zorgen dat er meerdere mensen de cryptocurrency-markt betreden. Nu Revolut het leerplatform aan haar gebruikers biedt, krijgen meer dan 18 miljoen gebruikers toegang tot de lessen. Dit zijn dus weer 18 miljoen mensen die mogelijk interesse krijgen in de cryptocurrency-markt.
Crypto Learn with @Polkadot is live! 🧠

Our crypto basics and Polkadot lessons make crypto easier to understand for everyone. Pass a quiz after each lesson and you'll earn up to $15 worth of free DOT tokens as a reward.

Not regulated. Value may go down. Tax may be payable pic.twitter.com/A98pcyYqw6

— Revolut (@RevolutApp) July 11, 2022
Om mensen te overtuigen deze cursus te volgen wordt er een beloning beschikbaar gesteld. De gebruikers krijgen $15 in DOT zodra ze door het programma lopen. Na het voltooien van een korte quiz krijgen ze deze cryptocurrencies in hun wallet.
Technische analyse DOT koers
In de Discord community van Crypto Insiders werd er op 23 juni een DOT analyse gepost. Hierin gaven onze analisten aan dat de koers hoogstwaarschijnlijk eerst nog een flinke beweging naar beneden zal maken richting de $6,01 aangezien er een Elliott Wave 5 voltooid moest worden. Dit is ook precies waar DOT naartoe is gegaan.
De koers hangt nu in de koopzone. Waar de koers mogelijk naartoe zou kunnen stijgen is vooralsnog onduidelijk omdat de grafiek dit nog niet laat zien. Leden in de Premium omgeving blijven op de hoogte van eventuele ontwikkelingen rondom de koers.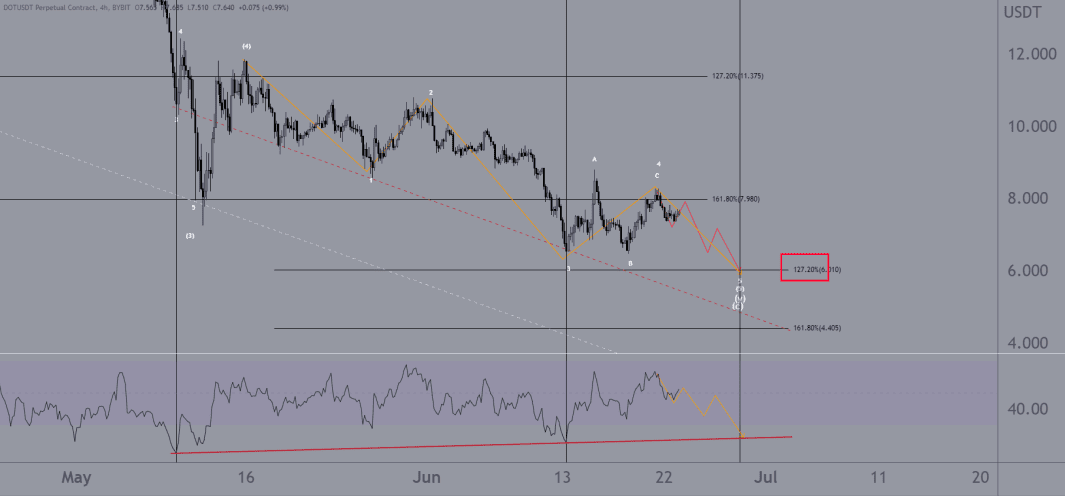 Wat zijn de verwachtingen voor Polkadot?
Of bovenstaande ontwikkelingen nog verdere impact gaat hebben op de prijs is afhankelijk van een groot aantal factoren die dagelijks verschillen. De crypto-markt is immers zwaar onderhevig aan economische gebeurtenissen en traditionele aandelenmarkten. Dit maakt het soms lastig om het juiste moment te bepalen om in een bepaald project te investeren.
DOT kopen of verkopen?
Wil jij graag dit soort koersanalyses van crypto eerder zien? Dan verwijzen wij je graag door naar onze Premium community voor leden. Tevens bediscussiëren ervaren analisten en handelaren dagelijks hun eigen handelsplannen. Ook delen we hier regelmatig aanvullende koersanalyses en updates van projecten die we eerder in deze rubriek hebben behandeld. Via Discord kunnen we 24/7 kennis met elkaar delen en proberen we samen met onze leden de markt voor te blijven.
Disclaimer: Beleggen brengt risico's met zich mee. Onze analisten zijn bovendien geen financieel adviseurs. Raadpleeg altijd een adviseur bij het maken van financiële beslissingen. Daarom zijn alle informatie en tips die op deze website zijn verstrekt gebaseerd op eigen inzichten en ervaringen van onze analisten en dienen alleen voor educatieve doeleinden.