In de Premium omgeving van Crypto Insiders worden dagelijks actuele technische analyses gedeeld door ervaren analisten. De afgelopen periode kwam THORChain (RUNE) hier regelmatig ter sprake. In deze rubriek blikken we terug op deze technische analyse en brengen we de recente ontwikkelingen en verwachtingen voor de komende periode in kaart. Mocht je na het lezen van dit artikel nog vragen hebben, dan kun je deze eenvoudig stellen in onze Discord community, hier worden onze technische analyses doorgaans 48 uur eerder gedeeld met onze leden.
RUNE is over de afgelopen 24 uur met ongeveer 6,2%% gedaald. Over de afgelopen zeven dagen zagen we een enorm harde stijging. In deze periode steeg de koers met maar liefst ongeveer 34,6%. RUNE staat op het moment van schrijven op de 53e plaats op basis van marktwaarde.
Wat is THORChain (RUNE)?
THORChain is een op blockchain gebaseerd gedecentraliseerd liquiditeitsnetwerk waarop gebruikers direct en cross-chain hun digitale activa om kunnen zetten en is gebouwd op Cosmos SDK.
Het project maakt gebruik van een automated market maker (AMM) model die erg lijkt op de manier waarop Uniswap (UNI) dat gebruikt. Dit model zorgt ervoor dat gebruikers middels RUNE transacties kunnen doen tussen verschillende pools. Daarnaast kunnen deze gebruikers via THORChain ook geld verdienen door hun cryptocurrencies uit te lenen en daar rente over te krijgen.
Laatste THORChain nieuws
THORChain heeft onlangs een update doorgevoerd waardoor het platform een meer op zichzelf staand project is. Zij willen namelijk niet meer afhankelijk zijn van andere blockchain partijen. Dit doen zij door de op BNB en ETH gebaseerde RUNE tokens langzaamaan uit te faseren. Een dag geleden zijn ze hier mee begonnen.
Killswitch activated.

For every 3.65 days going forward, 1% of the outstanding 30m IOU RUNE will forever be burnt.

Once the kill period is over, BNB and ETH dependencies can be permanently removed and the supply capped. https://t.co/o8oebYgNgE

— THORChain (@THORChain) July 19, 2022
Let er hierbij dus goed op dat mocht je RUNE tokens in een derde wallet hebben staan, je wallet adres begint met "thor1…". Mocht je wallet beginnen met "bnb1…" of "0x…" dan is je RUNE nog niet overgezet. THORChain geeft in de onderstaande tweet een aantal wallets die de nieuwe vorm wel ondersteunen.
If your wallet address begins with `bnb1…` or `0x…`, your $RUNE is not native and must be upgraded to preserve its purchasing power.

Suggested native $RUNE wallets:
– @xdefi_wallet (browser)
– @THORWalletDEX (mobile)
– @Ledger (hardware)

— THORChain (@THORChain) July 18, 2022
Technische analyse RUNE koers
Enkele weken geleden werd er in de Discord community van Crypto Insiders een analyse voor RUNE gedeeld. Hierin is aangegeven dat we op dat moment ons in de koopzone bevonden. Deze koopzone was vastgesteld tussen de $1,50 en $2. Hierbij is er ook aangegeven dat de koers vanwege het ABC of 12345 Elliott Wave patroon mogelijk nog hard de lucht in zou kunnen gaan.
Deze stijging hebben we ook gekregen. De koers is sinds de aangegeven instapzone tussen de 38% en 93% gestegen. Op dit moment bevinden we ons in de verkoopzone waar winst genomen kan worden. In de Discord community wordt RUNE nog veel besproken.
Wil jij dit soort analyses eerder lezen? Neem dan ook een kijkje in de Premium omgeving. Hier kan je ook direct in contact komen met verschillende analisten en crypto enthousiastelingen die klaar staan om jou te helpen!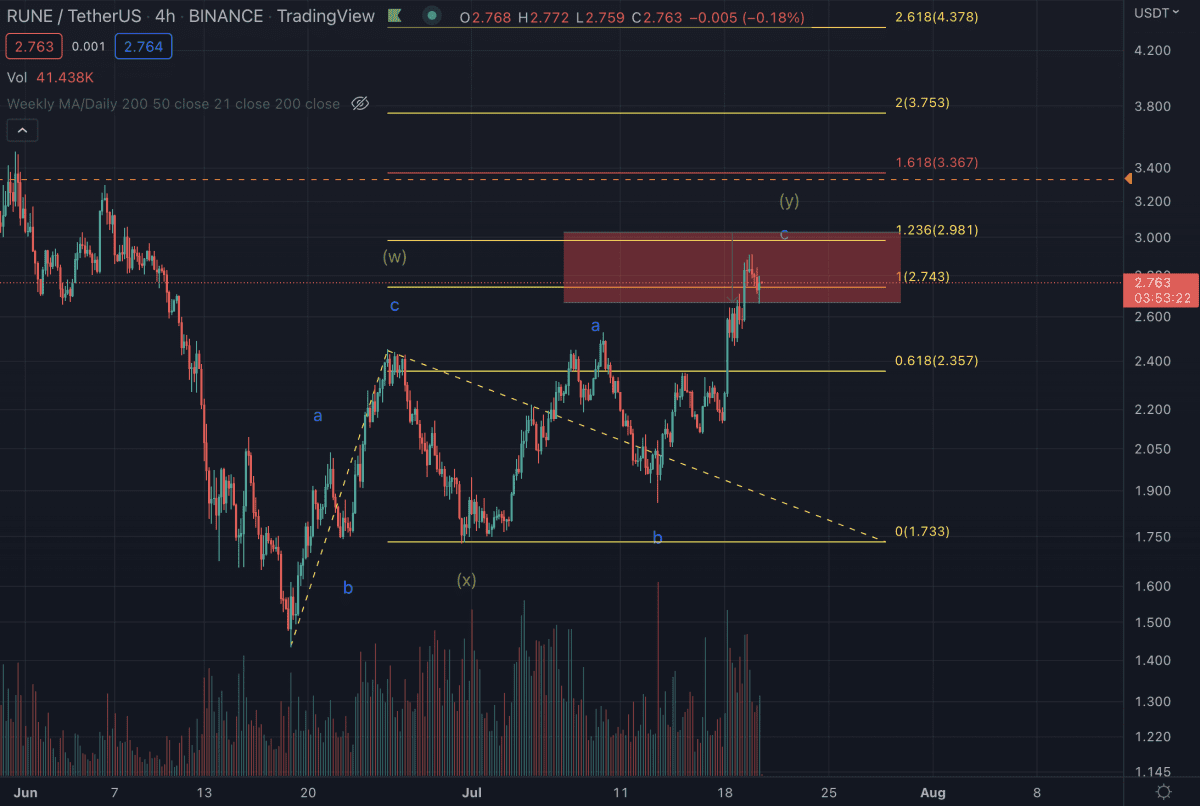 Wat zijn de verwachtingen voor THORChain?
Of bovenstaande ontwikkelingen nog verdere impact gaat hebben op de prijs is afhankelijk van een groot aantal factoren die dagelijks verschillen. De crypto-markt is immers zwaar onderhevig aan economische gebeurtenissen en traditionele aandelenmarkten. Dit maakt het soms lastig om het juiste moment te bepalen om in een bepaald project te investeren.
RUNE kopen of verkopen?
Zoek jij hulp met handelen in crypto? Dan verwijzen we je graag door naar onze Discord groep voor leden. Hier bediscussiëren ervaren analisten en handelaren dagelijks hun analyses en handelsplannen. Ook delen we hier als eerst onze technische en fundamentele analyses. In onze Discord community kunnen we tevens 24/7 kennis met elkaar delen en proberen we samen met onze premium leden de markt voor te blijven.
Ook hield onze hoofdanalist, bekend als AppY, onlangs een ask me anything (AMA) sessie voor onze premium leden. Deze is nu voor iedereen terug te zien en staat vol met zeer interessante technische analyses!
---
Disclaimer: Beleggen brengt risico's met zich mee. Onze analisten zijn geen financieel adviseurs. Raadpleeg altijd een adviseur bij het maken van financiële beslissingen. De informatie en tips die op deze website zijn verstrekt is gebaseerd op eigen inzichten en ervaringen van onze analisten en dienen alleen voor educatieve doeleinden.