In dit artikel delen we analyses uit de premium omgeving van twee cryptocurrencies die vandaag interessante prijsactie hebben laten zien. Het gaat hierbij om Dogecoin (DOGE) en Chilliz (CHZ). Ben je nog geen lid of mocht je na het lezen van dit artikel nog vragen hebben, neem dan eens een kijkje op onze Premium informatiepagina.
Dogecoin kan nog lager uitkomen
De koers van dogecoin was afgelopen nacht met ongeveer 5% de lucht in gegaan tot een piek van $0,091. Daarna begon DOGE weer te dalen en zakt op het moment van schrijven onder $0,085. Toch is de DOGE koers in verhouding met de meeste andere crypto op de markt slechts enkele procenten gedaald ten opzichte van een week geleden. Echter zijn de analisten van Crypto Insiders bearish over de cryptocurrency.
De analisten zien namelijk een 12345 Elliott Wave patroon naar beneden vormen op de middellange termijn waarbij de koers momenteel bezig is met een correctieve vierde wave. Dat betekent dat DOGE nog eerst iets kan stijgen om deze wave af te ronden, maar daarna mogelijk flink zakt in de vijfde en laatste wave.
Deze laatste wave kan DOGE mogelijk richting de 127,2% Fibonacci brengen, ofwel een koers van ongeveer $0,062. De middellange termijn ziet er dus voor DOGE minder positief uit.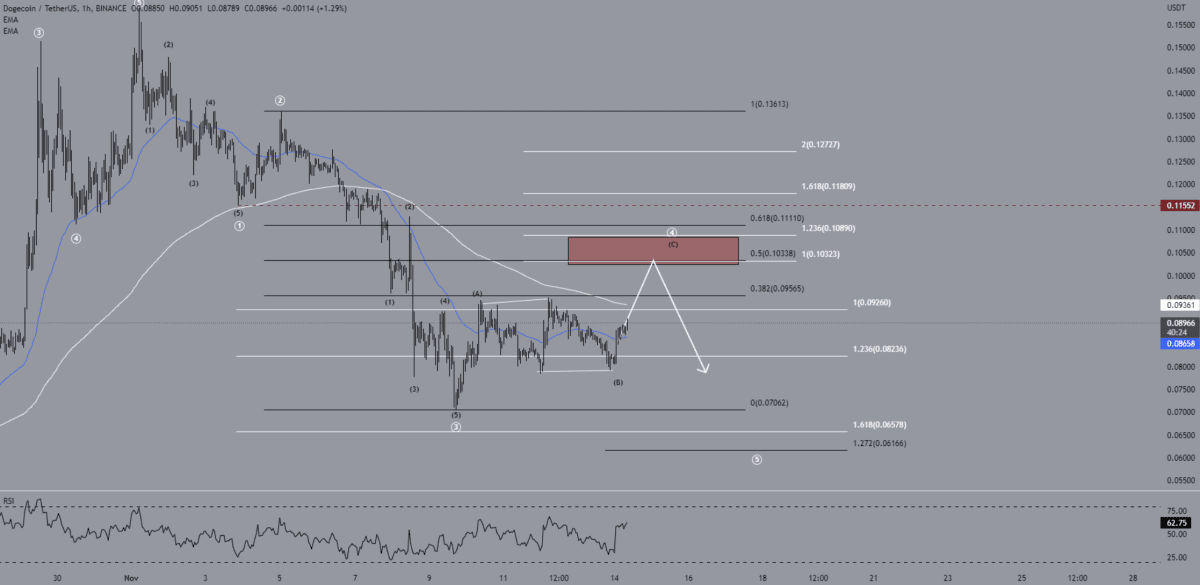 Chilliz lijkt erg graag omhoog te willen
Chiliz is een van de weinig crypto op de markt die de afgelopen tijd sterk presteerde. Ook op het moment van schrijven is het een van enige koersen die ten opzichte van 24 uur geleden groen kleurt. De CHZ koers is afgelopen nacht met ongeveer 15% gestegen naar een piek rond $0,25. Ondanks dat CHZ momenteel onder $0,22 zakt, staat CHZ vandaag alsnog 7,8% in de plus. Dit is tevens de richting die de analisten hadden verwacht dat de koers zou gaan.
CHZ lijkt een vergelijkbaar patroon te vormen als DOGE, maar dan in de andere richting. In deze situatie staan we echter nog aan het begin van het Elliott Wave patroon. We zien hier namelijk dat de koers net de tweede wave heeft afgerond en nu bezig is met de derde wave.
Een derde wave pakt volgens de theorie doorgaans explosief uit. Hierbij willen we graag zien dat de top van de eerste wave snel doorbroken wordt. De analisten verwachten dat deze derde wave rond de 161,8%, ofwel de $0,3254 uit zal komen. Voorlopig zijn zij dus nog zeer bullish over chiliz.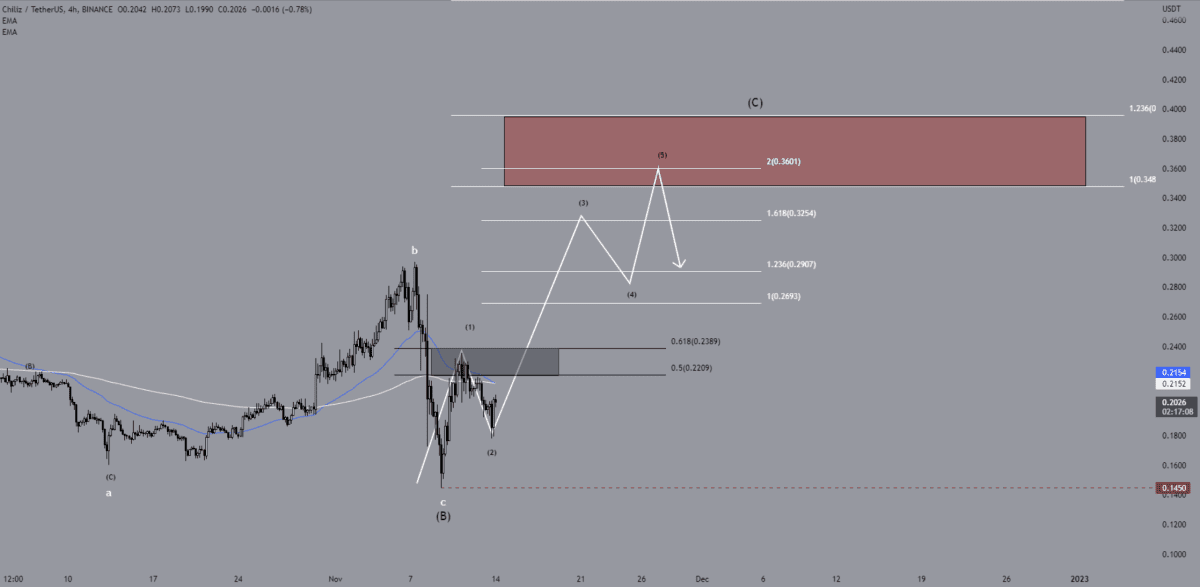 Dogecoin of Chilliz kopen of verkopen?
Overweeg jij DOGE of CHZ te kopen of verkopen? Zoek jij hulp met handelen in crypto? Dan verwijzen we je graag door naar onze Premium membersgroep. Hier ontvangen leden als eerst de nieuwste technische analyses van een groot aanbod aan crypto.
Ook krijg je toegang tot exclusieve crypto-projecten, koersvideo's, handelsplannen en ask me anything (AMA) sessies met onze analisten. In onze Discord kunnen we 24/7 kennis met elkaar delen en proberen we samen met onze leden de markt voor te blijven. Word lid en probeer een Premium-lidmaatschap 30 dagen gratis.
Disclaimer: Beleggen brengt risico's met zich mee. Onze analisten zijn geen financieel adviseurs. Raadpleeg altijd een adviseur bij het maken van financiële beslissingen. De informatie en tips die op deze website zijn verstrekt is gebaseerd op eigen inzichten en ervaringen van onze analisten en dienen alleen voor educatieve doeleinden.