Vanochtend deelden wij een recente analyse van ripple (XRP) uit de Premium omgeving van Crypto Insiders.. Hierin is te lezen dat de analisten van Crypto Insiders vrezen dat de XRP nog harde klappen krijgt te verduren. In dit artikel delen we twee analyses waarvan de de analisten verwachten dat deze mogelijk nog harder kunnen dalen.
Het gaat dan om Shiba Inu (SHIB) en Curve (CRV). Ben je nog geen lid of mocht je na het lezen van dit artikel nog vragen hebben, neem dan eens een kijkje op onze Premium informatiepagina.
Eerst een kleine stijging voor shiba inu
Als eerst delen we een recente analyse van shiba inu. Volgens de analisten van Crypto Insiders kan SHIB eerst nog een kleine stijging maken voordat de koers hard gaat dalen. Dat leggen de analisten als volgt uit:
"De koers vormt een ABC Elliott Wave patroon en zit nu in een B wave.. Wij verwachten dat deze B wave de koers ongeveer richting de 50% Fibonacci, ofwel de $0,00001176 kan brengen. Vanaf daar verwachten wij echter een forse daling.

De C wave komt volgens de theorie meestal uit tussen de 100% en 123,6% Fibonacci. Deze zone ligt tussen de $0,00000453 en $0,00000657. Dit betekent dat we mogelijk nog een daling gaan zien van tussen de 44% en 62% en dat is zelfs meer dan XRP."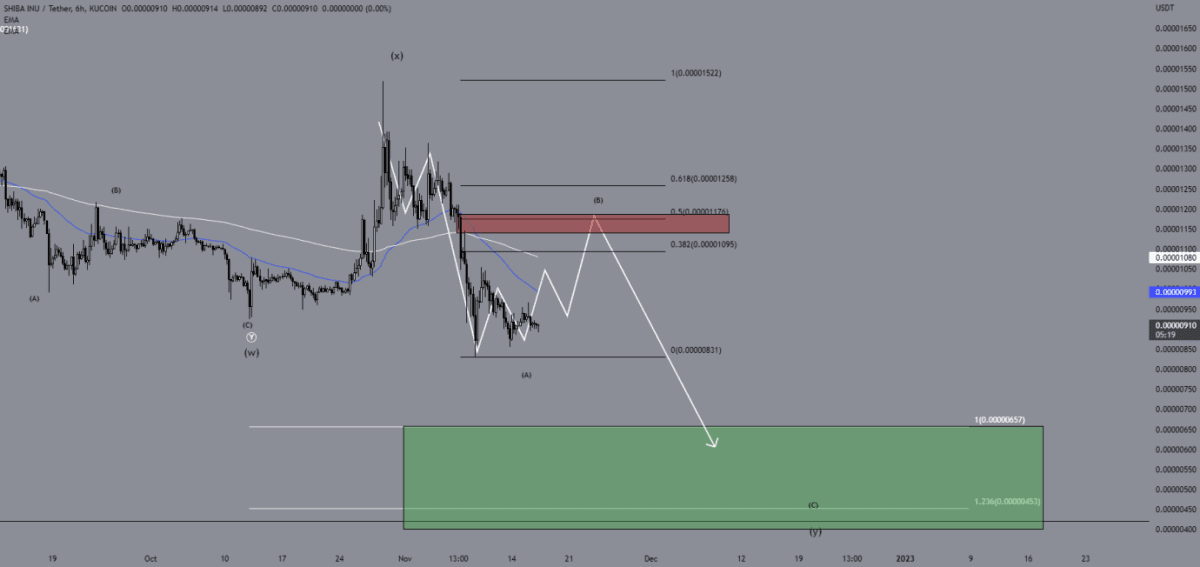 Curve kan nog harder dalen
Curve kan volgens de analisten mogelijk nog harder zakken. Hier zien zij een groot WXY EW patroon waarbij de innerwave ABC nog afgerond moet worden. De C wave zal naar verwachting uitkomen tussen de 100% en 123,6% van de Fibonacci projectie over wave A naar B. Dit staat gelijk aan een koers van tussen de $0,211 en $0,008. Dat kan dus een daling van 62% tot zelfs 98% nog betekenen.
Hoewel dit laatste wat aan de extreme kant lijkt, moeten we volgens de theorie hier rekening mee houden. Tussendoor zullen er waarschijnlijk nog kleine stijgingen plaatsvinden in de vorm van corrigerende waves. Binnen de Premium community houden de analisten het koersverloop van deze en vele andere cryptocurrencies nauw in de gaten. Eventuele veranderingen op de markt zullen hier direct gerapporteerd worden.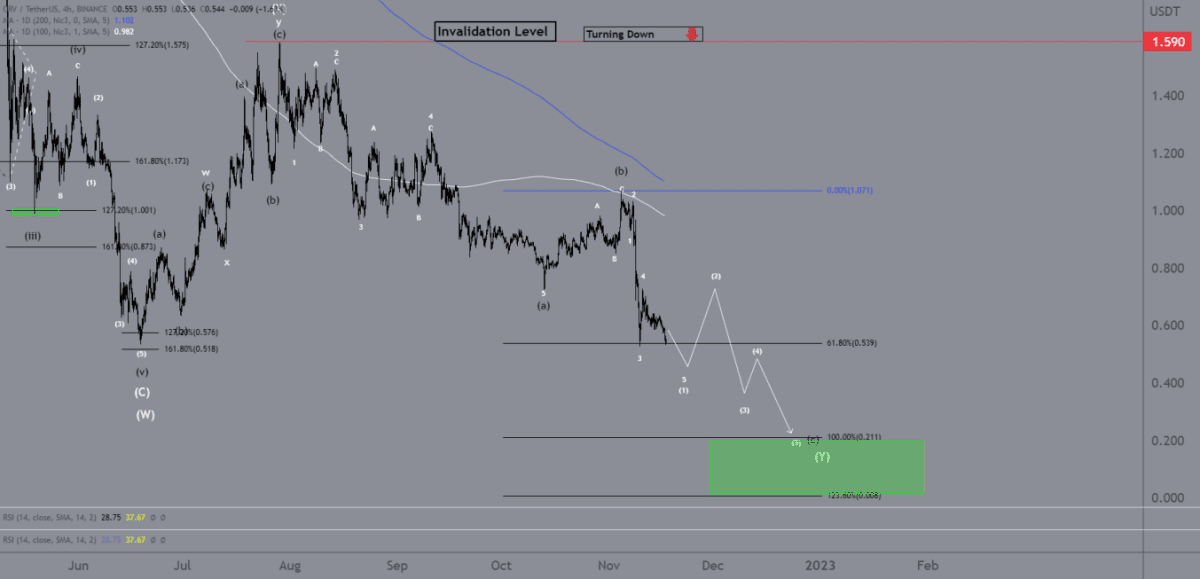 Shiba Inu of Curve kopen of verkopen?
Overweeg jij SHIB of CRV te kopen of verkopen? Zoek jij hulp met handelen in crypto? Dan verwijzen we je graag door naar onze Premium membersgroep. Hier ontvangen leden als eerst de nieuwste technische analyses van een groot aanbod aan crypto.
Ook krijg je toegang tot exclusieve crypto-projecten, koersvideo's, handelsplannen en ask me anything (AMA) sessies met onze analisten. In onze Discord kunnen we 24/7 kennis met elkaar delen en proberen we samen met onze leden de markt voor te blijven. Word lid en probeer een Premium-lidmaatschap 30 dagen gratis.
Disclaimer: Beleggen brengt risico's met zich mee. Onze analisten zijn geen financieel adviseurs. Raadpleeg altijd een adviseur bij het maken van financiële beslissingen. De informatie en tips die op deze website zijn verstrekt is gebaseerd op eigen inzichten en ervaringen van onze analisten en dienen alleen voor educatieve doeleinden.