In dit artikel delen wij recente analyses uit de premium omgeving van twee cryptocurrencies. Het gaat dan om solana (SOL) en polygon (MATIC). Ben je nog geen lid of mocht je na het lezen van dit artikel nog vragen hebben, neem dan eens een kijkje op onze Premium informatiepagina.
Solana nog niet klaar met dalen
Solana heeft het zeer zwaar door de crash van de FTX exchange. De SOL koers daalde in slechts vier dagen met ongeveer 70%. Ondanks dat de koers de afgelopen dagen is gaan liggen en vanochtend nog een kleine stijging maakte, verwachten de analisten uit van Crypto Insiders echter dat daling nog niet voorbij is. De analisten deelden onlangs het volgende over de neerwaarse trend van de SOL koers
"SOL lijkt duidelijk een richting gekozen te hebben, en die is neerwaarts. Op het moment lijkt het erop dat de koers een 12345 Elliott innerwave aan het afronden is van de A wave van een ABC patroon. We verwachten dat SOL iets kan stijgen tijdens de correctie B wave, maar dan flink daalt in een C wave.

Zoals het er nu naar uitziet, zou dit betekenen dat de bodem voor SOL op dat moment bereikt wordt. Veel verschillende EW tellingen komen hier namelijk samen. De meest belangrijke wave die hier eindigt is de tweede wave uit een 12345 patroon op cyclus schaal. Daarna zou mogelijk dus volgens de theorie een explosieve harde derde wave kunnen volgen."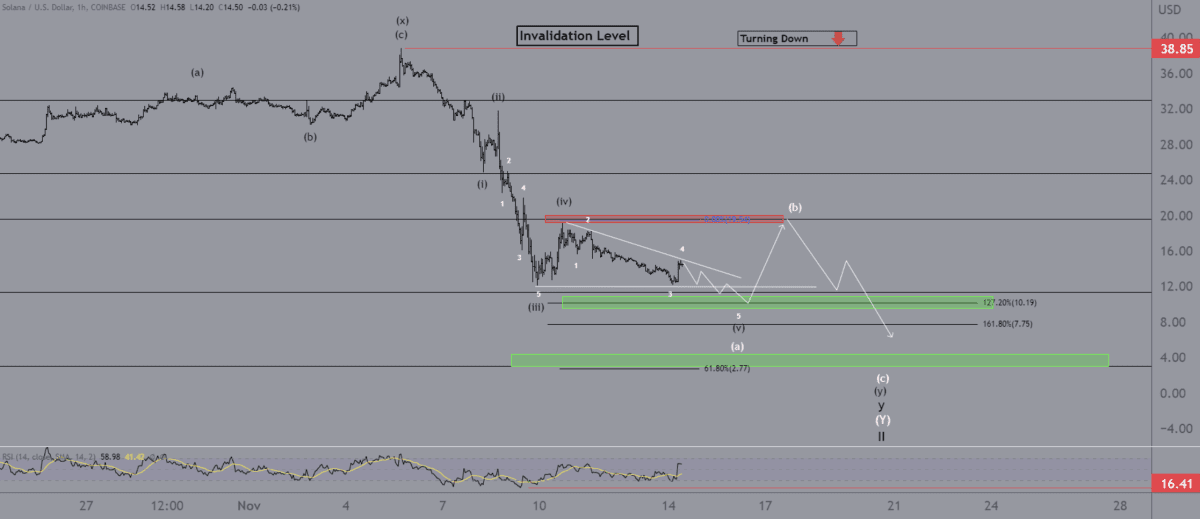 Polygon krijgt ruimte voor een stijging
Polygon is een van de weinige cryptocurrencies die weinig gemerkt heeft van de crisis omtrent de FTX exchange. De prijs van MATIC is minder dan 20% gedaald sinds het FTX nieuws naar buiten kwam terwijl veel andere crypto een stuk dieper in het rood staan. Dat is ook een van de redenen waarom de analisten van Crypto Insiders zeer positief blijven over de koers en dat beschrijven zij als volgt:
"Wij blijven echter onverminderd bullish voor polygon. Het lastige op dit moment is echter dat wij nog niet weten of MATIC een WXY Elliott Wave patroon gaat maken na de grote flat correctie. Met andere woorden wil dit zeggen dat wij nog niet vast kunnen stellen of de koers eerst naar de zone rondom $0,4 tot $0,5 gaat, of dat de stijging al is ingezet.

Hierdoor kunnen wij nog geen directe koopzone tekenen, echter wel al een verkoopzone. Dit is naar onze verwachting de zone zijn waarin MATIC veel weerstand krijgt en is daarom ons eerste target. Mocht dit patroon verder ontwikkelen of juist veranderen, stellen wij onze Premium leden zo snel mogelijk op de hoogte."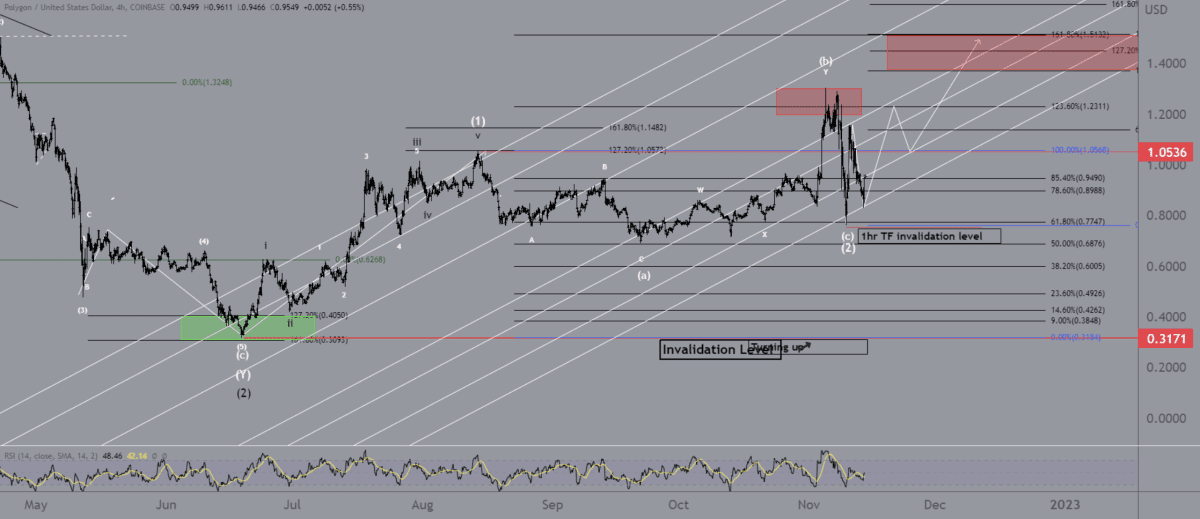 Solana of Polygon kopen of verkopen?
Overweeg jij SOL of MATIC te kopen of verkopen? Zoek jij hulp met handelen in crypto? Dan verwijzen we je graag door naar onze Premium membersgroep. Hier ontvangen leden als eerst de nieuwste technische analyses van een groot aanbod aan crypto. Ook krijg je toegang tot exclusieve crypto-projecten, koersvideo's, handelsplannen en ask me anything (AMA) sessies met onze analisten. In onze Discord kunnen we 24/7 kennis met elkaar delen en proberen we samen met onze leden de markt voor te blijven. Word lid en probeer een Premium-lidmaatschap 30 dagen gratis.
Disclaimer: Beleggen brengt risico's met zich mee. Onze analisten zijn geen financieel adviseurs. Raadpleeg altijd een adviseur bij het maken van financiële beslissingen. De informatie en tips die op deze website zijn verstrekt is gebaseerd op eigen inzichten en ervaringen van onze analisten en dienen alleen voor educatieve doeleinden.