ANKR heeft vandaag een prachtige stijging achter de rug van maar liefst 14%. In deze rubriek kijken we naar fundamentele redenen die de stijging kunnen verklaren. Daarnaast analyseren we de koers op basis van technische analyse zodat je een doordachte beslissing kunt maken om ANKR te kopen of juist te verkopen.
Hoewel het gister weer erg goed ging op de markt lijkt het overgrote deel van de cryptocurrencies toch weer rood te kleuren. Gelukkig zijn er toch nog uitschieters te bekennen. Ankr (ANKR) is daar een van. Deze coin steeg in de afgelopen 24 uur met ongeveer 14%. Over de afgelopen zeven dagen zagen we echter wel een daling van 14%. Door de stijging van vandaag staat ANKR weer op de 97e plaats op basis van marktwaarde.
Wat is Ankr?
Ankr is een blockchain waarop ontwikkelaars Remote Procedure Calls (RPC), die weer de mogelijkheid geven om data van verschillende blockchains te ontvangen. De gebruikers van dit protocol kunnen hierdoor live verschillende datasets volgen. Denk hierbij aan blockchains als de Binance Smart Chain, Avalanche of Ethereum. Het doel van Ankr is dus om Web3 met Decentralized Finance (DeFi) te combineren. De cryptocurrency ANKR wordt gebruikt om dit protocol draaiende te houden.
Waarom stijgt ANKR in waarde?
Een mogelijke reden van de stijging zou dit bericht kunnen zijn dat het team van Ankr heeft gepost. In dit bericht wordt er gesproken van een samenwerking met Maxihost. Maxihost is een bedrijf dat bare-metal servers aanbiedt. Zij hebben met Ankr afgesproken dat ongebruikte servercapaciteit gebruikt kan worden door Ankr in ruil voor betaling in de cryptocurrency ANKR. 
Dit is goed nieuws voor Ankr aangezien dit ervoor zorgt dat er een betere distributie is van het wereldwijde node netwerk van Ankr. Dit zorgt er op haar beurt weer voor dat de groei van Web3 services, platforms en apps wordt bevorderd. Een erg mooie ontwikkeling dus!
Technische analyse
Over de afgelopen maanden zagen we dat ANKR in een opwaartse driehoek aan het traden was. Helaas door de correctie die we op de gehele markt zagen viel ANKR naar beneden. De onderkant van dit patroon brak uit. Op zo'n moment moeten we verder uitzoomen om te kijken waar we eventueel opgevangen kunnen worden. Gelukkig was dat punt niet al te ver weg. In september tot en met december van 2020 vormde de bodems een opwaartse lijn. Deze lijn kon doorgetrokken worden naar boven om een steunlijn te maken. Dit is ook precies het niveau waar ANKR naartoe zakte. Dit niveau bood een perfect instapmoment.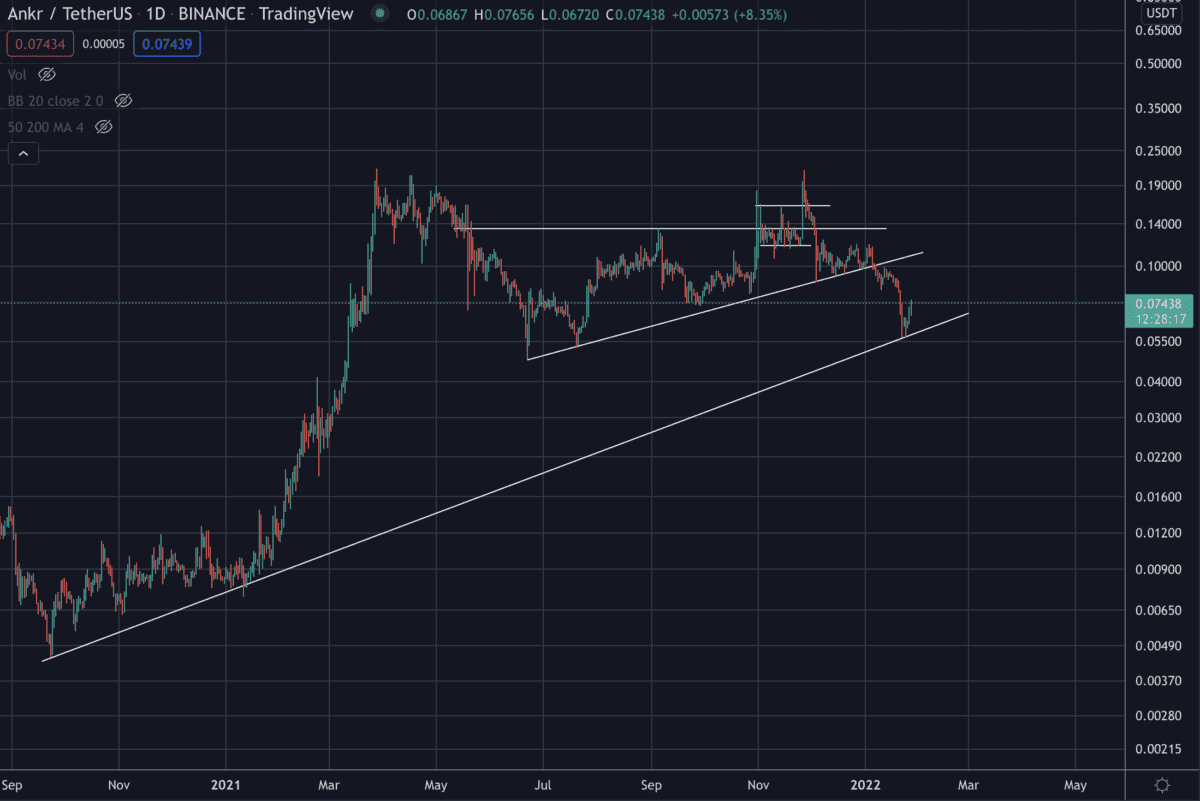 Wat zijn de verwachtingen voor de komende periode?
Of het nieuws nog verdere impact gaat hebben op de prijs is afhankelijk van een groot aantal factoren die dagelijks verschillen. Overweeg jij een positie te nemen in ANKR? In ons Discord kanaal voor leden bediscussiëren we het nieuws en zullen we verdere updates met jullie blijven delen. Ook zullen hier additionele technische analyses gedeeld worden door een van onze analisten die dieper op de koers ingaan. Je komt hier eenvoudig in contact met onze analisten en crypto coaches, zij helpen je graag een weloverwogen beslissing te maken.