ANY heeft vandaag een leuke stijging achter de rug van 18%. Hieronder kijken we naar fundamentele redenen die de stijging kunnen verklaren. Daarnaast analyseren we de koers op basis van technische analyse zodat je een doordachte beslissing kunt maken om ANY te kopen of juist te verkopen.
Hoewel bitcoin (BTC) en ethereum (ETH) er weinig zin in blijken te hebben vandaag, zijn er toch een aantal coins die wel hard zijn gestegen. Een daarvan is Multichain (ANY), voorheen Anyswap. De coin is in de afgelopen 24 uur met ongeveer 18% gestegen. Over de afgelopen zeven dagen werd een zelfde rendement behaald. Door de stijging staat de coin op de 251e plaats op basis van marktwaarde. 
Wat is Multichain?
Multichain is een platform waarop gebruikers tokens van de ene naar de andere chain kunnen swappen. De gebruiker kan alle munten kiezen van blockchains die gebruik maken van een ECDSA of EdDSA algoritme, inclusief bitcoin (BTC), ethereum (ETH), USDT, XRP, litecoin (LTC) en bijvoorbeeld FSN. De ANY token kan binnen het protocol gebruikt worden voor de governance. Houders van de token kunnen bijvoorbeeld stemmen op welke nieuwe chains er ondersteund moeten worden.
Waarom stijgt ANY in waarde?
Een mogelijke reden van de stijging zou deze aankondiging kunnen zijn. In dit bericht wordt er aangegeven dat ANY een samenwerking is aangegaan met Syscoin. Nu WBTC, DAI, USDC, USDT, TUSD en ETH geswapt worden tussen Syscoin en Ethereum. Deze samenwerking zal ervoor zorgen dat zowel gebruikers van ANY als de gewone crypto enthousiasteling meer gebruikt kan maken van het platform. 
Daarnaast is Syscoin een leuke naam om mee samen te werken. Het platform staat op de 119e plaatst op basis van marktwaarde en lijkt de afgelopen tijd alleen maar harder te groeien! Zo stond de coin een aantal weken geleden slechts op de 162e plaats. Het gaat daarom interessant worden om te zien wat er nog meer uit deze samenwerking zal komen. 
Technische analyse
ANY is helaas nog niet heel oud, waardoor er op het moment nog niet veel prijsdata beschikbaar is. Wat wel duidelijk te zien is, is dat de koers van ANY zich in een opwaartse trend omhoog beweegt. We hebben net een nieuwe retest van de onderste steunlijn achter de rug. Deze steunlijn blijkt vooralsnog te houden. Het lijkt erop dat de koers weer langzaamaan naar de bovenkant van het kanaal toe wilt gaan. Onderweg zullen nog wel een aantal weerstandslijnen in de weg staan. Het zal interessant zijn om te zien of de koers dit patroon voort blijft zetten.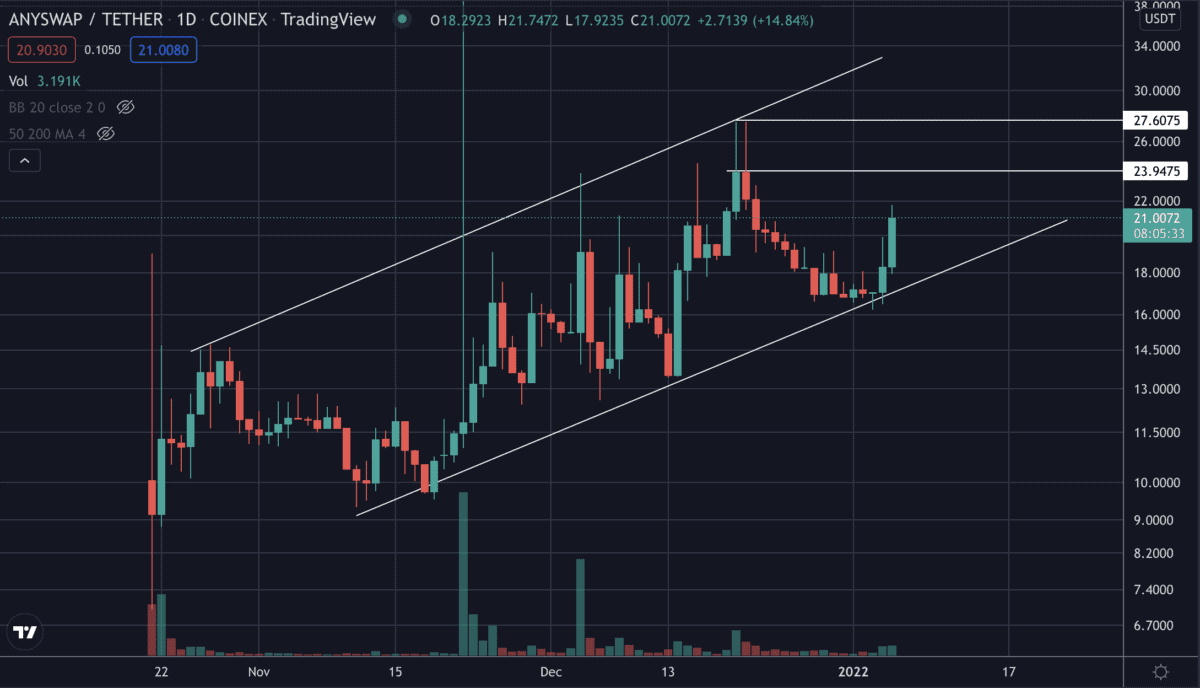 Wat zijn de verwachtingen voor de komende periode?
Of het nieuws nog verdere impact gaat hebben op de prijs is afhankelijk van een groot aantal factoren die dagelijks verschillen. Overweeg jij een positie te nemen in ANY? In ons Discord kanaal voor leden bediscussiëren we het nieuws en zullen we verdere updates met jullie blijven delen. Ook zullen hier additionele technische analyses gedeeld worden door een van onze analisten die dieper op de koers ingaan. Je komt hier eenvoudig in contact met onze analisten en crypto coaches, zij helpen je graag een weloverwogen beslissing te maken.