Disclaimer: Beleggen brengt risico's met zich mee. Onze analisten zijn geen financieel adviseurs. Raadpleeg altijd een adviseur bij het maken van financiële beslissingen.
---
In de Premium omgeving van Crypto Insiders delen ervaren analisten dagelijks actuele technische analyses voor cryptocurrencies. In dit artikel delen we een recente analyse van cosmos (ATOM). Ook benoemen we enkele interessante ontwikkelingen en verwachtingen voor de komende periode. Mocht je na het lezen van dit artikel nog vragen hebben, dan kun je deze eenvoudig stellen in onze Premium omgeving.
Wat is ATOM?
ATOM is een cryptocurrency binnen het Cosmos ecosysteem. Het Cosmos ecosysteem is gericht op de interoperabiliteit van blockchains. Ontwikkelaars kunnen met de tools van Cosmos eigen blockchains maken voor specifieke doeleinden. Wanneer we naar de bredere crypto-markt kijken dan valt op dat de meeste blockchains eigenlijk kleine eilandjes zijn die niet met elkaar kunnen communiceren.
Cosmos lost dit op door een internet van blockchains te vormen die gebouwd zijn op dezelfde fundamenten, waarmee interoperabiliteit dus in het netwerk zit gebakken. Hierdoor kunnen deze blockchains met elkaar communiceren, informatie uitwisselen en tokens versturen. ATOM is de zogenoemde native token en is bijvoorbeeld het token waarmee gestemd kan worden op ontwikkelingsvoorstellen.
Laatste cosmos nieuws
ATOM staat over de afgelopen 24 uur ruim 20% in de plus, maar een aanleiding in het laatste crypto nieuws is niet direct te vinden. Wel is duidelijk dat Cosmos, ondanks de slechte marktomstandigheden, gewoon blijft ontwikkelen. Een van die ontwikkelingen is de lancering van tenminste drie stablecoins. Om de stablecoins aan te maken heeft men ATOM nodig en dus neemt hiermee de vraag naar ATOM toe.
Why $ATOM is mooning?

The main collateral in three new @MakerDAO inspired stablecoins in the @cosmos ecosystem:$USK by @TeamKujira $IST by @agoric $CMST by @ComdexOfficial

These 3 chains will need $Atom to mint their stablecoins, locking up the supply.

— Ericzoo.eth (@ericzoo) August 24, 2022
Technische analyse ATOM koers
En dan dan nu het gedeelte waarom je dit artikel waarschijnlijk aan het lezen bent, de technische analyse van ATOM! Zoals geschreven staat de cosmos koers dik 20% in de plus. De leden van Crypto Insiders Premium werden gisteren (8 september) al getrakteerd op een analyse in Discord waarin onze analisten erg positief waren over deze altcoin.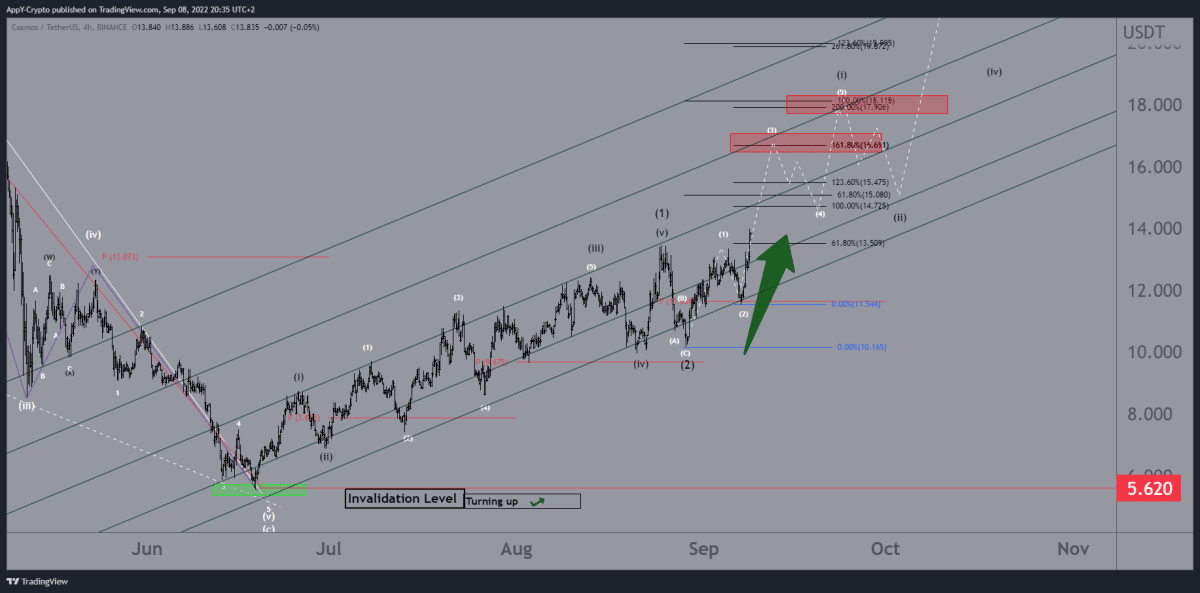 In de analyse was te lezen dat onze analisten destijds een flinke stijging verwachtten. Deze stijging zou ons helemaal tot het 1.618 Fibonacci level kunnen brengen, wat rond de $16,6 ligt. De analisten in de Premium omgeving verwachten een verdere stijging tot $22, dit omdat we te maken hebben met een zogeheten 12345 Elliot Impulsive Wave. Momenteel bevindt ATOM zich in de 3e wave van de 5. Hiermee is de huidige wave omhoog dus nog niet afgerond. De analisten blijven voorlopig nog erg bullish over ATOM.
ATOM kopen of verkopen?
Heb je vragen en wil je dit soort analyses direct ontvangen? Word lid en probeer een Premium-lidmaatschap 30 dagen gratis uit. Naast analyses krijg je als lid ook de mogelijkheid vragen te stellen aan onze analisten en coaches. Ook vind je een breed scala aan interessante discussiekanalen over allerlei aan crypto-gerelateerde onderwerpen!