ATOM is in de afgelopen periode met maar liefst 26% gestegen. In dit artikel kijken we naar mogelijk reden waarom deze cryptovaluta in waarde is gestegen en analyseren we de ATOM koers zodat je een weloverwogen beslissing kunt maken om ATOM te kopen of verkopen.
Een coin die het de afgelopen dagen erg goed heeft gedaan is Cosmos (ATOM). ATOM steeg in de afgelopen 24 uur met ongeveer 5% maar wist over de afgelopen vier dagen met ongeveer 26% te stijgen door een bepaalde technische formatie op de grafiek. Door de stijging staat de coin nu op de 25e plaats op basis van marktwaarde.
Wat is ATOM?
Het doel van Cosmos is om een ​​"Internet of Blockchains" aan te bieden. Een Internet of Blockchains is in principe een netwerk van verschillende blockchains die op een decentrale wijze toch met elkaar kunnen communiceren en samenwerken. Cosmos is dus een ecosysteem waarin verschillende blockchains gebruik kunnen maken van tools en netwerken om met elkaar samen te kunnen werken. Zo willen zij er ook voor zorgen dat er meer adoptie en toepasbaarheid is van cryptocurrencies en de blockchain technologie. 
Waarom stijgt ATOM in waarde?
De reden van de stijging zou op basis van technische analyse verklaard kunnen worden. Een gebruiker op Twitter wees zijn volgers op het feit dat ATOM een reversed head and shoulders (omgekeerd hoofd-en-schouders) patroon begon te vormen. Dit patroon is, zoals de naam doet vermoeden, het omgekeerde van een normaal hoofd-en-schouders patroon die vaak een neerwaartse beweging voorspelt. 
Wow this thing has been moving nice the last couple days.

Possibly an inverse head and shoulders working on breakout here.

No position for me but I'll make sure to keep monitoring this. pic.twitter.com/G9aUpxKdHq

— Nebraskan Crypto  (@NebraskanCrypto) December 31, 2021
Het omgekeerde patroon is ook bekend als een bodempatroon. Het koersdoel kan vanaf de neklijn worden berekend en zou even groot moeten zijn als de afstand tussen het hoofd (de middelste en diepste daling van het patroon) tot aan de neklijn (de rechte weerstandslijn) zoals in de afbeelding hieronder is voorgedaan. Hiermee zou je precies op het niveau komen waar ATOM op dit moment op staat.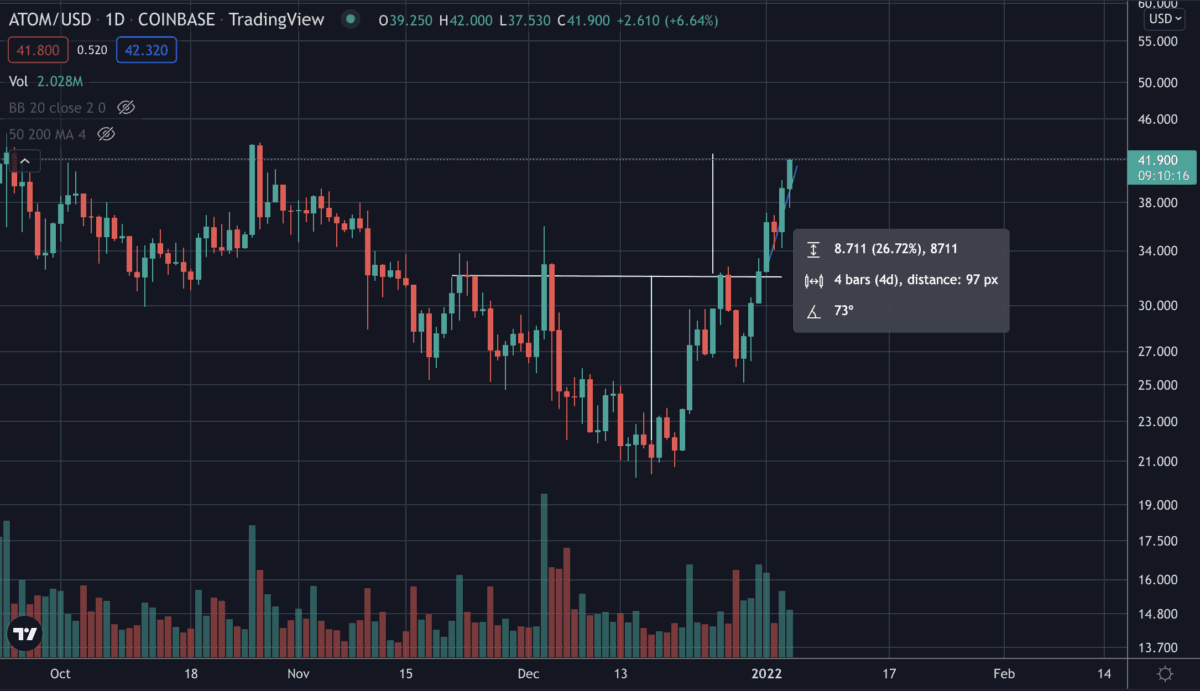 Wat na dit patroon zou kunnen volgen is een pullback terug naar de neklijn, waar deze nu wordt getest als steun in plaats van als weerstand. Mocht deze lijn houden als steun dan zou dit weer een prachtige nieuwe basis zijn als instapmoment. Een eerste target zou dan weer het punt kunnen zijn van de vorige piek, dit is de piek die we op het moment nog aan het vormen zijn.
Wat zijn de verwachtingen voor de komende periode?
Of dit patroon daadwerkelijk nog verder zal uitspelen is afhankelijk van een groot aantal factoren die dagelijks verschillen. Overweeg jij een positie te nemen in ATOM? In ons Discord kanaal voor leden bediscussiëren we het nieuws en zullen we verdere updates met jullie blijven delen. Ook zullen hier additionele technische analyses gedeeld worden door een van onze analisten die dieper op de koers ingaan. Je komt hier eenvoudig in contact met onze analisten en crypto coaches, zij helpen je graag een weloverwogen beslissing te maken.