In de Premium omgeving van Crypto Insiders worden dagelijks actuele technische analyses gedeeld door ervaren analisten. De afgelopen periode kwam Avalanche (AVAX) hier regelmatig ter sprake. In deze rubriek blikken we terug op deze technische analyse en brengen we de recente ontwikkelingen en verwachtingen voor de komende periode in kaart. Mocht je na het lezen van dit artikel nog vragen hebben kun je deze eenvoudig stellen in onze Discord community, hier staan onze technische analyses doorgaans 48 uur eerder klaar voor onze leden.
Wat is Avalanche (AVAX)?
Avalanche is een platform waarop iedereen haar eigen multifunctionele blockchain en gedecentraliseerde applicaties (dApps) kan bouwen. Avalanche werkt middels smart contracts binnen de Decentralized Finance (DeFi) sector. Daarnaast probeert het platform om enkele beperkingen waar oudere blockchain-platforms mee kampen op te lossen. Denk hierbij aan de lage transactiesnelheid, centralisatie en schaalbaarheid.
Laatste Avalanche nieuws
Avalanche is over de afgelopen dagen flink gestegen. Dit zorgde er ook meteen voor dat $1,98 miljoen aan AVAX short trades gesloten moesten worden. De stijging heeft te maken met de toenemende populariteit van op Avalanche gebaseerde non-fungible tokens (NFT). Het handelsvolume van deze NFT's is over de afgelopen 24 uur met meer dan 30% gestegen, blijkt uit cijfers van CryptoSlam. Daarnaast is ook het totaal aantal verkopen met 12% gestegen. Dit zou mogelijk een goed teken kunnen zijn voor Avalanche. Hierdoor zouden ze gezien kunnen worden als een volwaardig platform om NFT's op uit te brengen.
Wat zijn de verwachtingen voor AVAX?
Of bovenstaande ontwikkelingen nog verdere impact gaat hebben op de prijs is afhankelijk van een groot aantal factoren die dagelijks verschillen. De crypto-markt is immers zwaar onderhevig aan economische gebeurtenissen en traditionele aandelenmarkten. Daarom is het soms lastig om het juiste moment te bepalen om in een bepaald project te investeren. Een technische analyse kan bijvoorbeeld helpen bij het bepalen binnen welk tijdspan een cryptovaluta interessant (kan) zijn om te kopen of verkopen. Op basis van bijvoorbeeld de beleggingsgeschiedenis en het identificeren van patronen in prijsbewegingen.
Technische analyse AVAX koers
Op het moment zien de analisten in de Discord community van Crypto Insiders een mooie verkoopzone gevormd worden voor AVAX. Hier zien we een WXY patroon die ons eerst nog wat omlaag zal brengen voor we door naar boven schieten. Deze stijging zou ons mogelijk richting de $35 kunnen brengen. In de Premium omgeving is de volledige analyse met alle bijbehorende prijsniveaus te lezen.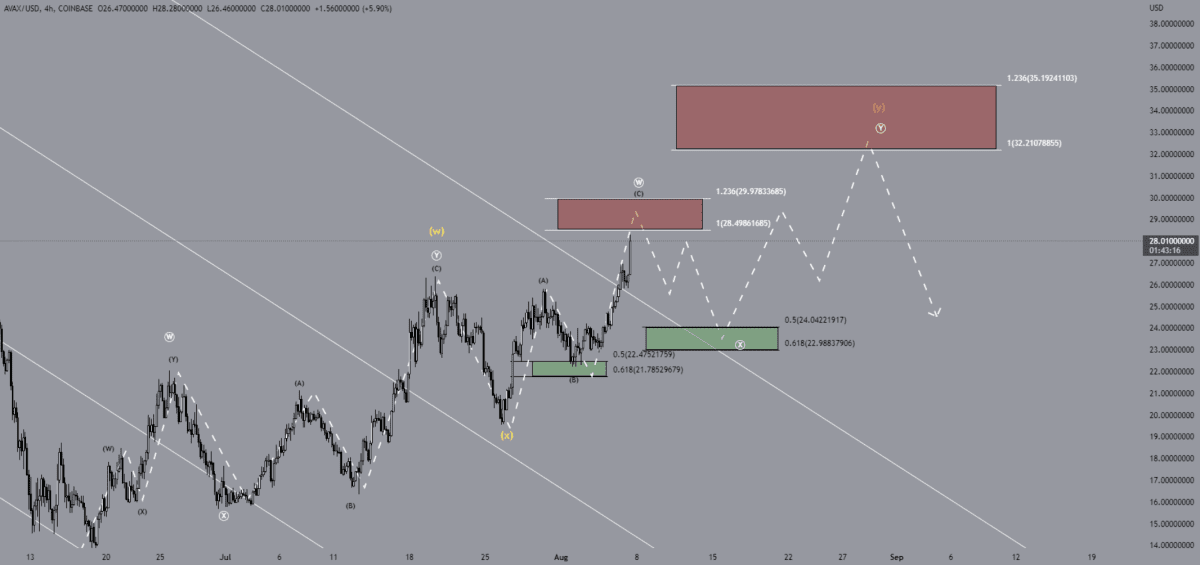 AVAX kopen of verkopen?
Zoek jij hulp met handelen in crypto? Dan verwijzen we je graag door naar onze  voor leden. Hier bediscussiëren ervaren analisten en handelaren dagelijks hun analyses en handelsplannen. Ook delen we hier als eerst onze technische en fundamentele analyses. In onze Discord community kunnen we 24/7 kennis met elkaar delen en proberen we onze premium leden op de hoogte te houden.
Disclaimer: Beleggen brengt risico's met zich mee. Onze analisten zijn geen financieel adviseurs. Raadpleeg altijd een adviseur bij het maken van financiële beslissingen. De informatie en tips die op deze website zijn verstrekt is gebaseerd op eigen inzichten en ervaringen van onze analisten. Deze dienen daarom alleen voor educatieve doeleinden.