In onze Discord community voor leden is er altijd veel aandacht voor Bitcoin (BTC). In deze reeks duiken we in de (on-chain) fundamentals achter Bitcoin en zullen we periodiek terugkomen om de ontwikkelingen in de gaten te houden. Dit artikel is een vervolg op onze vorige on-chain fundamentele analyse van Bitcoin. Zoals jullie van ons gewend zijn analyseren we verschillende statistieken om een duidelijk en realistisch beeld te schetsen. Mocht je na het lezen van dit artikel nog vragen hebben kun je deze eenvoudig stellen in onze Discord community voor leden.
Bitcoin (BTC)
Vorige maand deelden we een fundamentele analyse van Bitcoin waarin we lieten zien hoe het Bitcoin netwerk ondanks de sterke prijsdalingen erg sterke on-chain fundamentals heeft. Recent zien we dat de volatiliteit in de markt weer toeneemt en dat bitcoin onder de $20.000 is gezakt. In dit artikel nemen we een kijkje naar de fundamentals en on-chain data om te kijken hoe Bitcoin er voor staat.
Fundamental metrics BTC
In deze sectie kijken we naar belangrijke fundamentele metrieken. Fundamentals focussen op onderliggende techniek, development en gebruik van een blockchain netwerk om een beeld te geven van de lange termijn potentie van een project. Dit vormt de basis om risico's in te schatten en investeringskeuzes te maken. 
Bitcoin koers
De bitcoin realized price is een metriek die gebruikt wordt om markt bodems te identificeren. De realized price (ook wel gerealiseerde prijs) is de gemiddelde prijs die investeerders hebben betaald voor hun bitcoin. Wanneer de koers onder de gerealiseerde prijs zakt is dit een indicatie dat de markt erg laag geprijsd is en dat de markt een mogelijke bodem vormt. In dit geval kan er sterke koopdruk ontstaan die zorgt voor prijsstijgingen.
In Figuur 1 is de gerealiseerde prijs van bitcoin te zien. Historisch gezien zien we dat als de koers onder de gerealiseerde prijs zakt dit een indicatie is van het vormen van een prijsbodem. Voorbeelden zijn de 2020 marktcrash en de 2018/2019 bearish markt. Momenteel bevindt bitcoin zich weer onder de gerealiseerde prijs, dit laat zien dat het risicoprofiel voor lange termijn investeerders op het moment erg laag is. Het is niet ongebruikelijk voor de bitcoin koers om meerdere maanden onder de gerealiseerde prijs te blijven. Dit betekent dat op de korte termijn een verdere koersdaling nog altijd mogelijk is.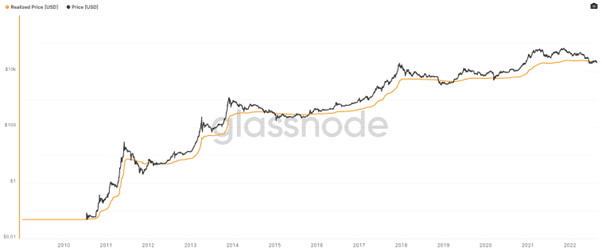 Bitcoin Risico
Afhankelijk van de waardering van bitcoin kan het risicoprofiel sterk verschillen. Zo loop je als investeerder veel meer risico wanneer je bitcoins koopt in een ver ontwikkelde bull-run. Als investeerder is het belangrijk om de risico van de markt goed te analyseren. Een van de metrieken die hiervoor handig is, is de reserve risk. 
De reserve risk van Bitcoin is een metriek dat de bitcoin koers vergelijkt met het totaal aantal lange termijn investeerders (ook wel HOLDers). Lange termijn investeerders worden gedefinieerd als bitcoin houders die hun coins minimaal een jaar niet laten bewegen. Hoe groter het vertrouwen van lange termijn investeerders en lager de koers, des te lager de reserve risk metriek is. In Figuur 2 nemen we een kijkje naar hoe de metriek de afgelopen jaren heeft gepresteerd. 
De metriek behaald zelden het niveau van 0.001 risico, slechts tijdens de bear markt van 2015 en de corona crash in 2020 zagen we een vergelijkbaar risiconiveau. Afgelopen maanden zagen we het risiconiveau zakken tot deze historisch lage waardes. Dit laat zien dat het risiconiveau van Bitcoin exceptioneel laag is vanuit een lange termijn perspectief.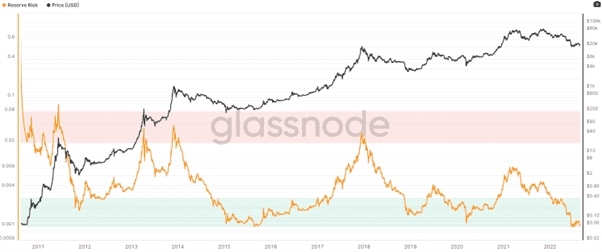 Bitcoin whales
Het gedrag van bitcoin whales (oftewel wallets met grote hoeveelheden bitcoin) geeft een beeld wat het grote geld (vaak institutioneel geld) doet. Omdat whales dermate veel bitcoin bezitten kunnen zij een relatief sterke invloed hebben op de koers. Uit de on-chain data zien we dat het aantal wallets dat meer dan 1 bitcoin bezit sterk aan het toenemen is (zie Figuur 3). Dit laat zien dat kleinere investeerders gebruik maken van de lage koers om massaal te accumuleren. 
In Figuur 4 zien we juist dat het aantal whales dat meer dan 1000 bitcoin in hun wallets heeft sterk aan het afnemen zijn. Dit suggereert dat de whales aan het verkopen zijn een andere mogelijke verklaring is dat de whales hun holdings verdelen over meerdere adressen (dit is niet ongebruikelijk i.v.m. bijvoorbeeld risicospreiding). Desondanks lijkt er wel verkoopdruk te komen vanuit grote whales wat een verklaring kan zijn voor de dalende koers.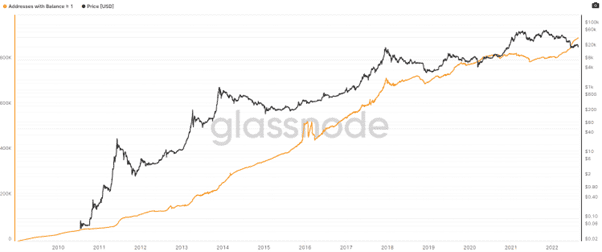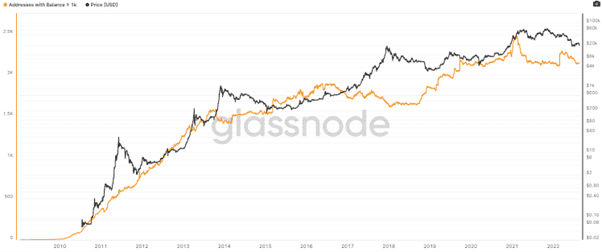 Bitcoin op exchanges
De net position change van bitcoin op exchanges laat zien of er per dag juist netto meer of minder bitcoin naar of uit een exchange stroomt. Deze metriek is een goede indicatie van de lange termijn overtuiging van investeerders. Wanneer er veel bitcoin uit de exchanges stroomt naar cold wallets neemt de (potentiële) verkoopdruk op de exchanges af wat mogelijk tot een koersstijging kan zorgen. In Figuur 1 zien we de netto in- en uitstroom van bitcoin op exchanges. 
Uit Figuur 5 is te zien dat de uitstroom van bitcoin uit exchanges de afgelopen maanden dominant is geweest. Dit laat zien dat veel investeerders bitcoin op exchanges kopen om ze vervolgens van de exchanges te halen. In zowel juni als juli was de uitstroom van bitcoin historisch hoog met een piek uitstroom van ruim 136.000 bitcoin.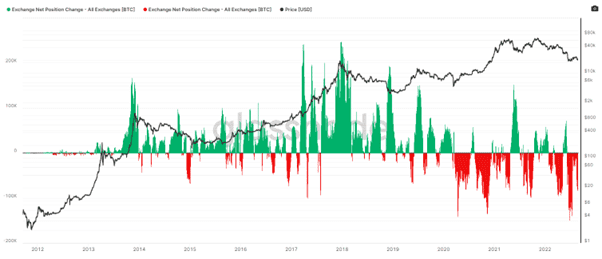 Conclusie
Ondanks de sterke koersdaling van onder de $20.000 zien we dat de on-chain fundamentals van het Bitcoin netwerk sterk blijven. Het valt op dat het risicoprofiel volgens de reserve risk metriek historisch laag is. Dit laat zien dat het momenteel een interessant moment is voor lange termijn investeerders om te accumuleren, echter sluit dit niet uit dat de koers verder kan zakken op de korte termijn. Verder zien we wel dat grote whales (wallets met meer dan 1000 bitcoin) hun bitcoin aan het verkopen zijn. Mogelijk gaat dit slechts om een herverdeling van bitcoin over meerdere wallets. Desondanks zien we juist dat kleinere wallets massaal bitcoin aan het accumuleren zijn. 
Bitcoin kopen of verkopen?
Om antwoord te krijgen op de vraag of dit het juiste moment is om te kopen of verkopen verwijzen we je graag door naar onze Discord groep voor leden. Daar bediscussiëren onze analisten en ervaren handelaren dagelijks hun eigen in- of uitstapmomenten. Ook delen we hier regelmatig aanvullende koers analyses en updates van projecten die we eerder in deze rubriek hebben behandeld. Via Discord kunnen we 24/7 kennis met elkaar delen en proberen we samen met onze leden de markt voor te blijven. 
Beleggen brengt risico's met zich mee. Onze analisten zijn geen financieel adviseurs. Raadpleeg altijd een adviseur bij het maken van financiële beslissingen. De informatie en tips die op deze website worden verstrekt zijn gebaseerd op eigen inzichten en ervaringen van onze analisten en dienen alleen voor educatieve doeleinden.
Disclaimer: Beleggen brengt risico's met zich mee. Onze analisten zijn geen financieel adviseurs. Raadpleeg altijd een adviseur bij het maken van financiële beslissingen. De informatie en tips die op deze website worden verstrekt zijn gebaseerd op eigen inzichten en ervaringen van onze analisten en dienen alleen voor educatieve doeleinden.