CEL heeft vandaag een prachtige stijging achter de rug van maar liefst 15%. In deze rubriek kijken we naar fundamentele redenen die de stijging kunnen verklaren. Daarnaast analyseren we de koers op basis van technische analyse zodat je een doordachte beslissing kunt maken om CEL te kopen of juist te verkopen.
De markt lijkt weer wat op te krabbelen. Waar bitcoin (BTC) weer boven de $48.000 staat wist ook ethereum $3.800 weer aan te tikken. Echter een coin die harder is gestegen is Celsius (CEL). CEL steeg in de afgelopen 24 uur met ongeveer 15%. In de afgelopen zeven dagen wist de coin eenzelfde rendement te halen. Door de stijging staat Celsius op de 90e plaats op basis van marktwaarde.
Wat is Celsius?
Celsius wil het alles-in-een pakket worden voor alle bankzaken en financiële services voor cryptocurrency investeerders of houders. Gebruikers van het platform kunnen bijvoorbeeld hun cryptocurrencies daar bewaren en zullen hier rente op krijgen maar kunnen ook betalingen verrichten of via het platform staken. De CEL token kan binnen het platform weer gebruikt worden voor verschillende doeleinde. 
Waarom is CEL in waarde gestegen?
De stijging zou te maken kunnen hebben met de volgende twee berichten. De eerste heeft te maken deze aankondiging. Hierin geeft het project aan dat zij op Blockchain Fest 2021 de prijs voor beste centralized finance (CeFi) Lending Platform hebben gewonnen. Dit is goed nieuws voor het project aangezien zij nu veel gratis publiciteit hebben gehad. Blockchain Fest is een van de grootste evenementen die draait om blockchain en alles crypto. Zo kwam het project misschien weer bij veel verschillende nieuwe investeerders die nog niet van het project gehoord hadden maar nu wel hun onderzoek gaan doen. 
Daarnaast heeft Celsius net een nieuwe update doorgevoerd aan haar wallet. Hierbij zullen alle CEL die op het platform worden gestort door de gebruikers bewaard worden door Celsius zelf. Op deze manier willen zij meer aan de compliance voorwaarden voldoen. Dit is tevens een goed teken voor het project aangezien dit bewijst dat het bedrijf achter de coin serieus bezig is en dus ook wil voldoen aan de wet- en regelgeving. 
Technische analyse
 CEL heeft sinds onze laatste blik op de coin een mooie breakout gemaakt uit de trend. Op het moment lijken we wel tegen een lange termijn weerstand aan te lopen. Mocht de koers hier nog niet direct doorheen breken zou het interessant kunnen zijn op voor een instapmoment te kijken op de onderstaande steunlijn. De weerstand van dit moment zou dan als target gezien kunnen worden.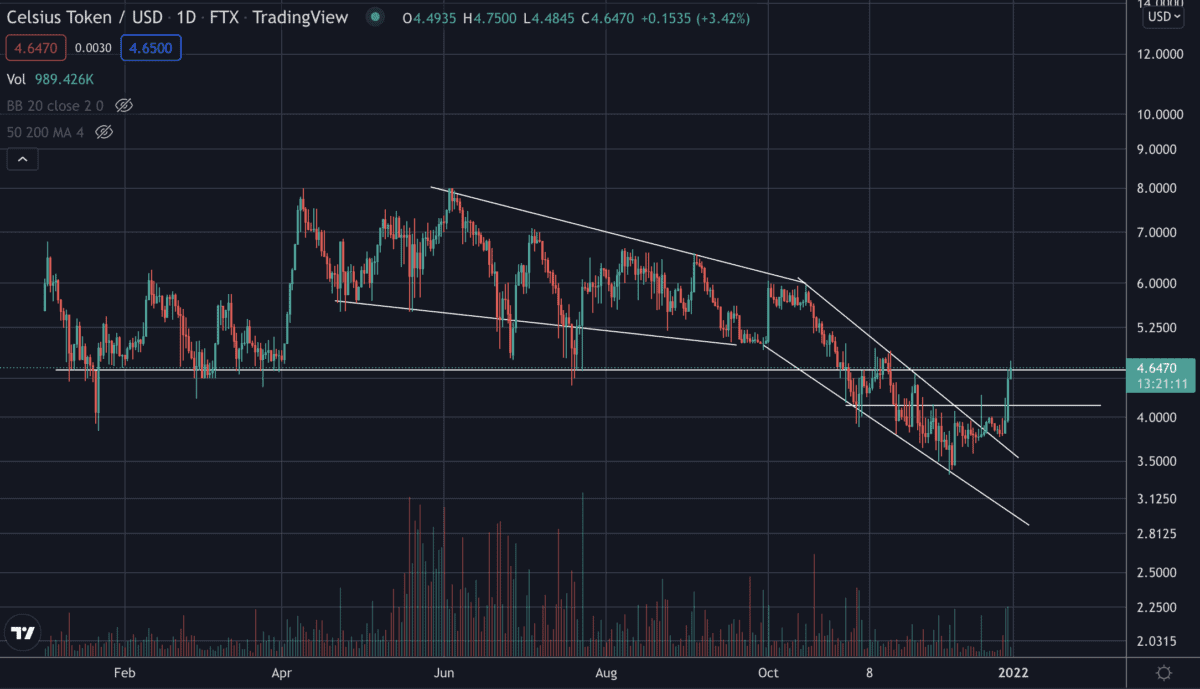 Wat zijn de verwachtingen voor de komende periode?
Of het nieuws nog verdere impact gaat hebben op de prijs is afhankelijk van een groot aantal factoren die dagelijks verschillen. Overweeg jij een positie te nemen in CEL? In ons Discord kanaal voor leden bediscussiëren we het nieuws en zullen we verdere updates met jullie blijven delen. Ook zullen hier additionele technische analyses gedeeld worden door een van onze analisten die dieper op de koers ingaan. Je komt hier eenvoudig in contact met onze analisten en crypto coaches, zij helpen je graag een weloverwogen beslissing te maken.