10SET is vandaag met maar liefst 31% gestegen. In de afgelopen zeven dagen zelfs met 153%. In dit artikel kijken we naar mogelijke fundamentele redenen die schuil gaan achter deze stijging. Ook analyseren we de koers zodat je een weloverwogen beslissing kunt maken om 10SET te kopen of verkopen.
Hoewel er weinig coins in de plus staan vandaag, is er toch een uitschieter. Een van de uitschieters van vandaag is Tenset (10SET). De coin steeg in de afgelopen 24 uur met ongeveer 31%. In de afgelopen zeven dagen ging het ook enorm goed. Hier steeg de coin met ongeveer 153%. Door deze stijging staat de coin nu volgens CoinGecko op de 238e plaats op basis van marktwaarde.
Wat is Tenset? 
Tenset is een opkomend blockchain project dat zegt de brug te willen zijn tussen cryptocurrencies en de traditionele aandelenmarkt. Het doel van het project is om de adoptie van cryptocurrencies en de blockchain in de traditionele financiële markten te versnellen. 
Waarom stijgt 10SET in waarde?
De stijging zou mogelijk twee redenen kunnen hebben. De eerste is de aankondiging die het project deed op Twitter. In deze aankondiging gaven ze aan dat ze 10 miljoen tokens hebben vernietigd. Hierdoor is de maximale supply minder dan 200 miljoen tokens. Een flinke burn dus! Minder aanbod zorgt ervoor dat de coin schaarser wordt, met een stijgende vraag naar de coin kan weer zorgen voor een prijsstijging. 
Een tweede mogelijke verklaring is deze tweet. Hier kondigen ze een airdrop aan van de StableDoc token. Het kan zijn dat investeerders dit een interessant project leken en aan de airdrop mee wilde doen. Om mee te kunnen doen aan een airdrop heb je eerst zelf de tokens nodig. Investeerders kunnen dus de coin massaal gekocht hebben om hier aan mee te kunnen doen, waardoor de koers ook is gestegen. 
Technische analyse
De grafiek van 10SET ziet er goed uit. Waar er een lange termijn neerwaartse trend gevormd was die over de drie pieken streek zoals te zien is in onderstaande grafiek, is de koers daar nu uitgebroken.
De uitbraak was ook erg overtuigend. Er hangt echter wel nog wat weerstand rond de $3,20. Mochten we toch terugzakken is het niveau van de toppen in de grafiek hieronder de steun zone. Dit ligt ongeveer op $2,40.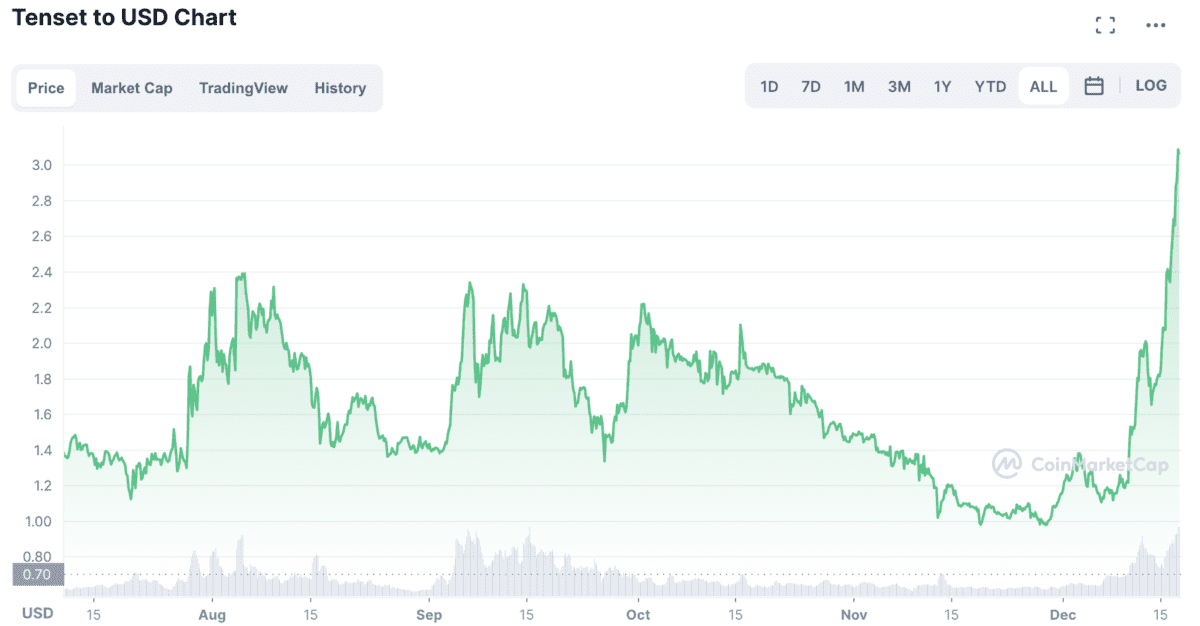 Wat zijn de verwachtingen voor de komende periode?
Of dit nieuws of ander nieuws nog verder impact zal hebben op de koers is afhankelijk van een aantal grote factoren die dagelijks verschillen. Denk hierbij aan de koers van bitcoin of het marktsentiment. Overweeg jij een positie te nemen in 10SET? In ons Discord kanaal voor leden bediscussiëren we het nieuws en zullen we verdere updates met jullie blijven delen. Je komt hier eenvoudig in contact met onze analisten en crypto coaches, zij helpen je graag een weloverwogen beslissing te maken.