In de Crypto-Insiders premium omgeving voor leden hebben wij gevraagd waar jullie meer van willen zien en een van de resultaten was meer technische analyses. In deze analyse kijken we naar ApeCoin (APE), Cardano (ADA), Axie Infinity (AXS) en tot slot Dogecoin (DOGE). Wil jij voor de volgende editie andere cryptocurrencies zien? Laat het weten in de premium omgeving voor leden.
ApeCoin (APE)
APE is in de afgelopen 24 uur met 22% gestegen en in de afgelopen zeven dagen met ongeveer 1223%. Dit zijn natuurlijk prachtige resultaten. Het feit dat ApeCoin vrij nieuw is heeft hier natuurlijk bij geholpen. ApeCoin staat hierdoor op de 38e plaats op basis van marktwaarde.
APE is ook gister behandeld in de Crypto-analyse en liet toen een prachtige uptrend zien. Als we opnieuw naar de 1-uurs grafiek kijken zien we de APE zich perfect aan deze opwaartse trend heeft gehouden en zelfs meerdere malen de weerstandslijn heeft uitgetest. Op de weg naar boven konden we zien dat de Relative Strength Index (RSI) meerdere malen in het overbought gebied is gekomen en hier ook vervolgens ook op reageerde. Elke keer als de RSI te hoog werd zagen we een korte correctie.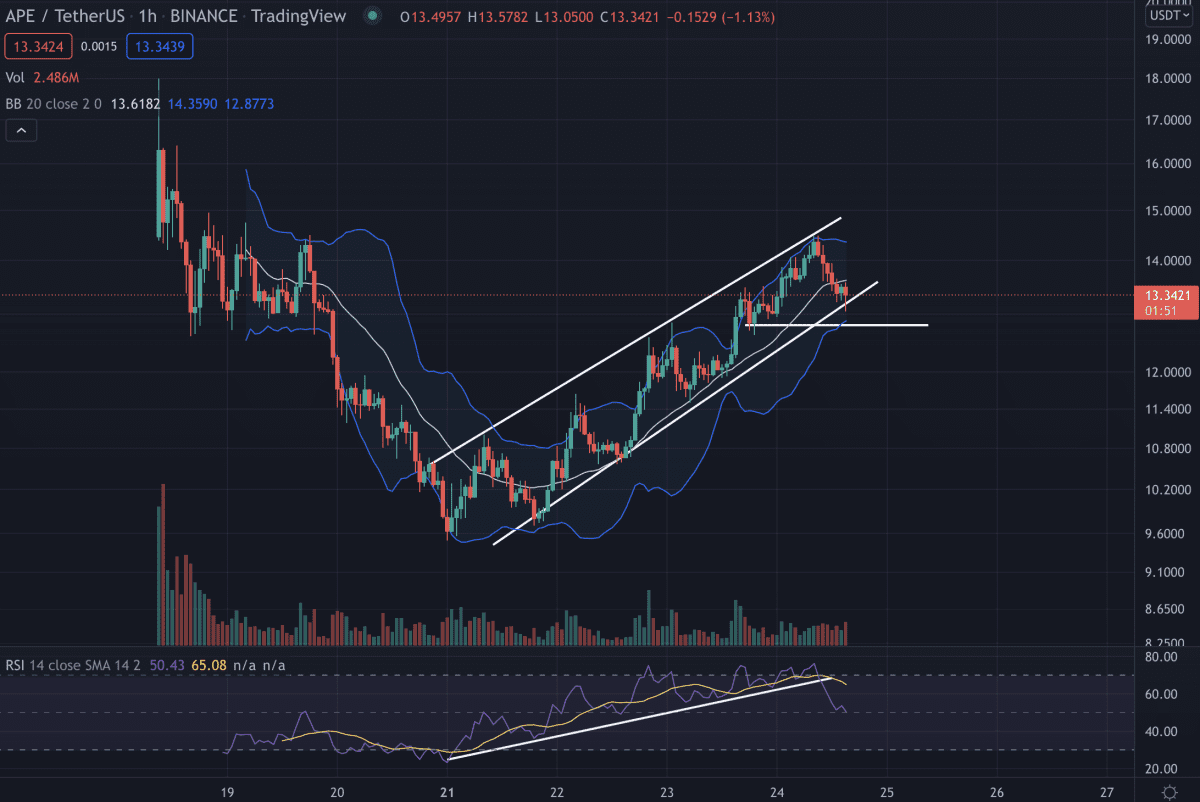 Op het moment van schrijven hebben we dit recentelijk nog gezien en de koers reageerde zoals we zouden verwachten. Nu de koers kort omlaag gaat heeft de RSI tijd om af te koelen en weer terug naar neutraal gebied te gaan. Doordat de RSI haar opwaartse trend heeft doorbroken kunnen we in dit geval misschien nog wel verder omlaag. De koers zou hier dan de mogelijkheid hebben om te testen hoe sterk de steunlijn rond $13 is. Mochten we hier wederom op stuiteren dan is het een sterke korte termijn trend. 
Cardano (ADA)
ADA is in de afgelopen 24 uur met 10% gestegen. Over de afgelopen zeven dagen zagen we cardano stijgen met ongeveer 31%. Cardano staat op het moment van schrijven op de 7e plaats op basis van marktwaarde volgens CoinMarketCap.
Ook ADA was behandeld in een extra premium analyse die gister uit is gekomen. Hierin werd ook kort de koers besproken middels een technische analyse. Hierin concludeerden we dat ADA een aantal bullish signalen laat zien zoals een uitbraak uit een neerwaarts trendkanaal. Dit kanaal werd over de afgelopen maanden gevormd en vaak getest. Als we op de onderstaande grafiek kijken zien we ook dat de koers een aantal keer uit het kanaal wilde springen, echter schoot de koers er toch weer heel snel in.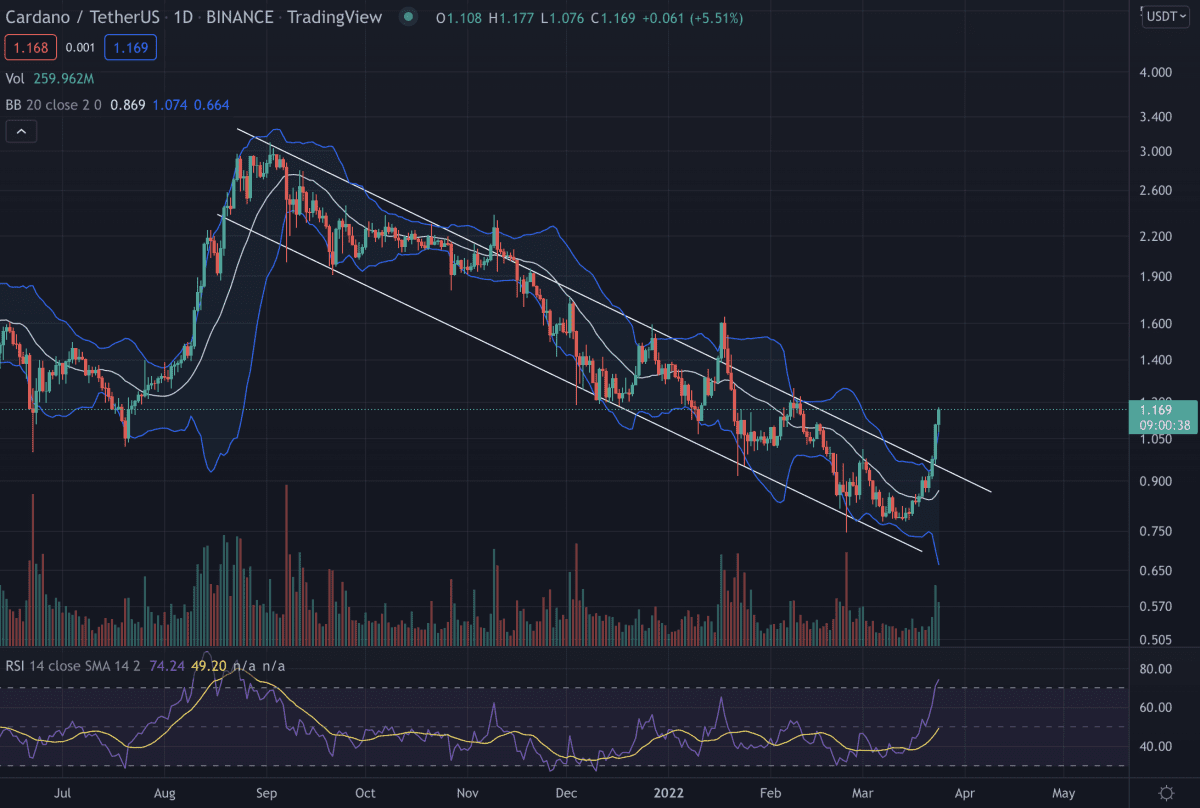 Dit was tot een aantal dagen geleden. Hier schoot de koers wederom uit het kanaal, echter ditmaal deed zij dit overtuigend. Op de 1-uurs grafiek kunnen we nog zien dat de koers na de uitbraak boven de oude weerstand hing om er een nieuwe steunlijn van te maken voor we verder omhoog konden. Na de retest kwam het echte volume en schoot de koers bijna parabolisch de lucht in.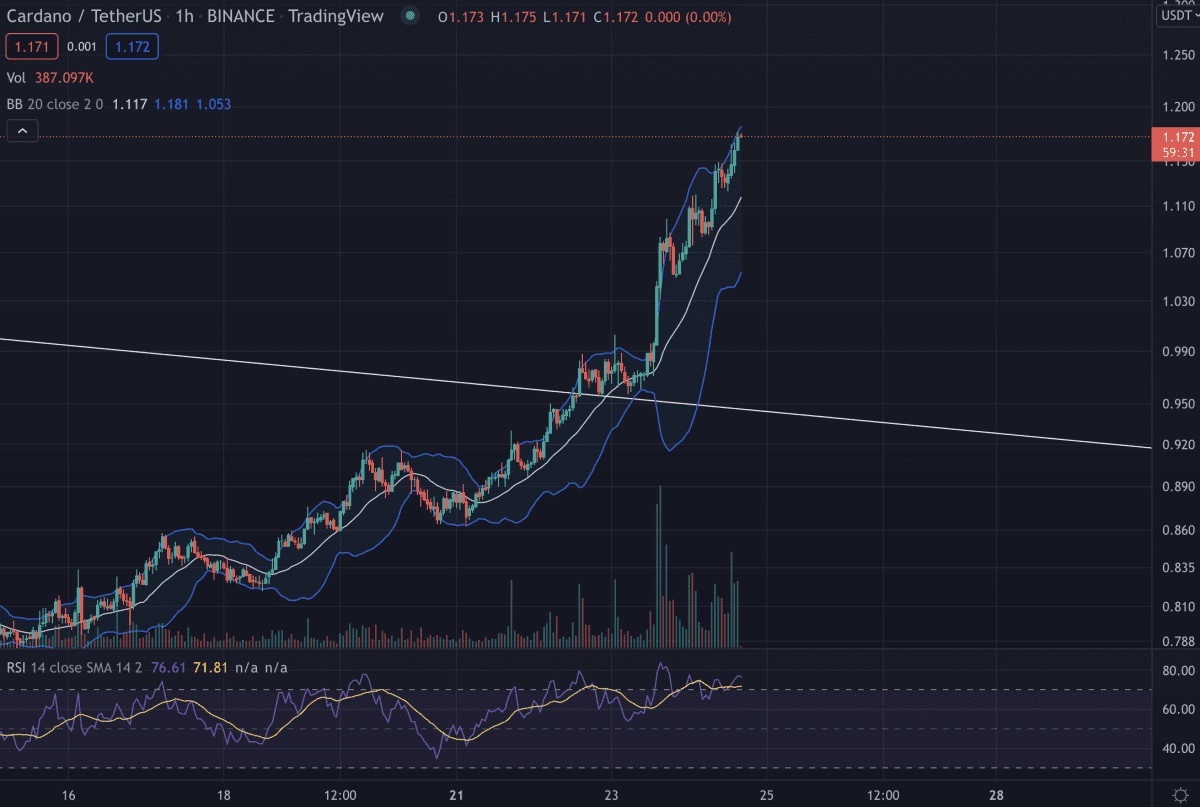 Wat opvalt aan de harde stijging is dat wanneer de koers op de 1-uurs grafiek buiten de Bollinger Bands (BB), ofwel de blauwe lijnen, schoot, de koers weer even een correctie onderging om vervolgens weer door te stijgen. Op het moment van schrijven zien we dat de koers op de dagelijkse grafiek bezig is met precies hetzelfde patroon te vormen. De candle van vandaag staat vooralsnog volledig buiten de BB. Dit zou dus kunnen betekenen dat de koers een (kleine) correctie gaat maken om weer binnen de BB te traden. De RSI kan de correctie mogelijk ondersteunen aangezien deze ook voor ADA in het overbought gebied komt. Een verdere stijging zou natuurlijk kunnen op de langere termijn, echter zou een kleine correctie de verschillende indicatoren laten afkoelen op de kortere termijn.
Axie infinity (AXS)
AXS heeft ook een aantal prachtige dagen achter de rug. De cryptocurrency steeg in de afgelopen 24 uur met ongeveer 5%. Over de afgelopen zeven dagen zagen we ook een positief resultaat. In deze periode steeg Axie Infinity met ongeveer 11%. AXS staat op het moment van schrijven op de 44e plaats op basis van marktwaarde.
AXS lijkt redelijk op ADA aangezien beide een flinke neerwaartse trend hebben laten zien maar hier uiteindelijk toch uit wisten te breken. Op de grafiek hieronder is de neerwaartse trend te zien. In januari zagen we een harde correctie van AXS wat ervoor zorgde dat de koers aan de onderkant van het kanaal uitbrak. De koers bleef echter niet heel lang onder het kanaal traden en steeg weer zo hard dat de weerstandslijn van het kanaal werd getest. Na een aantal keren de weerstandslijn te hebben getest en een nieuwe horizontale steunlijn gemaakt te hebben wist AXS hier hard uit te breken.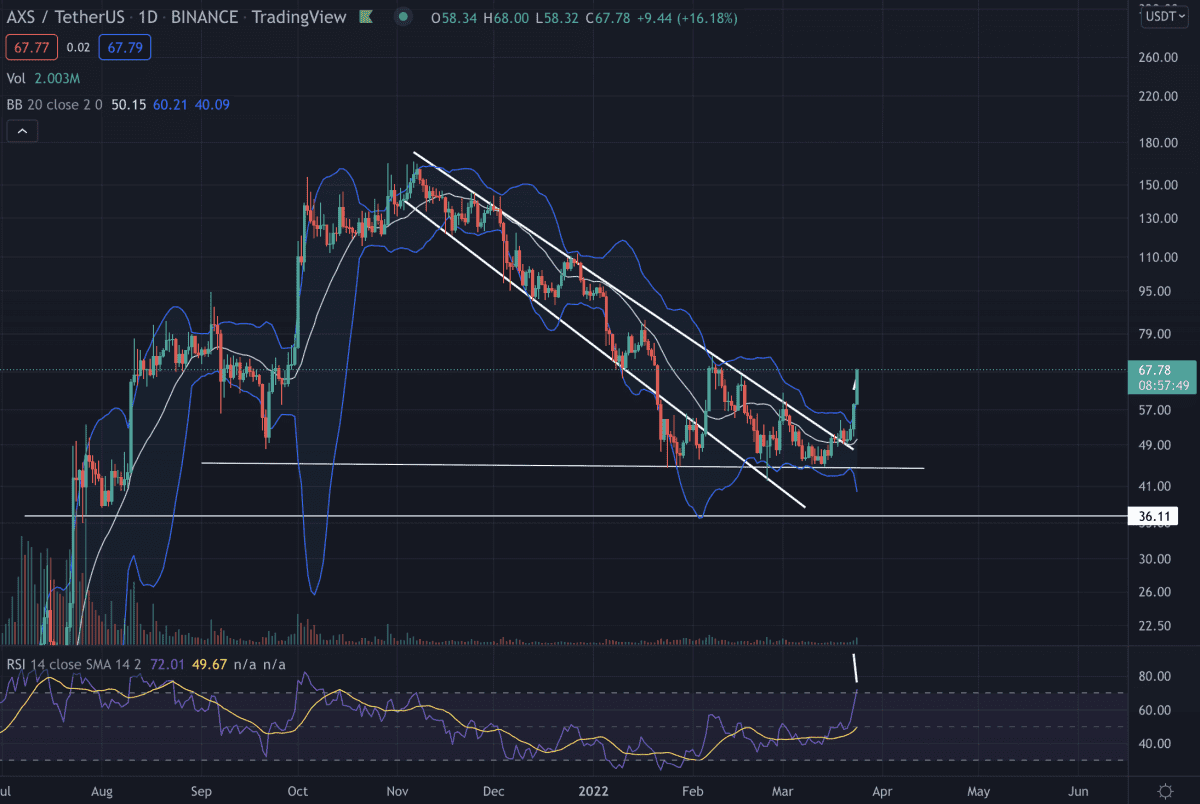 Als we naar de 1-uurs grafiek kijken zien we ook een aantal interessante dingen. Als eerst had de koers duidelijk wat moeite met het uitbreken over de weerstandslijn die hierboven ook getekend is. AXS heeft een aantal keer de lijn moeten testen voor zij er pas boven kwam. Bij de uitbraak gingen we kort omhoog voordat van de oude weerstand nieuwe steun werd gemaakt. Na deze retest vonden investeerders het pas goed en gingen we hard de lucht in. Daarnaast zien we op de RSI dat er een duidelijk bearish divergence plaatsvindt. Waar de koers een nieuwe piek maakt, maakt de RSI een lagere piek. De theorie schrijft voor dat dit een slecht teken is en dat de koers hierna een correctie zal maken. Dit kan deels ondersteund worden door het afzwakkende volume. Er is een nieuwe piek gemaakt maar daar was minder volume voor nodig, dit betekent dat het een zwakke stijging is. Het feit dat AXS ook nog buiten de BB aan het traden is maakt dit enkel sterker. Het zal dus niet gek zijn als we een tijdelijke (korte) daling maken voor we weer omhoog kunnen.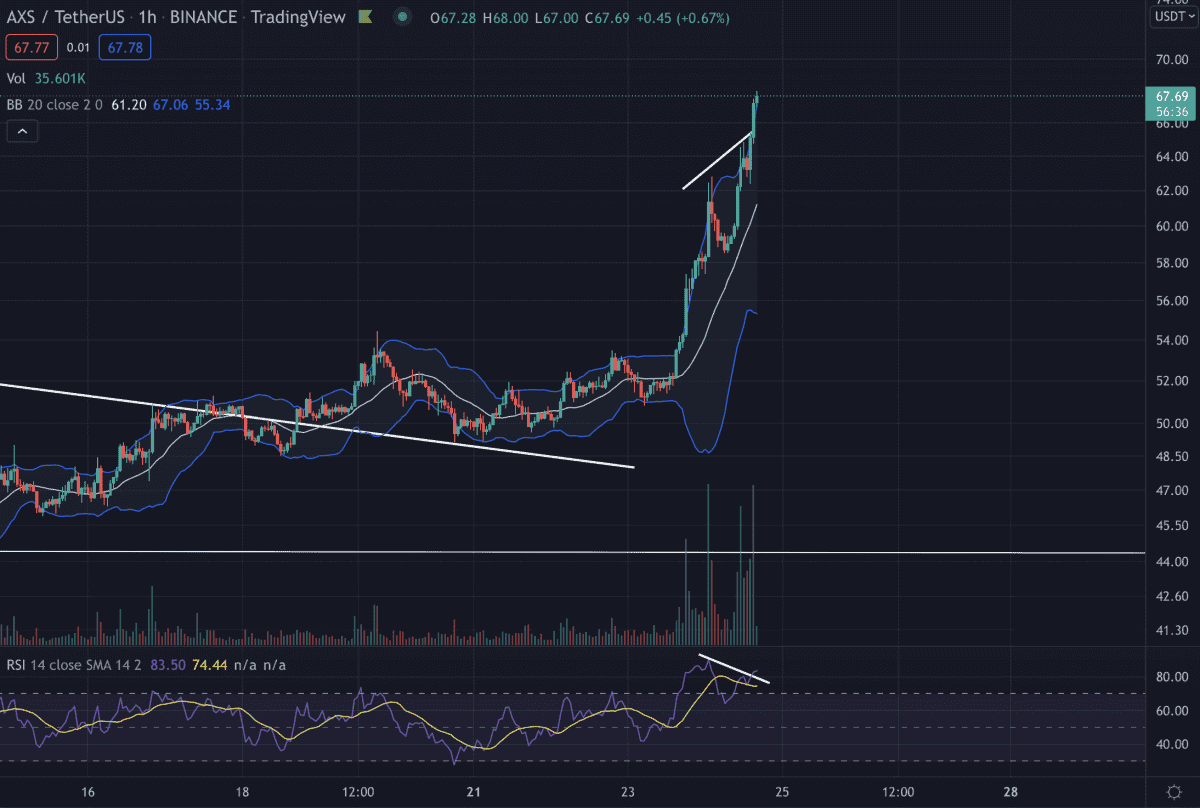 Dogecoin (DOGE)
Dogecoin is over de afgelopen 24 uur met ongeveer 1% gestegen. Over de afgelopen zeven dagen zagen we ook een stijging. In deze periode steeg DOGE met ongeveer 9%. Dogecoin staat op de 13e plaats op basis van marktwaarde. 
DOGE bevindt zich in een vergelijkbaar schuitje als de coins hierboven. Als we kijken naar de afgelopen maanden zien we dat de koers in een neerwaartse trend zat. DOGE wist enkel nog niet uit dit kanaal te breken en erboven te sluiten tot voorkort. Enkele dagen geleden zagen we eindelijk de uitbraak. Toch weten we nog niet zeker of dit een stijging is die DOGE vol kan houden. De RSI ziet er echter wel positief uit voor DOGE. Er is hier nog genoeg ruimte om verder te stijgen. Als DOGE ook nog uit de tweede weerstandslijn kan breken met overtuiging dan kunnen we al snel gaan kijken naar weerstanden van oude pieken op bijvoorbeeld $0,172 en $0,216.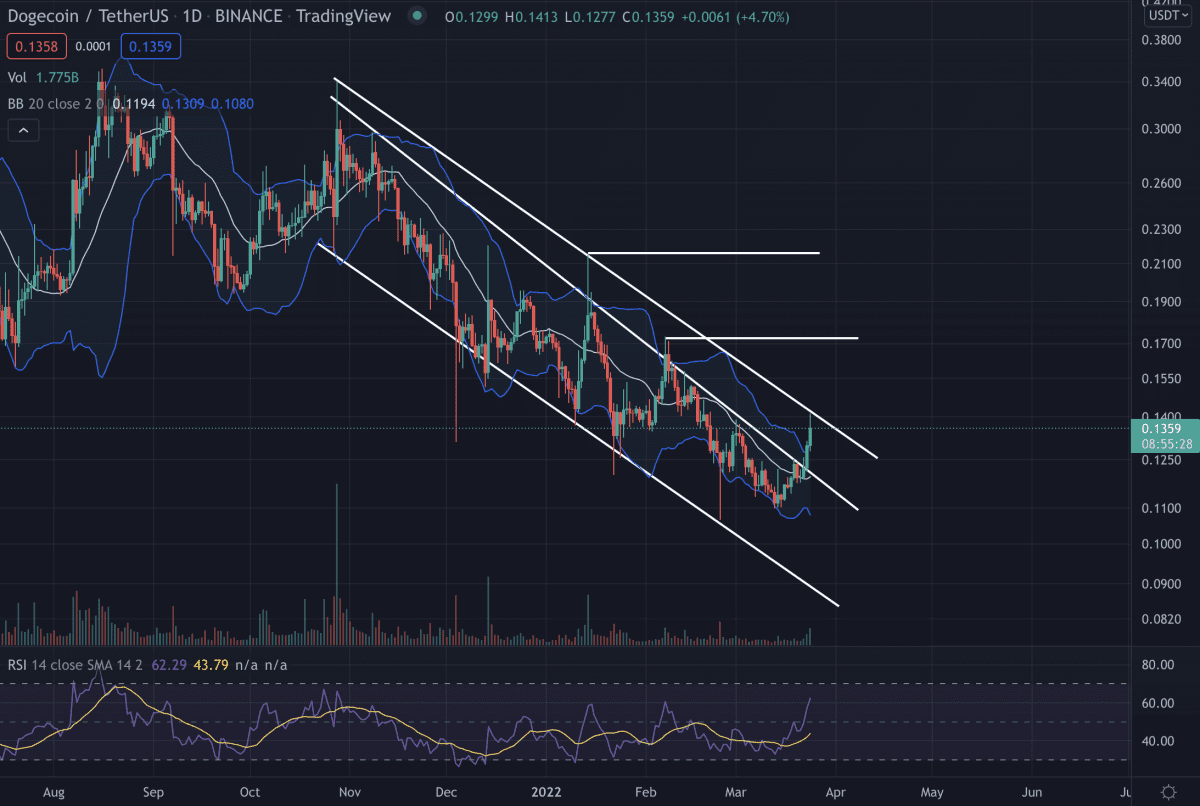 Wat zijn de verwachtingen voor de komende periode?
Wil jij up-to-date blijven, meer technische analyse voor deze coins ontvangen of hier vragen over stellen? In de Crypto-insiders premium omgeving voor leden bediscussiëren we het crypto nieuws en blijven we verdere updates met jullie delen. Hier worden ook additionele technische analyses gedeeld over andere coins die in deze rubriek worden behandeld. Overweeg jij een positie te nemen in APE, ADA, AXS of DOGE? Neem via de premium omgeving voor leden contact op met een van onze analisten en crypto coaches, zij helpen je graag een weloverwogen beslissing te maken.