HBAR is vandaag met 7% gestegen. Hieronder onderzoeken we naar mogelijk fundamentele en redenen waarom deze cryptovaluta in waarde is gestegen en analyseren we de koers zodat je een weloverwogen beslissing kunt maken om de coin te kopen of verkopen.
Het overgrote deel van de markt laat groene cijfers zien. Dit is al een leuke verandering ten opzichte van gister. Een van de uitschieters is Hedera Hashgraph (HBAR). HBAR wist in de afgelopen 24 uur met ongeveer 7% te stijgen. Over de afgelopen zeven dagen staat de coin nog 8% in de min. Door de stijging staat de coin op de 38e plaats op basis van marktwaarde.
Wat is Hedera Hashgraph?
Hedera Hashgraph is een open source blockchain die decentralized applications (dApps) ondersteunt. Gegeven op Hedera zullen niet op een blockchain opgeslagen worden zoals we gewend zijn, maar op de Directed Acyclic Graph (DAG). 
Door middel van deze unieke technologie probeert het team een vertrouwd ecosysteem te maken waar personen en bedrijven met elkaar kunnen communiceren en werken zonder elkaar eerst te hoeven ontmoeten. Dit zorgt ervoor dat er snel goedkopere deals gesloten kunnen worden zonder tussenkomst van een eventuele derde partij. 
Waarom stijgt HBAR in waarde?
Een mogelijke reden van de prijsstijging van HBAR zou een aankondiging kunnen zijn die ze onlangs gedaan hebben. In deze aankondiging geven ze aan dat HBAR foundation een samenwerking is aangegaan met MetaVRse, een web-based low-code 3D creatie platform. Met deze samenwerking wil de HBAR foundation een metaverse maken op het Hedera Netwerk. 
MetaVRse zal de benodigde tools op een gemakkelijk te gebruiken manier bieden om dit te kunnen bouwen. MetaVRse zorgt er ook voor dat individuele gebruikers zelf hun eigen dingen kunnen bouwen. De HBAR Foundation wil mensen ook stimuleren op te bouwen via MetaVRse en doet dit door een beurs ervoor uit te trekken en zal ook support bieden. 
Technische analyse
HBAR heeft een erg mooi begin van het jaar achter de rug. De coin steeg in een korte tijd heel hard en wist deze stijging redelijk vast te houden. Met een kleine correctie tussen april en juli. In juli is daardoor ook een nieuwe hogere bodem gezet.
Op het moment bevindt HBAR zich in een kleine neerwaartse trend. Zolang deze trend een nieuwe hogere bodem zet kan de coin nog bullish blijven. Mocht de coin toch door de weerstand zakken van $0,158 dan zie het plaatje er toch anders uit.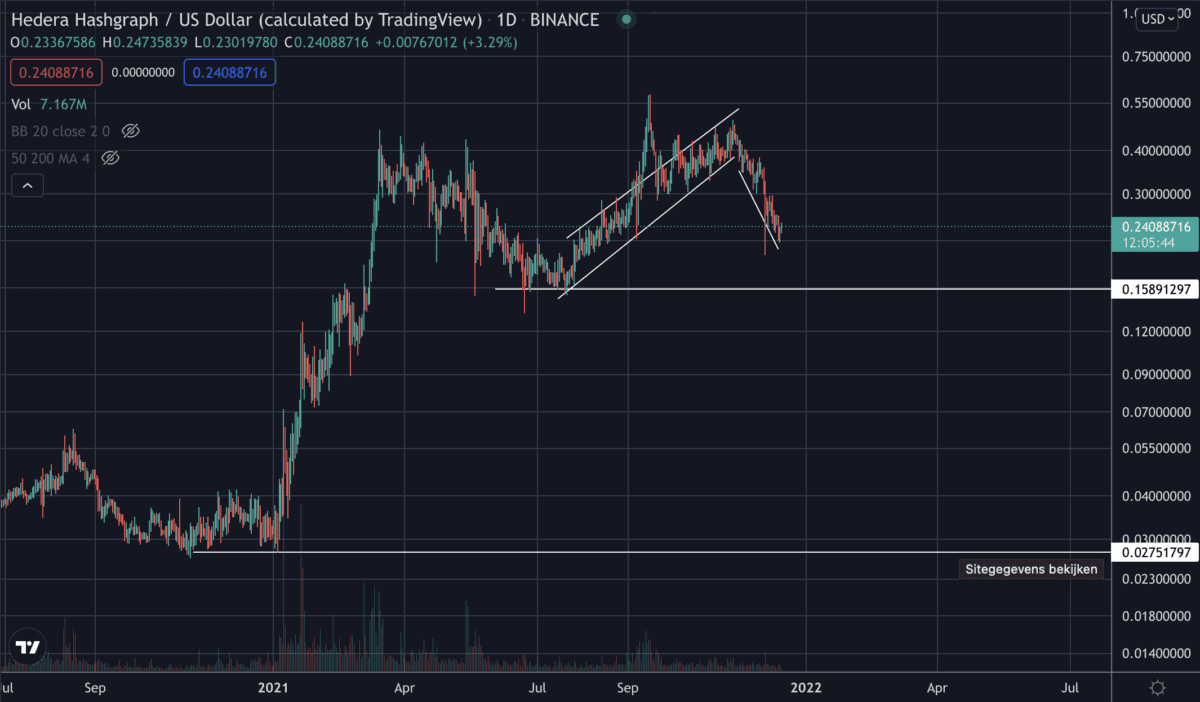 Wat zijn de verwachtingen voor de komende periode?
Of het nieuws nog verdere impact gaat hebben op de prijs is afhankelijk van een groot aantal factoren die dagelijks verschillen. Overweeg jij een positie te nemen in HBAR? In ons Discord kanaal voor leden bediscussiëren we het nieuws en zullen we verdere updates met jullie blijven delen. Je komt hier eenvoudig in contact met onze analisten en crypto coaches, zij helpen je graag een weloverwogen beslissing te maken.