NEAR is vandaag met ongeveer 15% gestegen. In deze analyse zoeken we uit waarom de coin mogelijk is gestegen. Dit onderzoek kan je helpen een weloverwogen beslissing te maken om NEAR te kopen of verkopen!
De markt leek een sloom begin van de dag te hebben, maar lijkt nu toch ontwaakt te zijn. Veel coins staan met mooie cijfers in de plus. Een daarvan is NEAR Protocol (NEAR). Deze coin is in de afgelopen 24 uur met ongeveer 15% gestegen. In de afgelopen zeven dagen deed de cryptocurrency het ook erg goed en steeg met 12%. Door de stijging staat NEAR op de 35e plaats op basis van marktwaarde. Daarnaast is het volume met 143% gestegen ten opzichte van gister.
Wat is NEAR protocol?
NEAR Protocol is ontworpen als een cloud computing platform dat door de community beheerd wordt. NEAR probeert sommige problemen waar concurrerende blockchains mee kampen op te lossen. Dit kunnen problemen zijn als lage transactiesnelheid of slechte doorvoer en interoperabiliteit. 
Waarom stijgt NEAR in waarde? 
Een mogelijke verklaring van de recente stijging van NEAR zou kunnen zijn dat de coin onlangs een listing heeft gekregen op MoonPay. MoonPay is een exchange app met 5 miljoen gebruikers waarmee deze gebruikers in cryptocurrencies kunnen handelen. Door deze listing heeft NEAR weer extra exposure gekregen en is de cryptocurrency net wat makkelijker te verkrijgen. 
Technische analyse
 NEAR is bezig met een mooie opwaartse beweging. Zoals te zien is in de onderstaande grafiek worden er steeds hogere bodems en hogere pieken gevormd. De laatste piek is recent zelfs nog getest en dit niveau bleef in stand. Er wordt op het moment over een periode van meerdere maanden een sterke basis gevormd op dit niveau. Mocht dit niveau later toch geen stand lijken te houden dan zal de koers de witte lijn opnieuw kunnen testen. Mochten we toch verder omhoog gaan zal eerst de all-time high (ATH) in de weg staan als weerstandsniveau. Mooie coin om in de gaten te houden dus!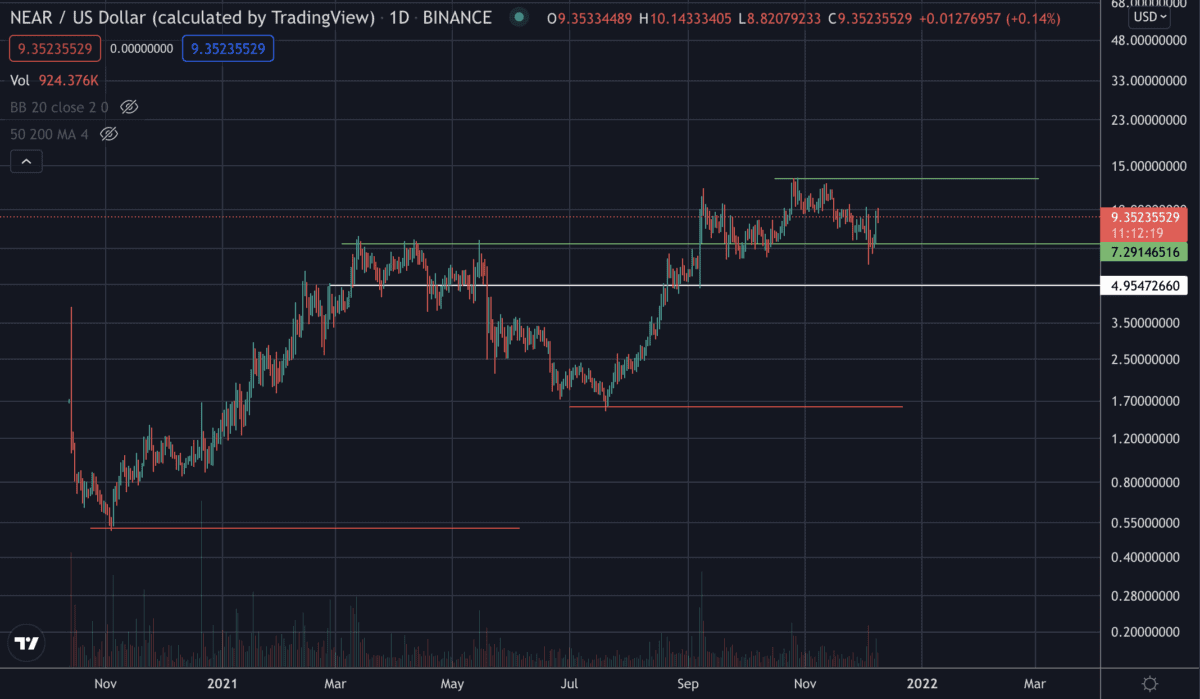 Wat zijn de verwachtingen voor NEAR?
Het verloop van de koers kan door veel factoren beïnvloed worden. Er zou bijvoorbeeld weer nieuws uit kunnen komen vanuit het project zelf of een koersdaling van bitcoin zou impact kunnen hebben op de koers. Wil jij NEAR kopen? Neem dan een kijkje in het Discord kanaal voor leden. In dit kanaal worden dagelijks verschillende coin besproken en blijf jij op de hoogte van het laatste nieuws. Ook kan je sparren met onze analisten, zij beantwoorden graag al je vragen!