NU is vandaag met zo'n 5% gestegen. In dit artikel proberen we de mogelijk redenen te vinden waarom de koers van deze cryptovaluta is gestegen en analyseren we de koers van NU zodat je een weloverwogen beslissing kunt maken om de coin te kopen of verkopen.
Bitcoin (BTC) heeft gister wederom de $50.000 proberen overtuigend te doorbreken, maar dit is helaas weer niet gelukt. De koers daalde vrij snel en staat vandaag in de min. Een coin die niet in de min staat is NuCypher (NU). In de afgelopen 24 uur is NU namelijk met ongeveer 5% gestegen. In de afgelopen zeven dagen is de coin met ongeveer 8% gestegen. Door de stijging staat NuCypher op de 133e plaats op basis van marktwaarde. 
Wat is NuCypher?
NuCypher is een gedecentraliseerde encryptie en key management system (KMS), ofwel sleutelbeheer systeem. NuCypher probeert ook de beperking op te lossen van het gebruik van een consensusnetwerk om privégegevens veilig op te slaan en te manipuleren door gebruik te maken van proxy re-encryption (PRE). Dit klinkt misschien allemaal erg ingewikkeld. Simpel gezegd biedt NuCypher een extra laag beveiliging en versleuteling voor gegevensbescherming voor bijvoorbeeld Ethereum (ETH) en andere gedecentraliseerde applicaties (dApps) die geen centrale partij hebben.
Waarom stijgt NU in waarde?
Een mogelijke reden dat NU in waarde stijgt zou kunnen zijn dat zij een blogpost hebben gemaakt waarin staat dat ze hard bezig zijn met een nieuw project. Dit project doet NuCypher in samenwerking met The Keep en heet 'Threshold'. 
Threshold is een project waar zij aan werken met als doel om informatie en digitale activa privé te houden bij het gebruik van een openbare blockchain. Threshold zoekt dus naar nog meer privacy op de blockchain.
Sinds dat de Threshold website live is is de koers van NU ook gestegen. De website wordt up to date gehouden over vooruitgangen in het project met een meest recente blogpost op 9 december. Het zal dus interessant zijn om te zien waar het project naartoe gaat.
Technische analyse
Als we naar de grafiek van NU kijken zien we echter wel een neerwaartse trend. De parabolische stijging uit oktober heeft er wel voor gezorgd dat de koers hoger bleef, echter kon het de harde stijging niet voort blijven zetten.
Op dit moment zien we NU afkoelen na dit moment. We traden al tijden in de lagere regio van het trendkanaal en de koers geeft nog geen indicatie dat we weer verder omhoog gaan. Toch zou de koers omhoog geduwd kunnen worden als er meer vooruitgang geboekt wordt in het Threshold project.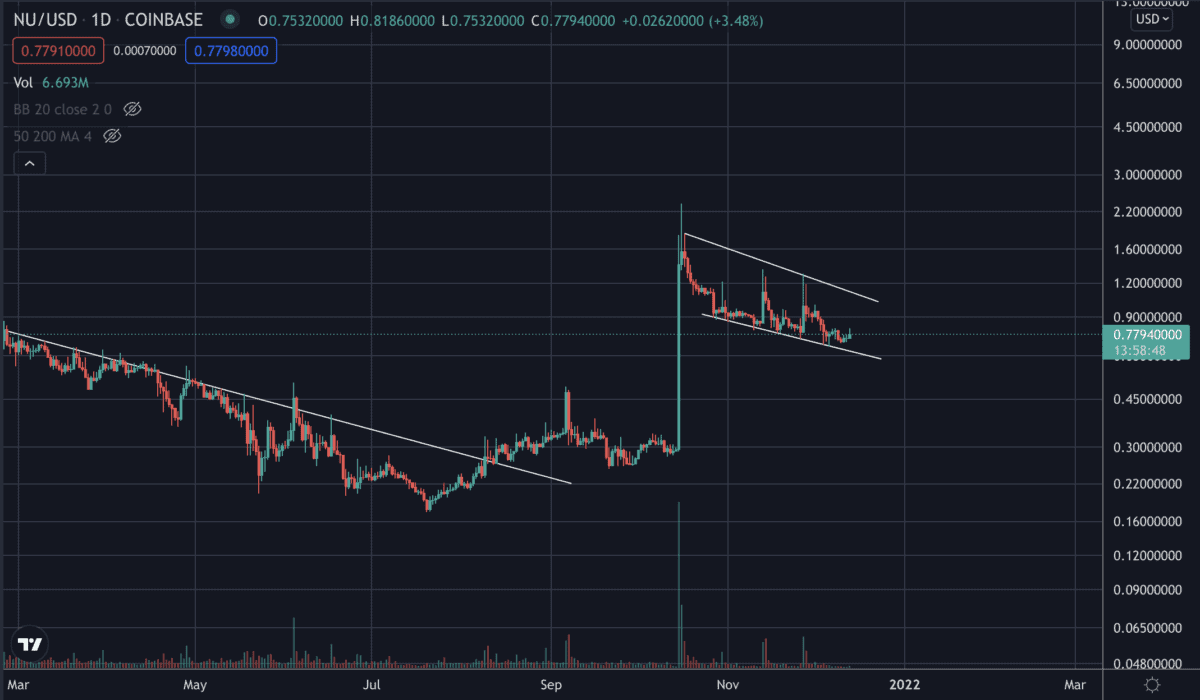 Wat zijn de verwachtingen voor de komende periode?
Of eventuele vooruitgangen rondom het project nog verdere impact gaat hebben op de prijs is nog onduidelijk. Overweeg jij een positie te nemen in NU? In ons premium Discord kanaal bespreken we cryptocurrency nieuws en zullen we verdere updates met je blijven delen. Je komt hier eenvoudig in contact met onze analisten en crypto coaches, zij helpen je graag een weloverwogen beslissing te maken.