In de premium omgeving van Crypto Insiders werd Curve DAO Token (CRV) besproken en zo lieten leden weten dat zij graag een uitgebreidere analyse van deze token wilden ontvangen. Daarom nemen we vandaag een kijkje naar de recente ontwikkelingen van Curve DAO Token. Daarnaast kijken we ook op basis van technische analyse naar de koers van CRV. Wil jij ook een cryptocurrency aanvragen die vervolgens in deze rubriek behandeld kan worden? Neem een kijkje in onze premium omgeving en vraag direct jouw favoriete cryptocurrency aan!
Curve is een gedecentraliseerde exchange voor stablecoins die door middel van een automated market maker (AMM), ofwel geautomatiseerde marktmaker in het Nederlands, haar liquiditeit beheert. 
Recente ontwikkelingen Curve DAO (CRV)
Op het moment van schrijven is er een nieuwe proposal, ofwel voorstel, beschikbaar. Dit wil zeggen dat CRV houders met hun tokens kunnen stemmen of dit voorstel wel of niet wordt geïmplementeerd in het protocol. Het is bij Curve DAO zo dat er veel nieuwe voorstellen worden gedaan. Via deze pagina is precies te volgen welke voorstellen er op het moment allemaal actief zijn. Alleen in de afgelopen 24 uur zijn er al vier voorstellen gedaan. 
Technische analyse CRV
Als we naar de grafiek van CRV kijken zien we dat er een lange termijn opwaartse trend werd gevormd. De eerst raakpunten van de steunlijn werden al in eind 2020 en begin 2021 gevormd. In het begin van dit jaar zien we dat de koers weer terugkomt op deze lijn.
In eerste instantie kregen we een retest en schieten we weer omhoog. De volgende maand kregen we opnieuw een retest maar broken we daarna toch onder de steunlijn. Het ziet er echter naar uit dat de koers weer langzaamaan naar deze steunlijn toe aan het stijgen is. Het zal erg belangrijk zijn om te zien of we hier weer boven kunnen komen of dat we een afwijzing krijgen onder de lijn en verder naar beneden gaan.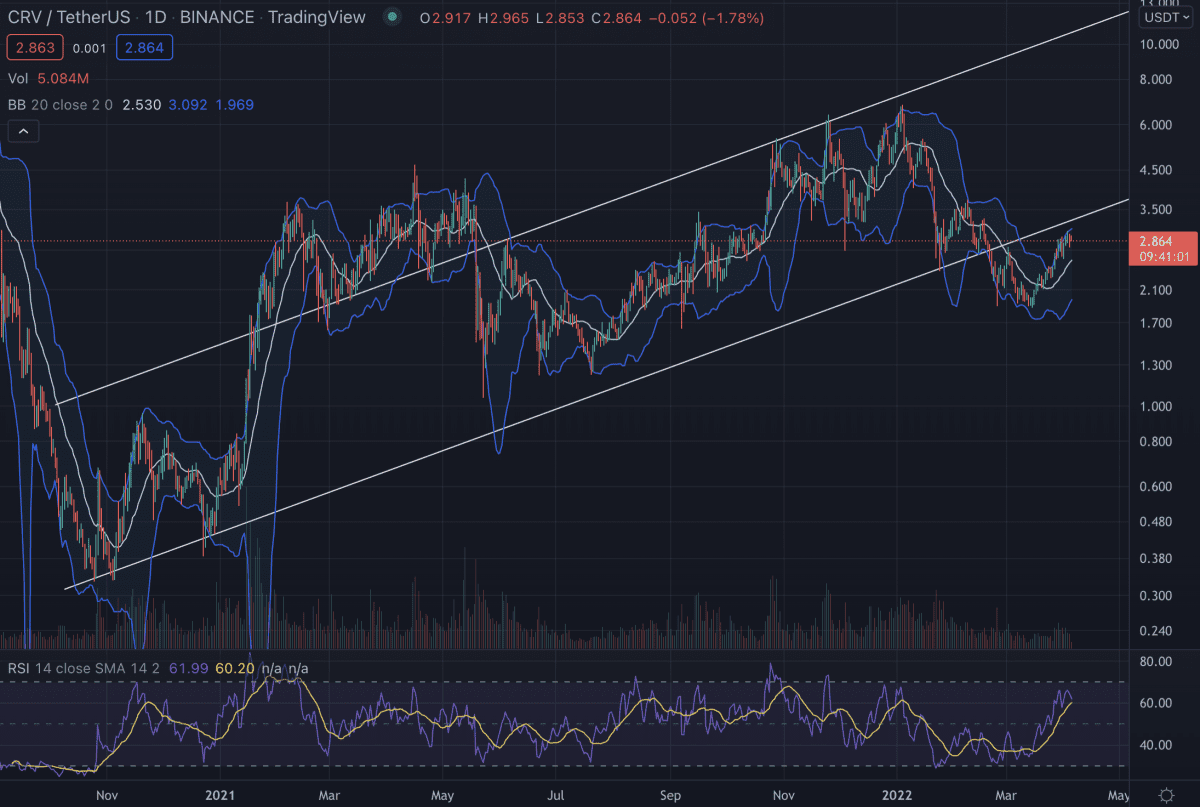 Hoe bepaal ik het juiste moment om CRV te kopen?
Overweeg je een positie te nemen in Curve DAO (CRV) maar weet je niet zo goed wanneer je het best kunt instappen? Vraag het aan een ervaren analist in onze premium omgeving voor leden! Hier worden dagelijks additionele technische analyses gedeeld door verschillende analisten die dieper op de koers ingaan. Je komt hier vrij eenvoudig in contact met verschillende analisten en ervaren crypto coaches, zij helpen je graag een weloverwogen beslissing te maken. Je kan dit nu de eerste 30 dagen gratis en vrijblijvend uitproberen!