REN is vandaag met 37,5% gestegen. In dit artikel kijken we naar mogelijke fundamentele redenen waarom deze cryptovaluta in waarde is gestegen en analyseren we de REN koers zodat je een weloverwogen beslissing kunt maken om REN te kopen of verkopen.
Een van de coins die vandaag het hardst gestegen is, is RenVM (REN). Deze coin wist in de afgelopen 24 uur met ongeveer 37,5% te stijgen. In de afgelopen zeven dagen rendeerde de coin ongeveer 38,3%. Door de stijging staat de coin op de 152e plaats op basis van marktwaarde. 
Wat is RenVM?
RenVM is een protocol dat interoperabiliteit biedt aan Decentralized Finance (DeFi). Een gebruiker kan RenVM gebruiken om haar crypto van de ene naar de andere blockchain te verplaatsen. 
Je kan je dit het makkelijkst voorstellen door te denken dat RenVM een wallet is waar je bijvoorbeeld je bitcoins (BTC) in kunt bewaren. RenVM zal de BTC minten als een ERC20 token genaamd renBTC op Ethereum (ETH) met een 1:1 ratio. Op deze manier is het zeker dat de renBTC altijd gelijk blijft aan een BTC. Met deze renBTC kan je weer tokens van andere blockchains kopen.
Waarom stijgt REN in waarde?
De stijging zou mogelijk te maken kunnen hebben met deze aankondiging. In deze aankondiging wordt er aangegeven dat VarenX wordt geïntegreerd in RenVM. VarenX is een cross-chain decentralized exchange (DEX) en hierdoor ook de eerste multi-chain swapping dApp op RenVR. Door het implementeren van VarenX kunnen gebruikers door middel van hun cryptocurrencies direct coins swappen voor andere tokens. Dit is natuurlijk een goede ontwikkeling voor het project aangezien die ook is waar RenVM voor staat. 
Technische analyse
REN heeft net een redelijk scherpe daling achter de rug. Waar de coin eerst rond de $1,20 hing zakte de koers helemaal naar $0,47. Op dit niveau vond de koers echter wel steun en maakte hier een nieuwe hogere bodem. Helaas was de afgelopen piek net niet hoger dan de vorige piek. Hierdoor wordt er een symmetrische driehoek gevormd.
De kant waarop dit patroon zal uitbreken is ook nog onbekend. Echter door de stijging van REN lijkt het erop dat we meer richting de bovenkant van het patroon zullen gaan om de weerstand opnieuw te testen. Mocht dit echter niet het geval zijn zal de steunlijn het punt zijn waar op gelet moet worden.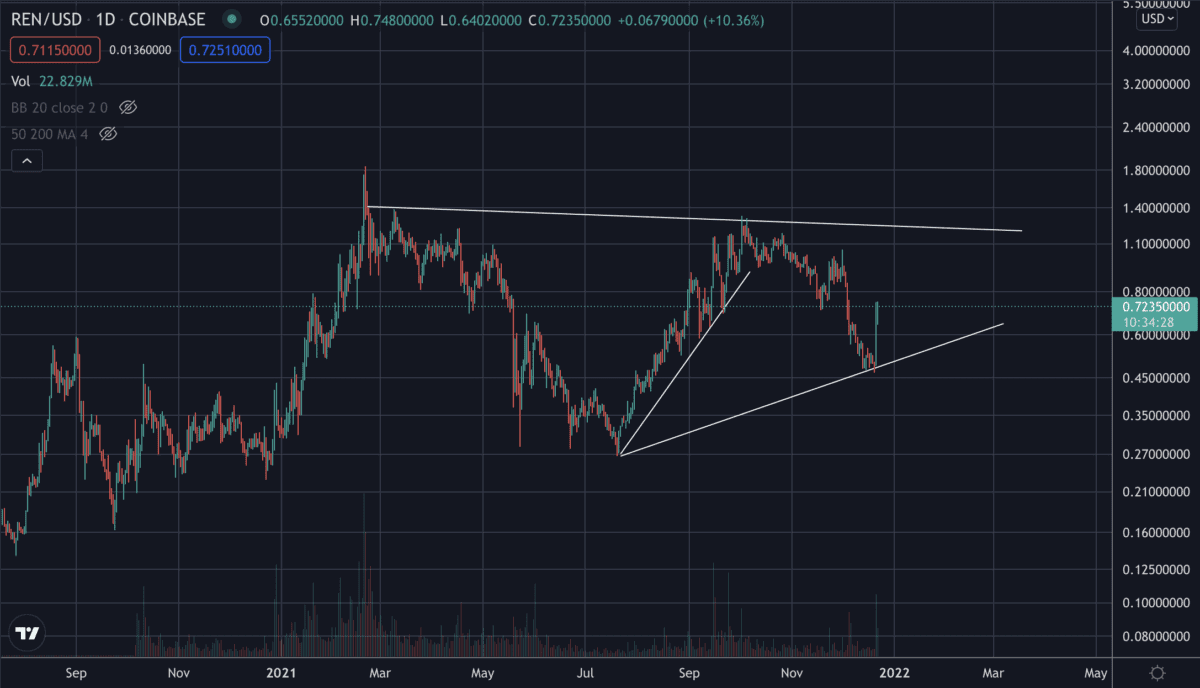 Wat zijn de verwachtingen voor de komende periode?
Of het nieuws nog verdere impact gaat hebben op de prijs is afhankelijk van een groot aantal factoren die dagelijks verschillen. Overweeg jij een positie te nemen in REN? In ons Discord kanaal voor leden bespreken we vaak het nieuws en zullen we verdere ontwikkelingen met jullie blijven delen. Je komt hier eenvoudig in contact met onze analisten en crypto coaches, zij helpen je graag een weloverwogen beslissing te maken.