SOUL is vandaag met 11% omhoog gegaan. In dit artikel zoeken we naar mogelijke fundamentele redenen waarom SOUL in waarde is gestegen. Ook analyseren we de koers op basis van technische analyse zodat jij een weloverwogen beslissing kunt maken om SOUL te kopen of verkopen.
Terwijl bitcoin (BTC) langzaam de weg naar de $50.000 opzoekt stijgen andere coins net wat harder. Een voorbeeld daarvan is Phantasma (SOUL). Deze coin is in de afgelopen 24 uur met ongeveer 11% gestegen. In de afgelopen zeven dagen ging het echter wat minder goed. Hier verloor de coin ongeveer 25% van haar waarde. Door de stijging staat de coin op de 200e plaats op basis van marktwaarde. Het volume steeg in de afgelopen 24 uur met ongeveer 68%.
Wat is Phantasma? 
Phantasma is een blockchain en ecosysteem dat zich focust op gamers en artiesten in staat stellen gebruik te kunnen maken van blockchain technologie. Phantasma wil een blockchain bieden die rijk is aan functies, snel is en een goede gebruikerservaring heeft. Zij willen het platform naar eigen zeggen zo makkelijk maken dat zelfs een oma het zou begrijpen.
Waarom stijgt SOUL in waarde? 
De reden dat deze coin stijgt zou te maken kunnen hebben met het een tweet die het project onlangs geplaatst heeft. Hierin geven ze aan dat het project sinds kort gelist wordt op CoinMarketCap onder 'metaverse'. 
Misschien vraag je je af waarom dit zo belangrijk is. Dat is simpel te verklaren. De metaverse sector is enorm populair de afgelopen maanden. In een korte tijd zijn er miljarden deze sector ingestroomd. Het feit dat het project nu gezien wordt als een metaverse token zorgt ervoor dat veel traders die op dit soort trends meeliften een positie willen opbouwen in de token. Mocht de sector zo hard blijven groeien zal SOUL daar ongetwijfeld ook een graantje kunnen meepikken.
Technische analyse
SOUL heeft een lange termijn opwaartse trend gevormd. Toch zien we op de korte termijn een iets minder goed teken. Vanaf begin deze maand bewoog de koers neerwaarts. Daar is door de stijging van vandaag en gister is deze trend doorbroken en zou de weg naar boven ingezet kunnen worden. Het volgende niveau waar we dan op letten is de all-time high (ATH) van $4. Mochten we niet verder omhoog gaan zal de kans groot zijn dat eerst de steun op $1,60 getest gaat worden en daarna de onderkant van het trendkanaal.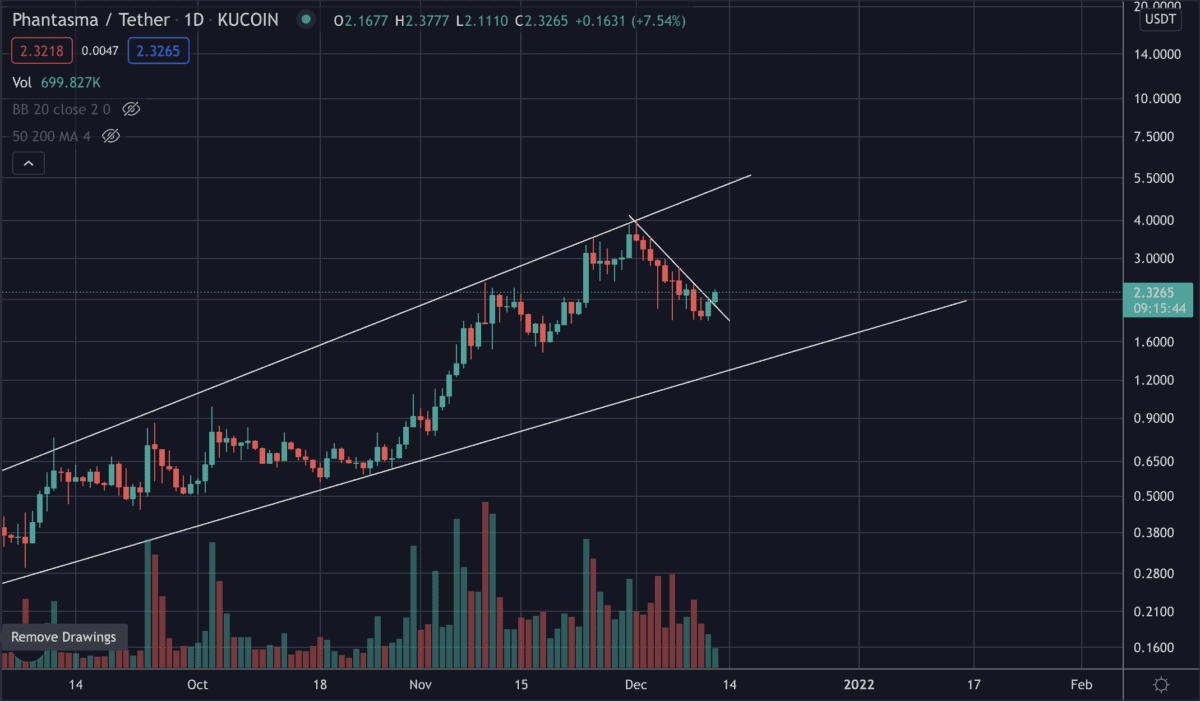 Wat zijn de verwachtingen voor de komende periode?
Of het nieuws nog verdere impact gaat hebben op de prijs is natuurlijk nog niet duidelijk. Dit zou nog een tijd kunnen duren voor iedereen door heeft dat SOUL een metaverse token is.  Overweeg jij een positie te nemen in SOUL? In ons Discord kanaal bespreken we het nieuws en andere metaverse tokens en zullen we verdere updates met jullie blijven delen. Je komt hier eenvoudig in contact met onze analisten en crypto coaches, zij helpen je graag een weloverwogen beslissing te maken.