ZIL is vandaag keihard de lucht in gegaan en steeg met 75%. Hier kijken we naar mogelijke fundamentele katalysatoren die de stijging in waarde kunnen verklaren. Nadat we dat hebben gedaan analyseren we de koers op basis van technische analyse zodat je een weloverwogen beslissing kunt maken om ZIL te kopen of verkopen.
De top stijger van de dag is Zilliqa (ZIL). Deze cryptocurrency wist in de afgelopen 24 uur met ongeveer 75% de lucht in te schieten. In de afgelopen zeven dagen zagen we een rendement van ongeveer 114%. Door de stijging staat ZIL op de 80e plaats op basis van marktwaarde.
Wat is Zilliqa?
Het doel van Zilliqa is om zoveel mogelijk transacties te kunnen verwerken per seconde. Om dit doel te bereiken maken zij gebruik van een protocol dat sharding heet. Bij sharding werkt het systeem waarop miners ingezet worden net even wat anders dan we normaal gewend zijn. In plaats van dat alle miners in een grote groep werken om alle binnenkomende transacties te verwerken worden deze miners over verschillende kleinere groepjes verdeeld. Op deze manier kunnen de miners beter ingezet worden om alle transacties tegelijkertijd te verwerken. Hierdoor worden de binnenkomende transacties dus sneller verwerkt en kan er geen opstopping in het orderboek ontstaan.
Daarnaast biedt Zilliqa ook een platform waarop ontwikkelaars verschillende gedecentraliseerde applicaties (dApps) kunnen bouwen. De native token van Zilliqa is ZIL en wordt gebruikt binnen dit platform en kan een gebruiker gebruik maken van deze dApps.
Waarom stijgt ZIL in waarde?
Een mogelijke verklaring voor de stijging van ZIL zou kunnen zijn dat Zilliqa meer bekend gaat maken over hun nieuwe metaverse 'Metapolis' op een beurs in Miami op 2 april. Metapolis is een metaverse dat is ontworpen door Zilliqa en wordt naar verluidt een grote en erg meeslepende metaverse. 
Aangezien de metaverse sector de afgelopen tijd erg populair is, is het niet gek dat er ook veel hype rondom deze metaverse is. Waar Zilliqa altijd al een populair project was heeft dit enkel voor meer populariteit gezorgd. De impact van deze aankondiging was ook terug te zien in de stijging van ZIL. Op 2 april zullen we dus meer informatie krijgen over Metapolis. We zullen je in de premium omgeving voor leden up-to-date houden over de ontwikkelingen rondom dit project. 
ZIL heeft maling aan consoliderende bitcoin koers
ZIL heeft een geweldige stijging achter de rug die natuurlijk niet door technische- maar door fundamentele katalysatoren werd gedreven. Hierdoor is het erg moeilijk om een technische analyse te schrijven op basis van deze prijsactie. We zien op het moment echter wel enkele interessante dingen.
Zo bevond de koers zich al voor langere tijd in een descending wedge. Dit is in de theorie ook al een bullish patroon. Een uitbraak aan de bovenkant is dus helemaal niet onverwacht. Op het moment van schrijven lijkt de koers toch wat moeite te hebben met de weerstand op $0,095. Mochten we hier doorheen breken dan kunnen we ook al de weerstand van $0,116 uittesten en de $0,095 mogelijk als nieuwe steun uittesten.
Het zal interessant zijn om te zien of deze stijging vol kan blijven houden, terug zal zakken of juist zal uitbreiden als het evenement in Miami een succes blijkt te zijn. Vooralsnog lijken alle technische indicatoren naar een (korte) daling of zijwaartse prijsactie te wijzen, wat niet zo gek is na de parabolische stijging.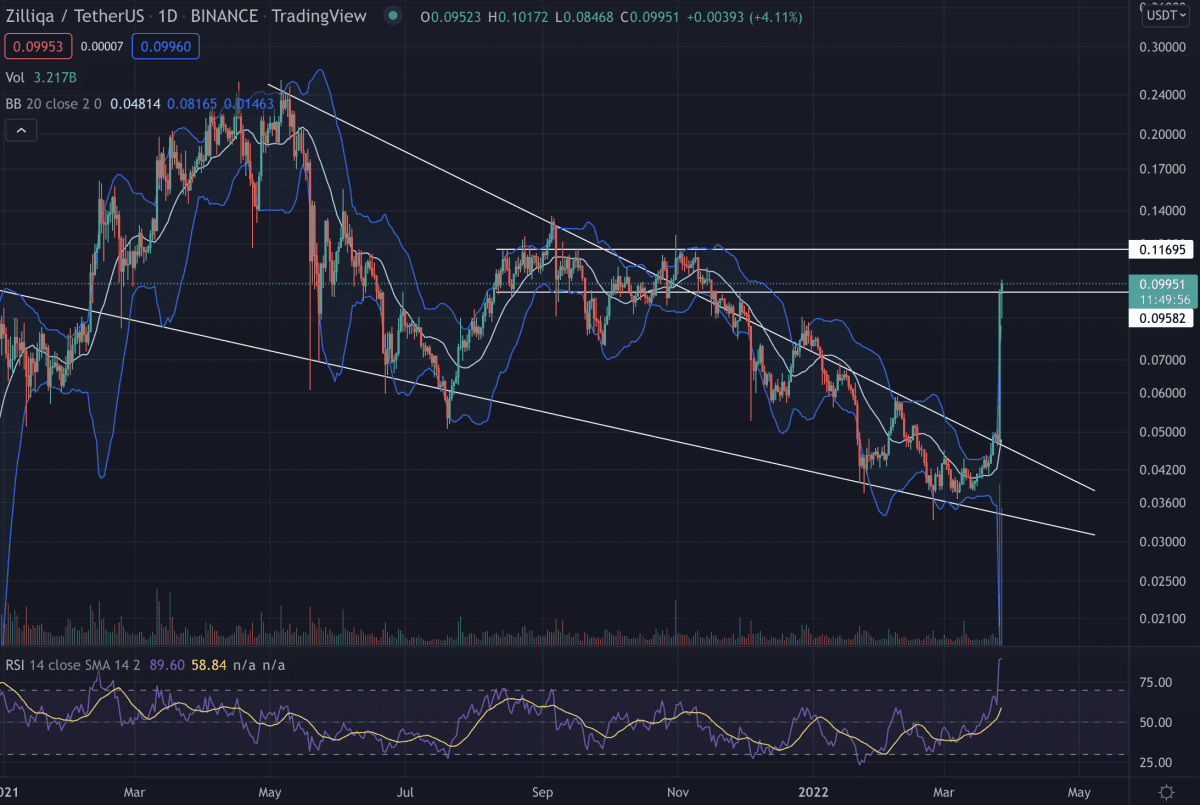 Wat zijn de verwachtingen voor de komende periode?
Wil jij up-to-date blijven, meer technische analyse voor ZIL ontvangen of hier vragen over stellen? In de Crypto-insiders premium omgeving voor leden bediscussiëren we het crypto nieuws en blijven we verdere updates met jullie delen. Hier worden ook additionele technische analyses gedeeld over andere coins die in deze rubriek worden behandeld. Overweeg jij een positie te nemen in ZIL? Neem via de premium omgeving voor leden contact op met een van onze analisten en crypto coaches, zij helpen je graag een weloverwogen beslissing te maken.