XRD is vandaag met maar liefst 16% gestegen. In dit artikel bespreken we een mogelijke fundamentele reden over wat de stijging van deze cryptovaluta veroorzaakt heeft. Daarnaast analyseren we de XRD koers zodat je een weloverwogen beslissing kunt maken om XRD te kopen of verkopen.
Vandaag zien we veel coins in de plus. Een daarvan is Radix (XRD). Deze coin steeg in de afgelopen 24 uur met ongeveer 16%. In de afgelopen zeven dagen wist de coin zelfs met 19% te stijgen. Door de stijging staat de coin op de 62e plaats op basis van marktwaarde volgens CoinGecko.
Wat is Radix?
Radix is een gedecentraliseerd netwerk waar ontwikkelaars snel en gemakkelijk op kunnen bouwen zonder dat zij zich zorgen hoeven maken over hacks of exploits. Ook wordt een gebruiker beloond voor het verbeteren van het netwerk. Radix wil een open en verbonden platform maken waar Decentralized Finance (DeFi) applicaties veilig op gebouwd kunnen worden.
Waarom stijgt XRD in waarde?
Een mogelijke reden is het feit dat Radix binnenkort te zien is op de CES beurs in Las Vegas. Dit werd aangekondigd op het officiële Twitteraccount van de coin. Vanaf 5 tot en met 7 januari zal Radix te zien zijn tussen 195 bedrijven die in de Fortune Global 500 staan. Ook komt er media vanuit 159 verschillende landen. Dit evenement zal dus voor veel ogen zorgen voor het project. Het kan dus zijn dat de stijging is gekomen uit anticipatie voor dit evenement. 
Technische analyse
XRD beweegt onder een neerwaartse weerstandslijn. Er is op het moment door de afgelopen dagen heen wel een nieuwe bodem gevormd met een sterke steunzone. De koers probeerde een aantal dagen geleden nog de weerstandslijn te testen maar kon er niet doorheen breken.
De koers zakte toch weer terug naar de steunzone. Het lijkt erop dat door de stijging de koers het nogmaals wil proberen om toch weer boven deze lijn te komen. Dit is daarom ook een aandachtspunt. Mocht het weer niet lukken kunnen we altijd weer terugvallen op de supportzone.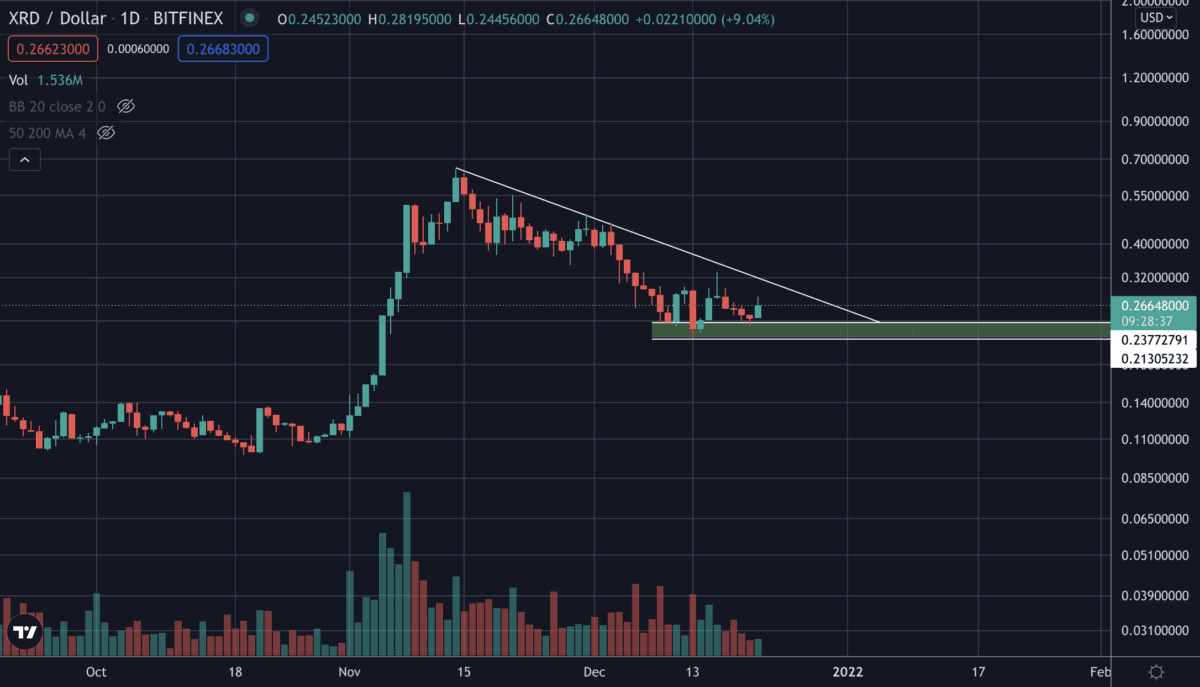 Wat zijn de verwachtingen voor de komende periode?
Het zal interessant zijn om te zien of in de periode na de beurs de koers nog zal stijgen. Wil jij XRD kopen? In het Discord kanaal voor members praten we over het nieuws en geven we verdere updates over verschillende projecten. Je komt hier eenvoudig in contact met onze analisten en crypto coaches, zij helpen je graag een weloverwogen beslissing te maken.