Vanochtend was op Crypto Insiders een nieuwe analyse van ethereum (ETH) te lezen. Hierin is te lezen dat de analisten van Crypto Insiders een stuk voorzichtiger zijn geworden over de ether koers. Alhoewel mogelijk eerst een kleine wave omhoog nog volgt, vrezen zij dat ethereum daarna hard kan dalen en naar een oude steunlijn kan vallen.
In dit artikel delen we analyses uit de premium omgeving van twee cryptocurrencies die mogelijk meer opwaartse potentie hebben dan ethereum. Het gaat dan om the sandbox (SAND) en ethereum classic (ETC). Ben je nog geen lid of mocht je na het lezen van dit artikel nog vragen hebben, neem dan eens een kijkje op onze Premium informatiepagina.
Sandbox dichtbij eind van koersdaling
The sandbox zit in de laatste van fase van een 12345 Elliott Wave patroon. De analisten verwachten dat de koers vanaf de groene steunzone, ofwel de prijs rond de $0,45 tot $0,52, weer de weg naar boven kan opzoeken.
De analisten zijn redelijk overtuigd dat SAND hier een voorlopige bodem kan vinden aangezien meerdere golven hier samenvloeien. Hoe hard SAND precies zal stijgen na het vinden van deze bodem is nog te vroeg om te zeggen.
Dit wordt duidelijker zodra een nieuw patroon begint te vormen. Zodra er meer bekend is over de nieuwe weg die SAND zal afleggen, wordt dit direct gedeeld met alle leden in de Premium community van Crypto Insiders.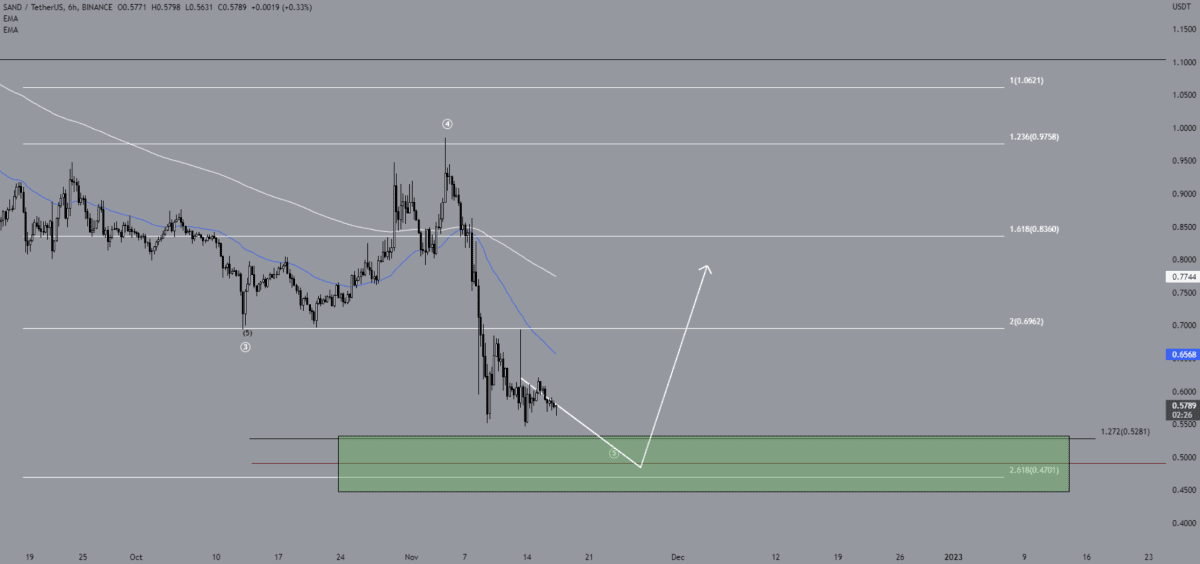 Er is nog hoop voor ethereum classic
Ethereum classic zag er voorheen zeer bullish uit, maar totdusver heeft de koers toch nog te veel moeite om uit te breken. De onderstaande donkerrode neerwaartse dynamische trendlijn biedt nog te veel weerstand. Op enkele kleine uitbraken na, viel de koers telkens terug naar dit niveau.
Toch lijkt er volgens de analisten weer wat hoop te zijn voor de bulls. Zolang de koers niet onder de horizontale rode invalidatielijn breekt, kan ETC mogelijk alsnog bullish worden. De koers zou dan tussen de 61,8% en 100% Fibonacci moeten komen en vanuit hier de belangrijke neerwaartse dynamische trendlijn overtuigend breken. Hoe ver ETC dan kan stijgen zullen de analisten dan zo snel mogelijk delen in de Premium omgeving.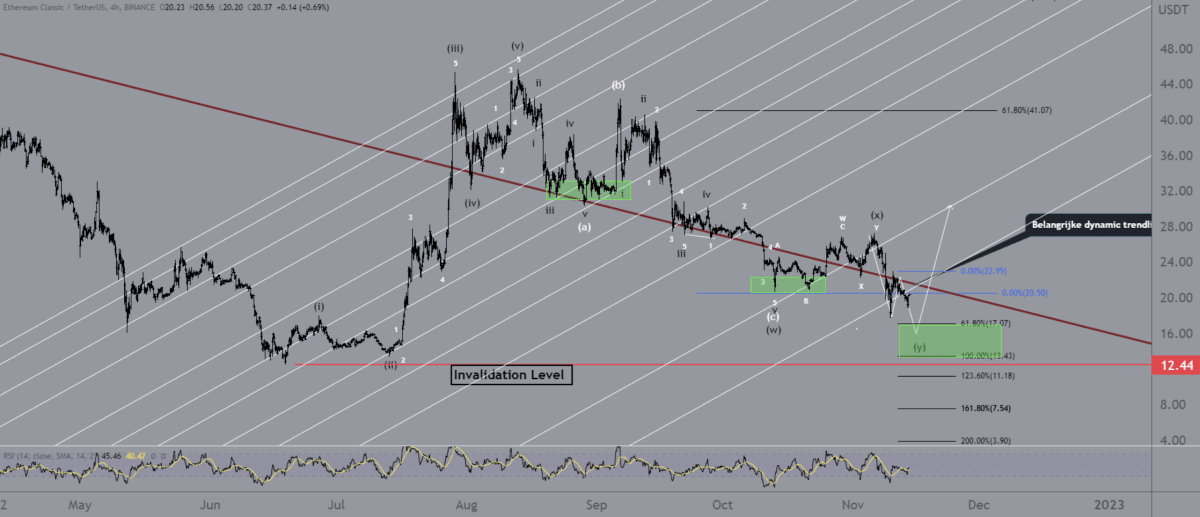 The sandbox of ethereum classic kopen of verkopen?
Overweeg jij SAND of ETC te kopen of verkopen? Zoek jij hulp met handelen in crypto? Dan verwijzen we je graag door naar onze Premium membersgroep. Hier ontvangen leden als eerst de nieuwste technische analyses van een groot aanbod aan crypto.
Ook krijg je toegang tot exclusieve crypto-projecten, koersvideo's, handelsplannen en ask me anything (AMA) sessies met onze analisten. In onze Discord kunnen we 24/7 kennis met elkaar delen en proberen we samen met onze leden de markt voor te blijven. Word lid en probeer een Premium-lidmaatschap 30 dagen gratis.
Disclaimer: Beleggen brengt risico's met zich mee. Onze analisten zijn geen financieel adviseurs. Raadpleeg altijd een adviseur bij het maken van financiële beslissingen. De informatie en tips die op deze website zijn verstrekt is gebaseerd op eigen inzichten en ervaringen van onze analisten en dienen alleen voor educatieve doeleinden.