DOT is vandaag met maar liefst 8% gestegen. In dit artikel kijken we naar mogelijk fundamentele redenen waarom deze cryptovaluta in waarde is gestegen en analyseren we de koers zodat je een weloverwogen beslissing kunt maken om DOT te kopen of verkopen.
Een van de hardste stijgers van de dag is vandaag Polkadot (DOT). Deze cryptocurrency wist in de afgelopen 24 uur een rendement te halen van ongeveer 8%. Over de afgelopen zeven dagen zagen we de koers echter dalen met bijna 13%. Op het moment van schrijven staat DOT op de 11e plaats op basis van marktwaarde.
Wat is Polkadot?
Polkadot is, zoals ze zelf zeggen, de volgende stap in de evolutie van blockchain-technologie en is volledig open-source. Polkadot kan verschillende gespecialiseerde chains in eenzelfde netwerk verbinden. Polkadot richt zich ook volledig op het bouwen van een infrastructuur voor Web3. Het werkt ook als platform waar ontwikkelaars hun eigen projecten en cryptocurrencies op kunnen bouwen.
Waarom stijgt DOT in waarde?
Een mogelijke reden achter de stijging zou dit bericht kunnen zijn. Hierin wordt aangegeven dat er vanaf vandaag een Exchange Traded Product (ETP) verhandelbaar gemaakt zal worden op de Boerse Frankfurt Zertifikate AG, ofwel de aandelenbeurs in Frankfurt. 
Dit is erg goed nieuws niet alleen voor DOT maar voor de gehele cryptocurrency sector aangezien producten als deze er weer voor zorgen dat de 'traditionele financiële markt' net weer wat makkelijker en veiliger toegang krijgen tot cryptocurrencies. Op deze manier wordt de cryptocurrencysector steeds een beetje meer mainstream. Het introduceren van op de beurs verhandelbare producten zorgt voor een snellere adoptie van crypto.
Technische analyse
DOT was voor een lange tijd hard bezig met het maken van een neerwaartse weerstandslijn. Dit lijkt mogelijk tot een eind te komen door de hogere bodems die op dit moment gezet worden. Door de hogere bodems wordt er nu een symmetrische driehoek gemaakt. Een symmetrische driehoek is in de theorie een neutraal patroon. Het is dus op het moment nog niet duidelijk of we omhoog zullen gaan of juist naar beneden. Het is dus goed opletten geblazen of dit patroon aan de bovenkant of de onderkant uitbreekt. Bij een uitbraak aan de bovenkant zal mogelijk $23 fungeren als eerste weerstand. Bij een neerwaartse uitbraak kijken we naar $16 voor een mogelijk steunniveau.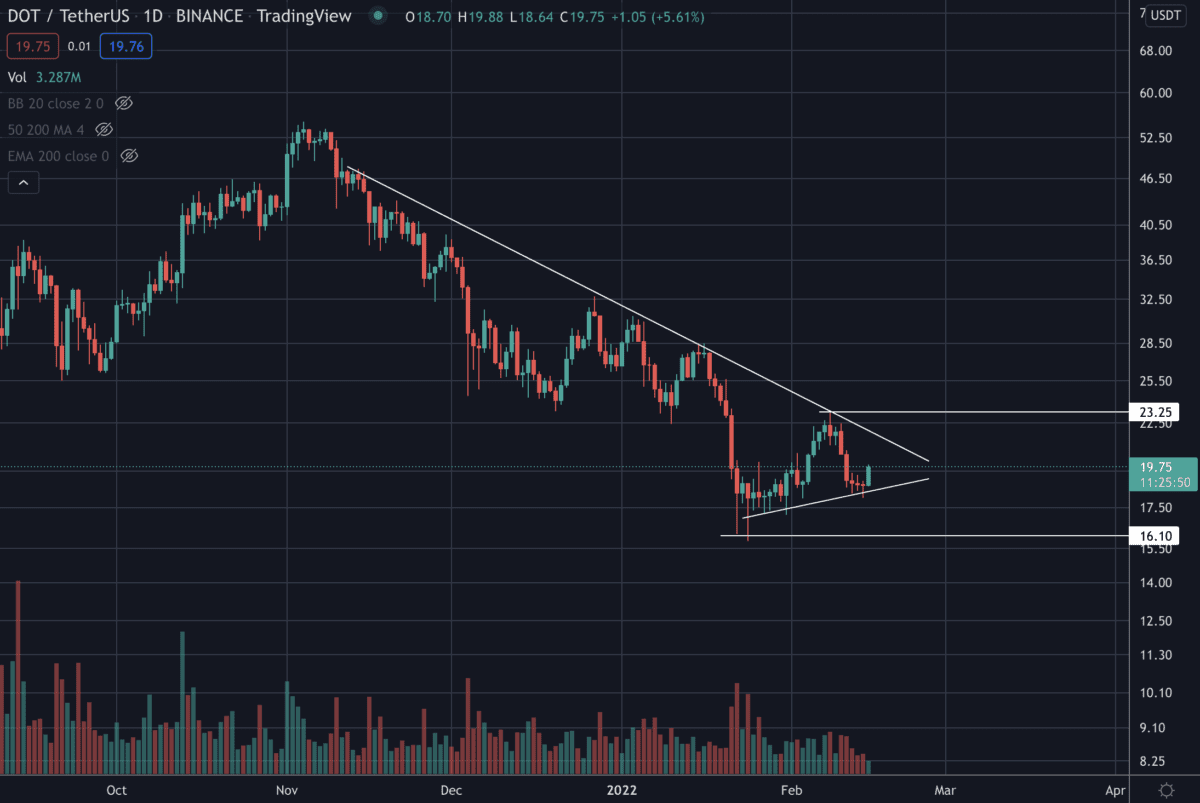 Wat zijn de verwachtingen voor de komende periode?
Of het nieuws nog verdere impact gaat hebben op de prijs is afhankelijk van een groot aantal factoren die dagelijks verschillen. Overweeg jij een positie te nemen in DOT? In ons Discord kanaal voor leden bediscussiëren we het nieuws en zullen we verdere updates met jullie blijven delen. Ook zullen hier additionele technische analyses gedeeld worden door een van onze analisten die dieper op de koers ingaan. Je komt hier eenvoudig in contact met onze analisten en crypto coaches, zij helpen je graag een weloverwogen beslissing te maken.