ETC is vandaag met maar liefst 7% gestegen. In dit artikel kijken we naar mogelijk fundamentele redenen waarom deze cryptovaluta in waarde is gestegen en analyseren we de ETC koers zodat je een weloverwogen beslissing kunt maken om ETC te kopen of verkopen.
De markt is vrij verdeeld vandaag. Er zijn ongeveer evenveel stijgers als dalers. Een van de uitschieters van vandaag is Ethereum Classic (ETC). Deze coin steeg in de afgelopen 24 uur met zo'n 7%. Over de afgelopen zeven dagen steeg ETC met ongeveer 17%. Door de stijging staat Ethereum Classic op de 40e plaats op basis van marktwaarde.
Wat is Ethereum Classic?
Ethereum Classic is, zoals je misschien al dacht, afgeleid van Ethereum (ETH). Ethereum Classic is namelijk een hard fork van Ethereum en bestaat sinds juli 2016. Ethereum Classic is een smart contract platform waar gebruikers ook verschillende decentralized applications (dApps) op kan bouwen. Het doel van Ethereum Classic was uiteindelijk ook om niet meer afhankelijk of gebonden te zijn aan Ethereum. Dit was na verloop van tijd goed gelukt aangezien de twee projecten beide een andere richting op varen en verschillende roadmaps te maken.
Waarom stijgt ETC in waarde?
De stijging zou mogelijk te maken kunnen hebben met de hard fork genaamd Mystique. Normaliter vindt een hard fork plaats wanneer er onenigheid is binnen de gemeenschap over een bepaalde keus die het project of andere gebruikers willen maken. Deze hard fork is echter niet ontstaan uit een discussie maar simpelweg voor het verbeteren van het protocol. De hard fork zal plaatsvinden op block 14,525,000, ofwel ongeveer op 13 februari 2022. 
Zo'n hard fork in deze vorm is natuurlijk goed nieuws voor het project. Dit betekent dat het protocol vanaf die datum net wat beter zal lopen dan voorheen. Investeerders zagen dit dan ook als kans om nog last minute in te springen om niet de boot te missen. Dit zou mogelijk voor de prijsstijging gezorgd kunnen hebben die we vandaag zagen.
Technische analyse
ETC beweegt zich in een duidelijke neerwaartse trend als we naar de dagelijkse grafiek kijken. De stijging van de afgelopen dagen is te verklaren door een retest van de onderkant van het kanaal. Dit was het moment dat we een omkeer zagen en een aantal groene candles achter elkaar. In de juiste marktomstandigheden kan dit momentum voortgezet blijven worden en zouden we een retest van de weerstandslijn kunnen zien. Dit is dus een mooie setup om in de gaten te houden. Een uitbraak aan de bovenkant van dit kanaal zou pas echt mooi kunnen zijn voor de prijsactie.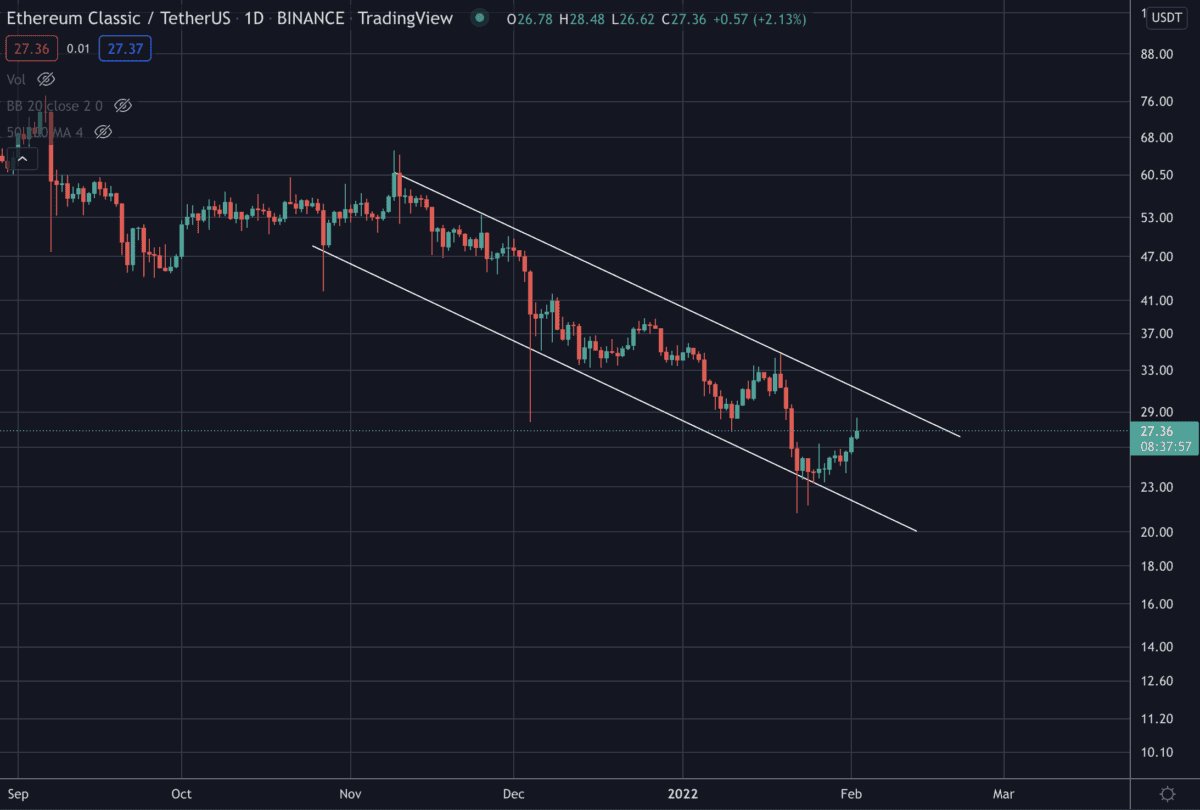 Wat zijn de verwachtingen voor de komende periode?
In het Crypto-insiders Discord kanaal voor leden bediscussiëren we het crypto nieuws en zullen we verdere updates met jullie blijven delen. Hier zullen ook additionele technische analyses worden gedeeld over de coins die in deze rubriek worden behandeld. Overweeg jij een positie te nemen in ETC? Neem via het Discord kanaal contact op met een van onze analisten en crypto coaches, zij helpen je graag een weloverwogen beslissing te maken.