In de premium omgeving van Crypto Insiders worden dagelijks actuele technische analyses gedeeld door ervaren analisten. De afgelopen periode kwam Ethereum (ETH) hier regelmatig ter sprake. In deze rubriek blikken we terug op deze technische analyse en brengen we de recente ontwikkelingen en verwachtingen voor de komende periode in kaart. Mocht je na het lezen van dit artikel nog vragen hebben, kun je deze eenvoudig stellen in onze Discord community, hier worden onze technische analyses doorgaans 48 uur eerder gedeeld met onze leden.
ETH is over de afgelopen 24 uur met ongeveer 0,2% gestegen. Over de afgelopen zeven dagen zagen we een kleine daling. In deze periode daalde de koers met ongeveer 6,9%. Gedurende de afgelopen 24 uur nam het handelsvolume van ethereum op de crypto exchanges met 14% toe.
Laatste Ethereum nieuws
Een interessant gegeven voor ethereum is het feit dat de nummer 2 cryptocurrency op basis van marktwaarde weer meer interesse lijkt te krijgen van grote investeerders. Dit blijkt uit een wekelijks rapport van CoinShares.
Hierin wordt aangegeven dat beleggingsproducten in ethereum eindelijk een toestroom aan geld zien. Waar deze voor de voorgaande 11 weken enkel uitstromen zagen.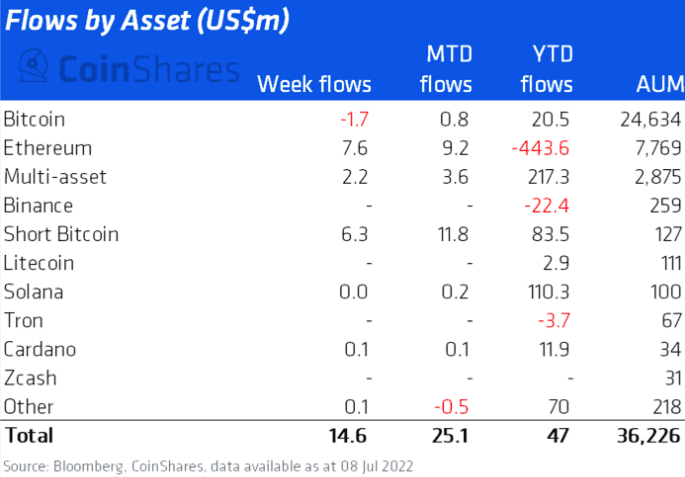 Investeerders willen dus graag weer geld in beleggingsproducten van ethereum investeren. Volgens CoinShares heeft dit te maken met het feit dat de Merge eraan zit te komen. De Merge, het proces waarbij de Beacon Chain samenvoegt met het huidige Ethereum, brengt namelijk vele verbeteringen met zich mee.
De grootste verandering is het feit dat Ethereum over zal stappen van een proof-of-work (PoW) consensus model naar een proof-of-stake (PoS) consensus model.
Technische analyse ETH koers
In de Discord community hebben de analisten van Crypto Insiders onlangs een update over hun lopende ethereum positie geplaatst. Hierin werd aangegeven dat ETH perfect de instapzone van $900 heeft bereikt om vervolgens weer hard te stijgen.
Deze stijging zou ons richting de $1.900 kunnen brengen. Toch gaven zij hier ook aan dat dit waarschijnlijk niet in een rechte lijn omhoog gaat gebeuren. Zoals we ondertussen hebben kunnen zien is dit ook niet gebeurd. De analyse lijkt nog op schema te verlopen.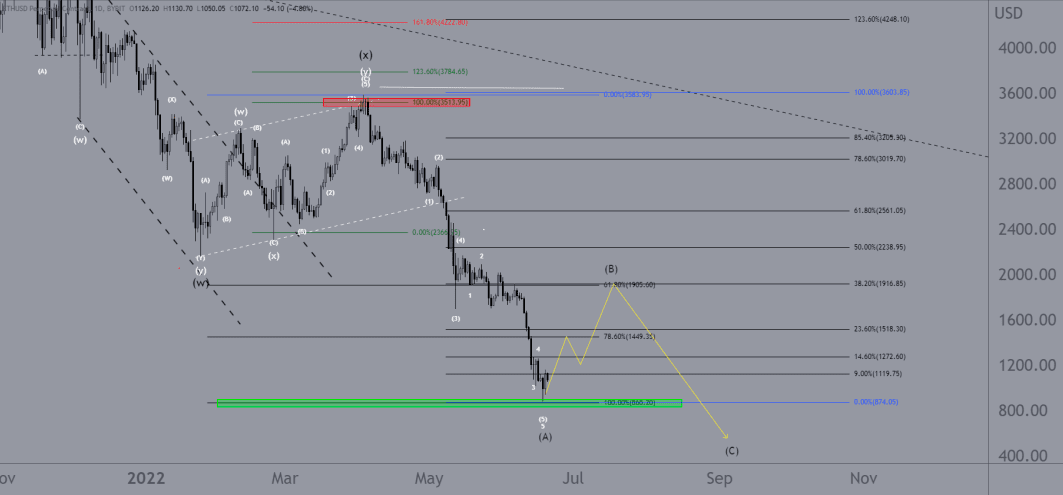 Wat zijn de verwachtingen voor Ethereum?
De update waar iedereen op wacht is natuurlijk de overgang van Ethereum door middel van de Merge. In de Premium omgeving van Crypto Insiders zullen wij de ontwikkelingen volgen.
Of bovenstaande ontwikkelingen nog verdere impact gaat hebben op de prijs is afhankelijk van een groot aantal factoren die dagelijks verschillen. De crypto-markt en zwaar onderhevig aan economische gebeurtenissen en traditionele aandelenmarkten. Dit maakt het soms lastig om het juiste moment te bepalen om in een bepaald project te investeren.
ETH kopen of verkopen?
Wil jij graag dit soort koersanalyses van crypto eerder zien? Dan verwijzen wij je graag door naar onze Discord community voor leden. Hier bediscussiëren ervaren analisten en handelaren dagelijks hun eigen handelsplannen. Daarnaast delen we hier regelmatig aanvullende koersanalyses maar ook updates van projecten die we eerder in deze rubriek hebben behandeld. Via Discord kunnen we 24/7 kennis met elkaar delen en proberen we samen met onze leden de markt voor te blijven.
---
Disclaimer: Beleggen brengt risico's met zich mee. Onze analisten zijn geen financieel adviseurs. Raadpleeg altijd een adviseur bij het maken van financiële beslissingen. De informatie en tips die op deze website zijn verstrekt is gebaseerd op eigen inzichten en ervaringen van onze analisten en dienen alleen voor educatieve doeleinden.