In dit artikel delen we twee analyses uit de Premium omgeving van Crypto Insiders. Beide cryptocurrencies zijn over de afgelopen 24 uur hard gestegen. Het gaat dan om ripple (XRP) en quant (QNT). Ben je nog geen lid of mocht je na het lezen van dit artikel nog vragen hebben, neem dan eens een kijkje op onze Premium informatiepagina.
Analisten houden deze zone voor XRP in de gaten
XRP liet over de afgelopen 24 uur een zeer sterk resultaat zien en daarom hebben de analisten van Crypto Insiders een nieuwe blik geworpen op de koers. De cryptocurrency steeg namelijk met meer dan 12% in een dag.
Volgens de analisten kan XRP nog iets verder stijgen en even boven $0,4 uitkomen, maar zal daarna wellicht een forse omkeer maken. Die daling zal dan plaatsvinden in een 12345 Elliott Wave patroon waarvan de innerwave naar verwachting rond de 127,2% en 161,8% Fibonacci uiktomt. Dat zal ergens in het gebied zijn tussen de $0,2512 en $0,2855.
Vervolgens zou XRP mogelijk een korte opleving kunnen zien met de vierde wave om vervolgens met de vijfde grotere wave nog verder omlaag te gaan. Dat komt XRP volgens de analisten in de onderstaande steunzone terecht en zou de koers mogelijk weer kunnen stijgen. Hoe dit zal verlopen, zullen de analisten zo snel mogelijk delen in de Premium omgeving van Crypto Insiders.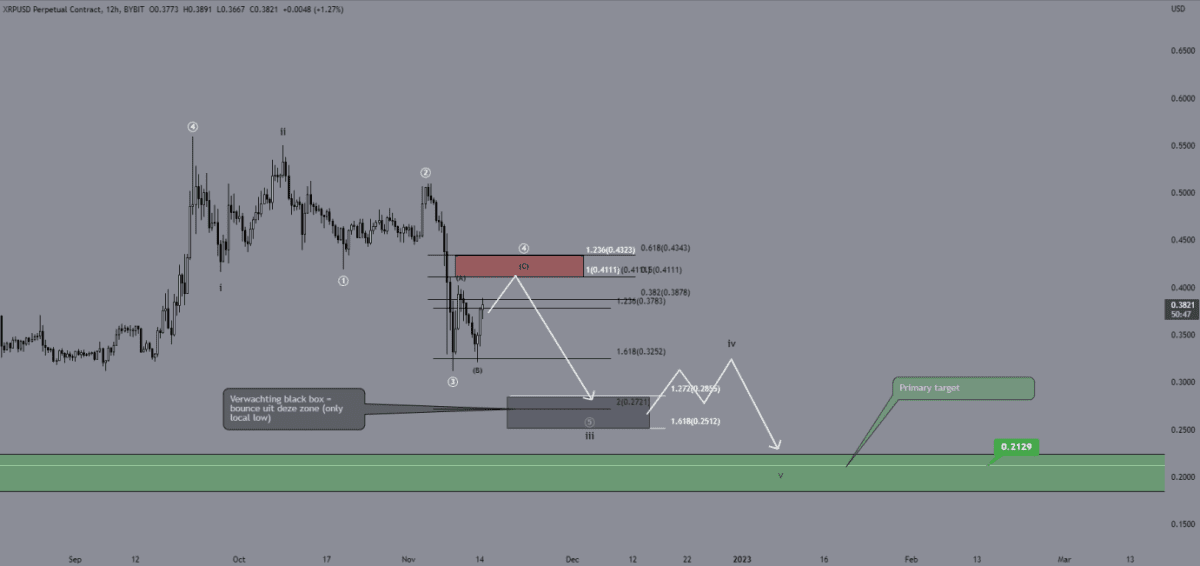 Slechte weer Quant nog niet overgewaaid
Quant kon in de afgelopen 24 uur nog harder stijgen. De QNT koers stond eerder vandaag bijna 20% in de plus en daarom hebben de analisten van Crypto Insiders ook een nieuwe analyse gemaakt voor deze crypto. In deze analyse deelden zij het volgende over de QNT koers:
"We hebben even gewacht met het delen van een nieuwe QNT analyse, echter zien we nu weer nieuwe mogelijkheden. Het lijkt erop dat we op de langere termijn verder omlaag zullen traden. QNT lijkt namelijk een groter 12345 EW patroon naar beneden te vormen.

Toch zien we een innerwave ontstaan die de koers eerst naar boven kan duwen richting de verkoopzone tussen de 50% en 61,8% fibonacci krijgen, ofwel de zone tussen $160 en $178.

Om de verkoopzone accurater te kunnen vaststellen, zullen we moeten wachten op verdere koersontwikkeling. Mochten we deze koersontwikkeling hebben gekregen, dan zal dit direct gedeeld worden in de Premium omgeving met alle leden."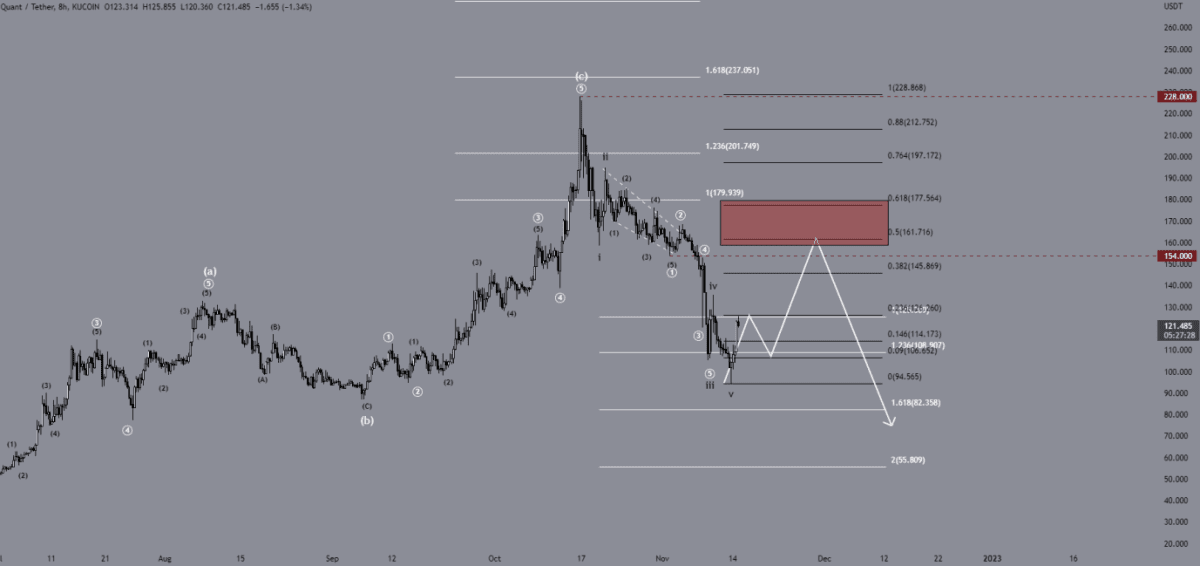 Ripple of Quant kopen of verkopen?
Overweeg jij XRP of QNT te kopen of verkopen? Zoek jij hulp met handelen in crypto? Dan verwijzen we je graag door naar onze Premium membersgroep. Hier ontvangen leden als eerst de nieuwste technische analyses van een groot aanbod aan crypto.
Ook krijg je toegang tot exclusieve crypto-projecten, koersvideo's, handelsplannen en ask me anything (AMA) sessies met onze analisten. In onze Discord kunnen we 24/7 kennis met elkaar delen en proberen we samen met onze leden de markt voor te blijven. Word lid en probeer een Premium-lidmaatschap 30 dagen gratis.
Disclaimer: Beleggen brengt risico's met zich mee. Onze analisten zijn geen financieel adviseurs. Raadpleeg altijd een adviseur bij het maken van financiële beslissingen. De informatie en tips die op deze website zijn verstrekt is gebaseerd op eigen inzichten en ervaringen van onze analisten en dienen alleen voor educatieve doeleinden.