Premium leden van Crypto Insiders ontvangen dagelijks actuele technische analyses voor verschillende cryptocurrencies. Hieronder delen we recente analyses van Solana (SOL) en Cosmos (ATOM). Ben je nog geen lid of mocht je na het lezen van dit artikel nog vragen hebben, neem dan eens een kijkje op onze Premium informatiepagina.
Licht aan het eind van de tunnel voor Solana?
De analisten van Crypto Insiders in de Premium community hebben al sinds 18 augustus een daling voor SOL zien aankomen. Ondertussen staat de koers 31% lager sinds het eerste bericht voor leden. Toch verwachten de analisten dat deze daling nog niet voltooid is. Op de lange termijn vormt er zich namelijk een 12345 Elliot Wave patroon. Binnen dit patroon zijn wij op het moment bezig met een corrective wave 2. Deze zal naar verwachting nog iets lager vallen en uitkomen rond de groene zone.
Er is echter wel licht aan het eind van de tunnel. Namelijk zodra deze tweede wave is afgerond krijgen we mogelijk een stijging te zien. De derde wave van dit patroon zal de andere kant op wijzen en is vaak explosief. De omkeer kan dus enorm snel gaan. Binnen de Premium community houden wij Solana daarom scherp in de gaten.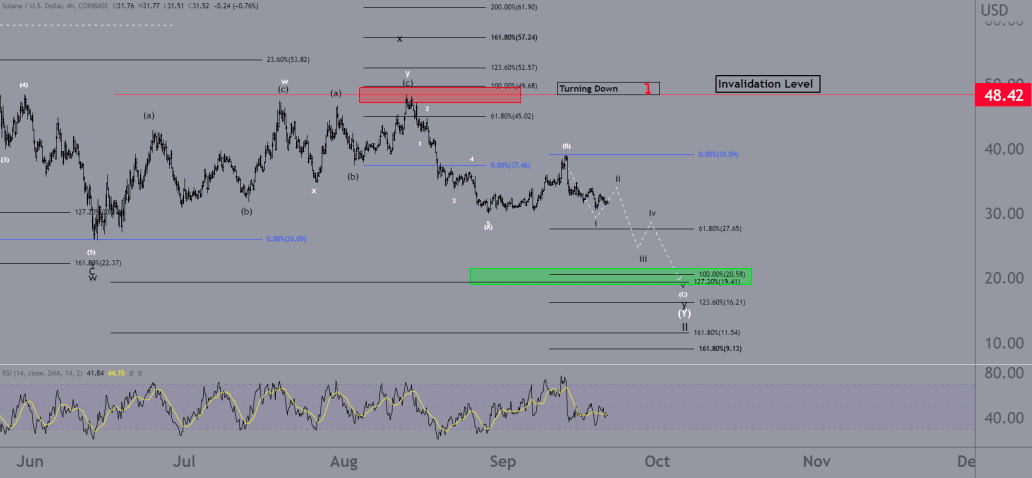 ATOM vanaf hier hard omhoog?
Voor ATOM hebben de analisten tussen de 100% en 161,8% van de Fibonacci een groene koopzone kunnen tekenen. Dit was de zone waarbij zij weer een stijging verwachten. Tussen deze Fibonacci niveaus vielen zowel de grotere C wave van het ABC Elliott Wave patroon en de inner Y wave van de WXY patroon samen. Deze koopzone zou mogelijk kunnen fungeren als springplank voor ATOM. De stijging zou ons dan richting de $18 kunnen brengen.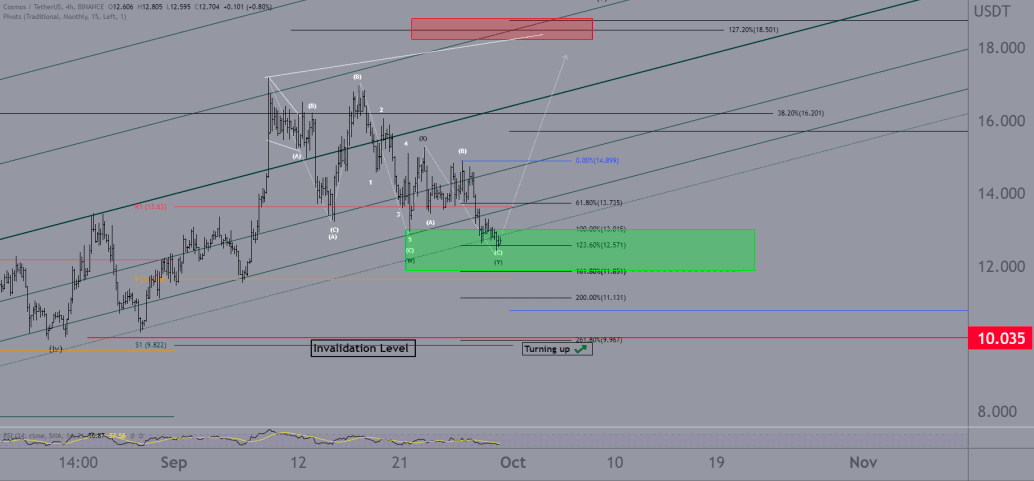 SOL of ATOM kopen of verkopen?
Overweeg jij Solana of Cosmos te kopen of verkopen? Volg de in- en verkoop momenten van andere ervaren handelaren en analisten. Word lid en probeer een Premium-lidmaatschap 30 dagen gratis uit. Naast analyses krijg je als lid ook de mogelijkheid vragen te stellen aan onze analisten en coaches. Ook vind je een breed scala aan interessante discussiekanalen over allerlei aan crypto-gerelateerde onderwerpen! Tevens Bespreken de leden dagelijks het meest recente nieuws.
---
Disclaimer: Beleggen brengt risico's met zich mee. Onze analisten zijn geen financieel adviseurs. Raadpleeg altijd een adviseur bij het maken van financiële beslissingen. De informatie en tips die op deze website zijn verstrekt is gebaseerd op eigen inzichten en ervaringen van onze analisten en dienen alleen voor educatieve doeleinden.