In de Discord omgeving voor leden van Crypto Insiders worden dagelijks actuele technische analyses gedeeld door ervaren analisten. De afgelopen periode kwam Decentraland (MANA) hier regelmatig aan bod. In dit artikel blikken we terug op deze technische analyse en brengen we de recente ontwikkelingen en verwachtingen voor de komende periode in kaart. Mocht je na het lezen van dit artikel nog vragen hebben, kun je deze eenvoudig stellen in onze Discord community. Hier worden onze technische analyses doorgaans 48 uur eerder gedeeld met onze leden.
MANA is over de afgelopen 24 uur met ongeveer 1,5% gedaald. Over de afgelopen zeven dagen daalde de koers met ongeveer 11%. Ook is MANA 1% gedaald ten opzichte van bitcoin in de afgelopen 24 uur. MANA staat op het moment van schrijven op de 35e plaats qua grootste crypto met een marktwaarde van ongeveer $1,7 miljard.
Wat is Decentraland (MANA)?
Decentraland is een op Ethereum (ETH) gebaseerd virtual reality platform. Decentraland biedt spelers de mogelijkheid om eigen ervaringen te creëren, er in te spelen en er geld mee te verdienen. In deze virtuele wereld kunnen spelers stukken land kopen en daar op bouwen. Decentraland valt onder de sector metaverse en is vergelijkbaar met projecten zoals The Sandbox (SAND).
Recente ontwikkelingen Decentraland
Decentraland is op basis van recente ontwikkelingen een erg interessant project. Ontwikkelingen vinden plaats in de "echte wereld" alsmede in de virtuele wereld, en dat is te zien aan de volgende twee voorbeelden. 
Allereerst zagen we dat het project aan Decentraland Games een beurs van $1 miljoen in MANA tokens heeft gegeven. Dit is tot nu toe de grootste beurs in de geschiedenis van Decentraland. Wat er met deze beurs moest gebeuren werd bepaald middels een stemmingsronde. Investeerders die MANA bezitten kunnen stemmen of ze voor of tegen een voorstel zijn. Ditmaal stemde de gemeenschap dat de beurs wordt gebruiktn om investeerders van de ICE-USDC liquidity pool extra te belonen. Op deze manier wil Decentraland Games het aantrekkelijker maken om liquidity te verschaffen.
Daarnaast gebeurt er ook nog meer dan genoeg in de virtuele wereld van Decentraland. Dit is dan vooral in de vorm van verschillende evenementen. Dat zijn bijvoorbeeld evenementen die Decentraland zelf organiseert, zoals de verjaardag van Decentraland die we in februari zagen. Daarnaast zijn het vooral evenementen die de community organiseert. Zo konden spelers van Decentraland onlangs het hoofdkwartier van Metakey bezoeken om naar een metaverse conferentie te kijken. Via deze pagina kun je alle verschillende evenementen bijhouden.  
Technische analyse MANA
Onze technische analyse voor Decentraland (MANA) ziet er vooralsnog positief uit. Hierbij verwachten we dat de MANA koers over de middellange termijn zal stijgen. 
Op het moment van schrijven is er een eerste golf, oftewel wave A of 1, te zien in de Elliott Wave analyse. Of het echter om een Wave A of 1 gaat, is nog niet helemaal duidelijk, maar dat zal naar verloop van tijd snel genoeg blijken.
Hierdoor verwachten we dat de koers eerst nog een kleine beweging naar beneden maakt tot aan de groene zone tussen ($0,9 en $0,99) op de grafiek voordat de koers weer stijgt. Wij verwachten dat MANA vervolgens mogelijk richting de $1,64 stijgt.
Mocht je vragen hebben over onderstaande grafiek, dan kan je die stellen in onze Discord community voor leden. Hier kom je eenvoudig in contact met analisten en ervaren crypto-handelaren.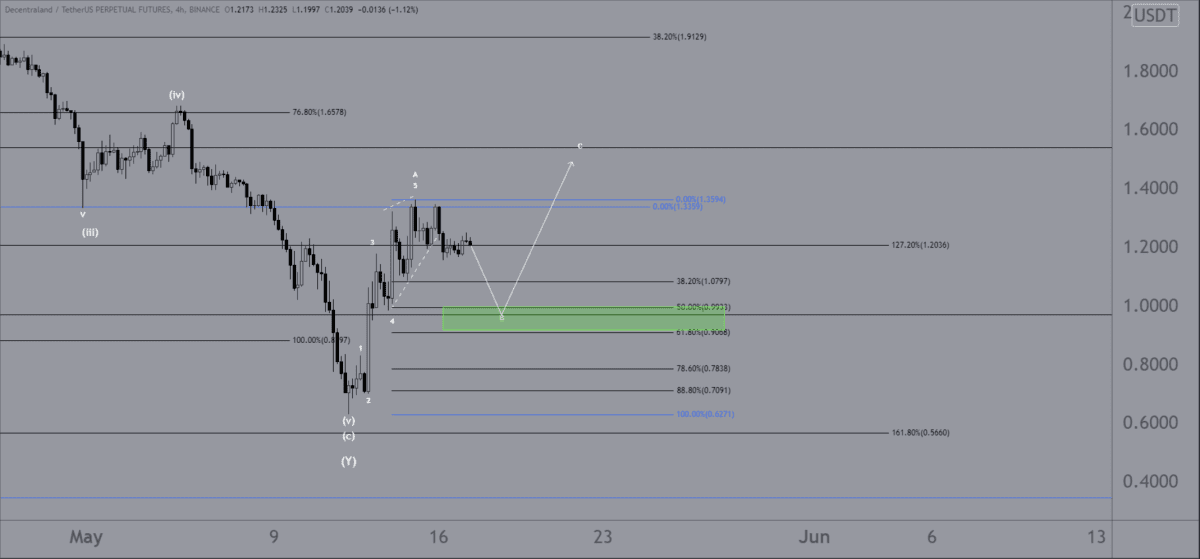 Wat zijn de verwachtingen voor Decentraland?
Hoewel Decentraland al vrij succesvol is, komt er nog genoeg aan voor het project. Uit de routekaart kunnen we opmaken dat het team op het moment druk bezig is met het ontwikkelen van een desktop en een mobiele versie van het metaverse spel. Ook zijn ze bezig met het verbeteren van de virtual reality client, het programma waar je het spel mee kan spelen.
Of de bovenstaande ontwikkelingen een verdere impact zal hebben op de prijs, is echter afhankelijk van een groot aantal factoren. De crypto-markt is momenteel zwaar onderhevig aan economische ontwikkelingen en traditionele aandelenmarkten. Dat maakt het momenteel extra moeilijk om koersen te analyseren.
Crypto Insiders Discord Community
Wil jij graag dit soort koersanalyses van crypto eerder zien? Dan verwijzen wij je graag door naar onze Discord community voor leden. Hier bediscussiëren ervaren analisten en handelaren dagelijks hun eigen handelsplannen. Ook delen we hier regelmatig aanvullende koersanalyses en updates van projecten die we eerder in deze rubriek hebben behandeld. Via Discord kunnen we 24/7 kennis met elkaar delen en proberen we samen met onze leden de markt voor te blijven. 
Disclaimer: Beleggen brengt risico's met zich mee. Onze analisten zijn geen financieel adviseurs. Raadpleeg altijd een adviseur bij het maken van financiële beslissingen. De informatie en tips die op deze website worden verstrekt zijn gebaseerd op eigen inzichten en ervaringen van onze analisten en dienen alleen voor educatieve doeleinden.