In de premium omgeving van Crypto Insiders worden dagelijks actuele technische analyses gedeeld door ervaren analisten. De afgelopen periode kwam Polygon (MATIC) hier regelmatig ter sprake. In deze rubriek blikken we terug op deze technische analyse en brengen we de recente ontwikkelingen en verwachtingen voor de komende periode in kaart. Mocht je na het lezen van dit artikel nog vragen hebben kun je deze eenvoudig stellen in onze Discord community, hier worden onze technische analyses doorgaans 48 uur eerder gedeeld met onze leden.
MATIC is over de afgelopen 24 uur met ongeveer 13% gestegen. Over de afgelopen zeven dagen zagen we een harde stijging. In deze periode steeg de koers met ongeveer 19%. MATIC staat op het moment van schrijven op de 17e plaats op basis van marktwaarde.
Wat is Polygon (MATIC)?
Polygon zegt het antwoord te zijn op de problemen waar Ethereum (ETH) mee kampt. Voorbeelden hiervan zijn de hoge gas fee's, slechte gebruikerservaring en lage transactiedoorvoer. Polygon (voorheen Matic Network) is het eerste gebruiksvriendelijke platform voor Ethereum-schaling en infrastructuurontwikkeling. MATIC zorgt er dus voor dat Ethereum in een volwaardig multi-chain-systeem verandert. Dit wordt ook wel Internet of Blockchains genoemd.
Laatste Polygon nieuws
Elk jaar zoekt Disney een aantal bedrijven uit voor een speciaal programma dat zij organiseren. Dit programma heet het Disney Accelerator program. Hier zoekt Disney zes andere bedrijven uit en helpt ze bij het laten groeien. Dit jaar werd Polygon ook uitgekozen als een van de bedrijven die mee zou doen.
Ryan Watt, de CEO van Polygon Studios, gaf aan dat Polygon het enige blockchain bedrijf is dat mee doet aan het programma. Daarnaast zei hij dat het boekdelen spreekt over hoe Polygon bezig is met haar blockchain en waar we als bedrijf naartoe gaan dat ze zijn uitgekozen voor dit project. Het is echter vooralsnog onduidelijk waarom precies Polygon is uitgekozen. Wel benadrukt Disney extra het feit dat Polygon Web3 ervaringen ontwikkelt. Mogelijk heeft dit er wat mee te maken.
Technische analyse MATIC koers
In de Discord community was er op 17 mei een analyse gedeeld waarop een instapzone van tussen de $0,30 en $0,40 te zien was. Nadat MATIC onderuit ging werd deze instapzone precies geraakt. In de volgende analyse lag de uitstapzone op de $0,65, welke door de stijging van vandaag ook is geraakt. De koers is dus over de afgelopen weken zoals verwacht met 60% tot 116% gestegen.
Wil jij ook dit soort analyses ontvangen? Neem dan een kijkje in de Premium omgeving van Crypto Insiders. Hier kan je ook direct in contact komen met verschillende analisten en crypto enthousiastelingen.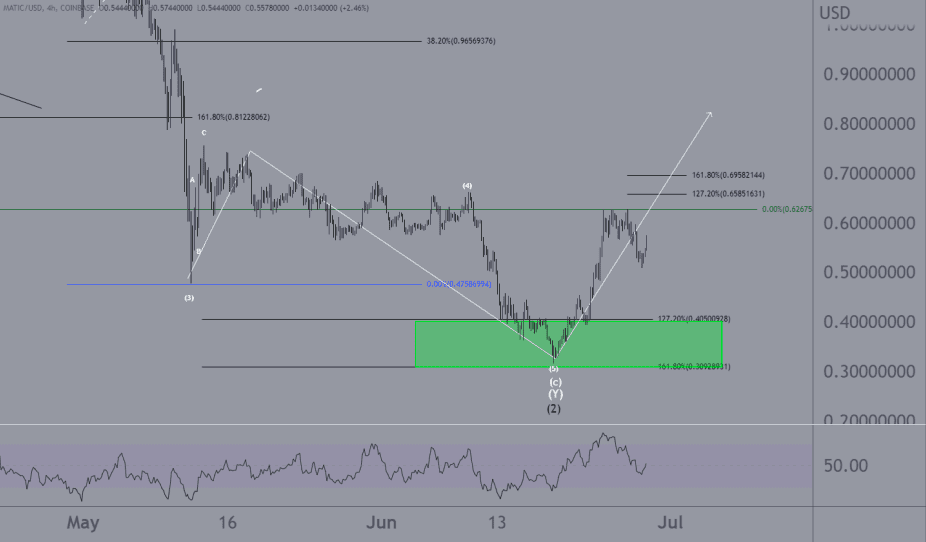 Wat zijn de verwachtingen voor Polygon?
Of bovenstaande ontwikkelingen nog verdere impact gaat hebben op de prijs is afhankelijk van een groot aantal factoren die dagelijks verschillen. De crypto-markt is immers zwaar onderhevig aan economische gebeurtenissen en traditionele aandelenmarkten. Dit maakt het soms lastig om het juiste moment te bepalen om in een bepaald project te investeren.
MATIC kopen of verkopen?
Zoek jij hulp met handelen in crypto? Dan verwijzen we je graag door naar onze Discord groep voor leden. Hier bediscussiëren ervaren analisten en handelaren dagelijks hun analyses en handelsplannen. Ook delen we hier als eerst onze technische en fundamentele analyses. In onze Discord community kunnen we 24/7 kennis met elkaar delen en proberen we samen met onze premium leden de markt voor te blijven.
Ook hield onze hoofdanalist, bekend als AppY, onlangs een ask me anything (AMA) sessie voor onze premium leden. Deze is nu voor iedereen terug te zien en staat vol met zeer interessante technische analyses!
Disclaimer: Beleggen brengt risico's met zich mee. Onze analisten zijn geen financieel adviseurs. Raadpleeg altijd een adviseur bij het maken van financiële beslissingen. De informatie en tips die op deze website zijn verstrekt is gebaseerd op eigen inzichten en ervaringen van onze analisten en dienen alleen voor educatieve doeleinden.