Vanmorgen heeft het Centraal Bureau voor de Statistiek (CBS) het jaarlijkse inflatiecijfer voor augustus onthuld. Vorige maand steeg de jaarlijkse CPI naar 12% – een record sinds het CBS de inflatie meet. Ik ben van mening dat de inflatie nog wel even hoog blijft.
Consumentengoederen en -diensten waren in augustus 12 procent duurder dan in dezelfde maand een jaar eerder. Vooral de prijsontwikkeling van energie zorgde voor een verdere stijging van de inflatie. https://t.co/aKLuG3U1Hn pic.twitter.com/aDdjq1JBX4

— CBS (@statistiekcbs) September 6, 2022
Nieuw record in inflatie
Na de aankondiging gingen we in ons Discord-groep dieper in op de details. Het gaat vooral om inflatie van energie en voedingsmiddelen. Dat is ook niet zo vreemd – dat zijn precies de sectoren die het meest geraakt zijn door de oorlog in Oekraïne. Eerder deze zomer beschreef ik waarom Europa met inflatie kampt.
Helemaal uit de lucht vallen komt het niet. Zo haalt Europa een flink deel van zijn olie en vooral gas uit Rusland, maar door de oorlog is dat tot een minimum gedaald en dreigen beide partijen de kraan helemaal dicht te draaien. Deze maand is duidelijk geworden dat dit gevolgen heeft voor huishoudens, en ik denk dat dat nog veel extremer gaat worden. Nu stijgen de kosten voor huishoudens uiteraard, maar veel huishoudens hebben een vast energiecontract dat één keer per jaar wordt hernieuwd. De hogere energieprijzen zijn dus nog niet door iedereen te voelen. Begin volgend jaar zou de inflatie dus nog verder toe kunnen nemen.
Het zal ook de economie beïnvloeden. De opnieuw gestegen energieprijzen zullen hun weg zullen vinden naar de transportsector. Vrachtwagens rijden vaak op diesel, en die kosten moeten worden doorberekend.
Verschil tussen Europa en VS
Een ander aspect dat ik noemde was dat Europa en de Verenigde Staten in een vergelijkbaar parket zitten, maar toch iets ander beleid hanteren. De Amerikaanse centrale bank blijft namelijk stug bezig met het opvoeren van de rentes, maar De Europese Centrale Bank (ECB) is daar veel minder vooruitstrevend in. Dat komt doordat er in Europa grote verschillen zijn in de hoeveelheid schuld die landen en bedrijven hebben. De Europese Unie valt of staat bij een werkend en vooral samenhangend financieel systeem. Als de ECB de rentes te veel op zou voeren zou het systeem uit elkaar vallen.
Macro-investeerder Alfonso (achternaam weten we niet) van Blockworks zet in een podcast uiteen dat de inflatie in de eurozone voor 47% komt door hoge energieprijzen (lees: schaarse energiebronnen). Slechts 15% wordt veroorzaakt door een hoge vraag naar goederen. Dat is in de VS wel anders. Daar vormen hoge energieprijzen 33% van de oorzaak, terwijl 30% wordt veroorzaakt door een hoge vraag. Hogere rentes doorvoeren heeft eigenlijk alleen maar effect op het verminderen van de vraag. Veel zin heeft in Europa torenhoge rentes doorvoeren dus niet.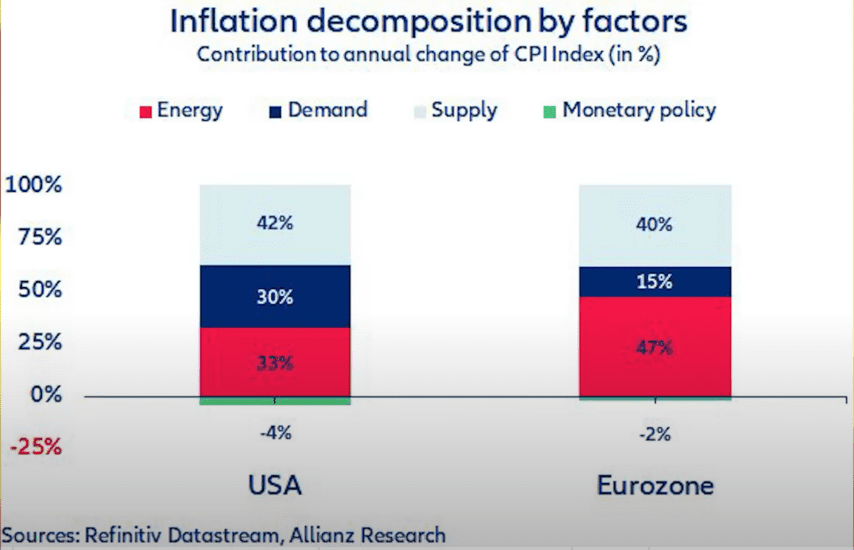 In een andere column schreef ik dat de huizenmarkt mogelijk zijn top wel heeft gevonden. De relatief lage Europese rentes zou huizenprijzen hoog kunnen houden, maar ik denk zelf niet dat dat gaat gebeuren. Banken zouden namelijk best gewoon nóg hogere rentes voor hypotheken kunnen gaan hanteren, of gewoon veel minder hypotheken uitgeven. Dat is op zichzelf al een rem op de huizenmarkt. Hoge energieprijzen en überhaupt de hoge inflatie helpt hier niet bij; mensen hebben stomweg minder geld over voor een hypotheek.
Voedselcrisis door oorlog in Oekraïne
Het nieuwe inflatiecijfer maakt nog een derde aspect duidelijk. De oorlog in Oekraïne houdt ook voedselprijzen hoog. Maar de oorzaak hiervan lijkt niet direct de voedselproductie in Oekraïne te zijn. Het voedsel dat Oekraïne produceert gaat namelijk vooral naar Afrika en Azië, volgens een onderzoek van het World Economic Forum. Europa is veel minder afhankelijk, de EU produceert dan ook zelf erg veel.
Veel belangrijker is dat (kunst)mest en stoffen zoals fosfaat erg belangrijk zijn voor voedselproductie. Hier is juist een enorm tekort aan ontstaan, waardoor kunstmest enorm in prijs is gestegen. Europa produceert veel kunstmest via een proces waar het aardgas voor nodig heeft. Dat kwam voorheen uit Rusland. De hoge prijzen voor kunstmest leiden weer tot hoge voedselprijzen. Ook de hoge inflatie in voedsel zal dus niet zomaar minder worden.
Slecht nieuws voor bitcoin en crypto
Al met al beginnen er voor mij een aantal dingen duidelijk te worden. De oorlog in Oekraïne en daarmee de sancties tegen Rusland zijn nog niet gestopt. Ondertussen probeert Europa de herkomst van zijn energiebronnen te verleggen naar duurzame energie en bijvoorbeeld Afrikaanse landen zoals Algerije voor olie en gas. Dat zal tijd kosten, omdat er nieuwe infrastructuur nodig is.
De nieuwe stijgingen in energieprijzen betekenen vermoedelijk dat huishoudens er opnieuw slecht voor zullen staan, en dat voedselproducenten opnieuw zullen kampen met een golf aan hogere kosten. Nu is gebleken dat Bitcoin (BTC) en andere cryptocurrencies op dit moment helemaal geen goede inflatiehedge zijn. Zodra de inflatie écht de pan uit rijst zou dat helemaal anders kunnen zijn, maar voor nu krijgen we de indruk dat Europa's problemen niet zo goed zijn voor cryptovaluta.
Vind je dit soort onderwerpen interessant? Discussieer mee in ons forum op Discord!