In onze premium omgeving voor leden ontvingen we de afgelopen dagen meerdere analyseverzoeken voor Elrond Network (EGLD). Het leek ons dan ook een goed idee om dit project eens in de spotlight te zetten en hier een premium artikel aan toe te wijden. Zoals jullie van ons gewend zijn analyseren wederom verschillende data om een duidelijk en realistisch beeld te schetsen van de huidige stand van zaken. Ook werpen we een korte blik op recente ontwikkelingen en kijken we naar de verwachtingen voor de komende periode. Mocht je na het lezen van dit artikel vragen hebben over dit project, stel je vraag dan gerust aan een van onze analisten in onze premium chat.
Even opfrissen, wat is Elrond (EGLD)
Het initiële doel van Elrond was simpel. Zij wilden door middel van hun project het systeem van publieke blockchains veranderen. Hiervoor leggen ze de focus op verschillende componenten van een blockchain zoals de schaalbaarheid, efficiëntie, veiligheid en interoperabiliteit. De andere missie van Elrond is naar eigen zeggen de wereldwijde vraag naar transactie aan te kunnen. Zij willen er dus voor zorgen dat transactiedoorvoer voor blockchains wordt verbeterd. Tot slot lopen er ook een aantal gedecentraliseerde applicaties (dApps) via Elrond met allemaal verschillende use cases.
Laatste nieuws Elrond (EGLD)
Elrond is de laatste tijd erg druk bezig geweest met het verbeteren en uitbreiden van het Elrond ecosysteem. Zo hebben ze eerder dit jaar Utrust overgenomen om haar doel rondom de wereldwijde transacties te behalen. Utrust maakt betalingen namelijk sneller, goedkoper en veiliger door gebruik te maken van blockchain-technologie. Om Elronds positie binnen de blockchain-based digital payments sector te versterken gaan zij ook gebruik maken van AnChain.AI. AnChain.AI geeft verschillende tools die Elrond kan gebruiken voor haar betalingssysteem. Gebruikers kunnen hierdoor bijvoorbeeld een eigen debit kaart krijgen. Ook kan Elrond middels dit platform applicaties maken die datasets maakt voor on-chain transactiedata. Elrond maakt dus grote stappen en werkt hard aan haar doelen!
Elgrond (EGLD) bijna even veel transacties dagelijk als Cardano (ADA)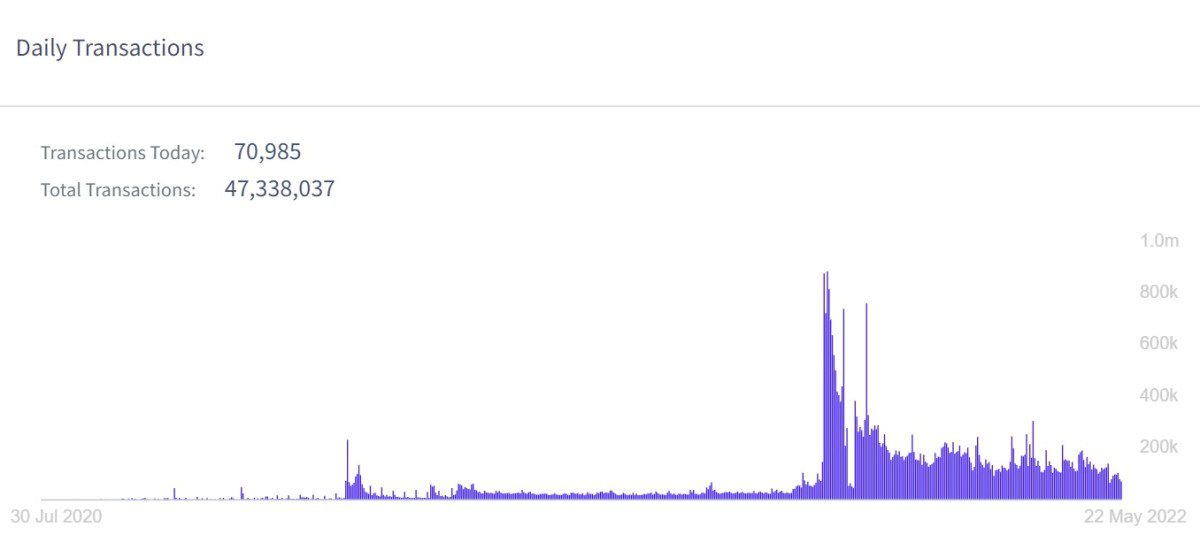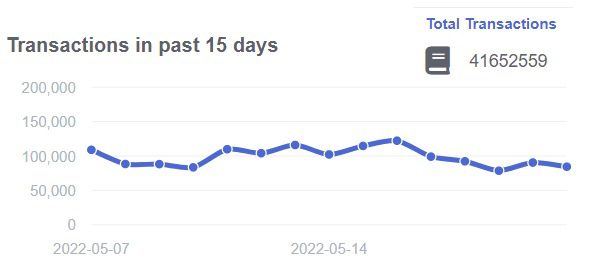 Wat zien we op deze grafiek/data?
Op de bovenstaande grafieken zien we twee dingen. De bovenste geeft het totaal aantal transacties weer die middels Elrond worden gedaan. Hierop zien we dat er rond het eind van vorig jaar een enorme toename was in het aantal transacties dat werd gedaan. Dit was rond de tijd dat EGLD een nieuwe all-time high maakte. De cryptocurrency was op dat moment enorm populair geworden.
Op de tweede grafiek zien we het aantal transacties van Cardano over de afgelopen 15 dagen.
Wat kunnen we hieruit concluderen?
Het is opvallend dat we hieruit kunnen opmaken dat Elrond gemiddeld ongeveer even veel transacties per dag heeft als Cardano. Dit wil zeggen dat Elrond daadwerkelijk serieus wordt genomen op het gebied waar zij zich nu in specialiseren, wat ook een goed teken is voor het project zelf. Gemiddeld worden er ongeveer 100.000 transacties gedaan op Cardano in de afgelopen 15 dagen. Voor Elrond ligt dit ongeveer op hetzelfde.
Op het gebied van DeFi is Elrond nog niet populair
Wat zien we op deze grafiek/data?
Hierboven zien we de Total Value Locked (TVL) op het Elrond network. De TVL representeert de totale waarde die is opgeslagen in de projecten die zijn gebouwd op de Elrond blockchain. Hieruit is op te maken dat er een project veel waarde vertegenwoordigt, namelijk Maiar Exchange (MEX). MEX is een gedecentraliseerde exchange (DEX) en heeft een totale waarde van ongeveer $313,76 miljoen. Deze waarde is over de afgelopen maanden flink gedaald. Op de piek had MEX een waarde van meer dan $2 miljard.
Wat kunnen we hieruit concluderen?
Hieruit kunnen we opmaken dat Elrond vooralsnog niet erg populair is voor het ontwikkelen van Decentralized Finance (DeFi) platformen. Er is namelijk slecht 1 DeFi platform gebouwd op Elrond. Het kan daarom zijn dat Elrond niet optimaal bedoel is voor DeFi projecten en zich focussen op andere functionaliteiten. Dit lijkt vooralsnog het betalingssysteem te zijn zoals eerder besproken.
Aantal Reddit gebruikers neemt met bijna 100% toe afgelopen jaar

Wat zien we op deze grafiek/data?
Op de bovenstaande grafiek zien we hoe populair Elrond is op de website Reddit. De grafiek toont het aantal Reddit gebruikers die de pagina van Elrond volgen. De Reddit pagina wordt gebruikt om over het project te praten. De gebruikers zelf voorzien de pagina van content. Iedereen kan dus zelf een post plaatsen. Op basis van de populariteit van de post, dit wordt door middel van likes gemeten, zal de post op de homepage verschijnen. Dit is dus een perfecte manier voor Elrond fans om zowel hun portie Elrond nieuws te lezen als een manier om met andere Elrond enthousiastelingen in contact te komen.
Wat kunnen we hieruit concluderen?
Het is voor het project dus erg goed dat er een stijgende lijn is in het aantal nieuwe gebruikers op de pagina. In het afgelopen jaar is het aantal volgers van de pagina met bijna 100% gestegen. Steeds meer investeerders willen dus op de hoogte blijven van de ontwikkelingen rondom het platform.
Verwachtingen komende periode
Wat kunnen we nog verder van Elrond verwachten? Zoals we hierboven hebben gezien is het team van Elrond achter de schermen erg druk bezig met het verbeteren van het project en zijn ze hard aan het werk om hun gestelde doelen te behalen. Een goed teken is dat ze al tot en met Q1 2023 plannen hebben in hun roadmap. Ze weten dus duidelijk welke koers ze op willen varen en wat daar nodig voor is.
Elrond (EGLD) kopen of verkopen?
Overweeg jij een positie in EGLD te nemen? Of wil je hier juist van af? Dan nodigen we je graag uit in onze premium Discord groep. Hier delen ervaren handelaren en analisten dagelijks hun eigen handels-strategieën. Je kunt hier ook eenvoudig een verzoek indienen en een actuele technische analyse opvragen.
Disclaimer: De crypto-markt is zeer volatiel en continu in beweging, investeren in crypto is hierdoor onlosmakelijk verbonden aan financiële risico's. We vinden het belangrijk dat je ten alle tijden zelf een weloverwogen beslissing maakt en je eigen onderzoek doet. Om deze reden vragen we je bovenstaande analyse niet te zien als financieel advies maar enkel ter kennisgeving.