Crypto Insiders leden ontvangen in onze Discord omgeving dagelijks nieuwe technische analyses voor cryptocurrencies. In dit artikel delen we een recente analyse van Chiliz (CHZ) uit onze Premium groep. Ook nemen we een kijkje naar de ontwikkelingen rondom de koers van Ripple (XRP). Ben je nog geen lid of mocht je na het lezen van dit artikel nog vragen hebben, neem dan eens een kijkje op onze Premium informatiepagina.
Ripple (XRP) flink hersteld
De schade die ripple geleden heeft tijdens de crash van de afgelopen dagen valt nog relatief mee. Toch is de koers is sinds de piek op 5 november van $0,50 met bijna 40% gedaald naar de bodem van $0,31 op 9 november. Inmiddels weet de koers alweer rustig op te krabbelen en heeft XRP ongeveer al 24% teruggewonnen.
Alhoewel de FTX situatie als een katalysator heeft gediend, hadden de analisten van Crypto Insiders al een daling verwacht. Toch zorgt de huidige situatie voor veel onzekerheid op de markt waardoor de analisten vrezen dat XRP mogelijk de weg naar beneden hervat. De koers zit namelijk in een ABC Elliott Wave patroon die omlaagt duidt. In de premium omgeving van Crypto Insiders zullen de analisten zo snel mogelijk een nieuwe kijk op de koersgrafiek van XRP delen.
Technische analyse CHZ koers
In dit artikel focussen we ons op de koers van chiliz, een van de sterkste stijgers de afgelopen tijd op de markt. Dat heeft mogelijk met het aankomende FIFA wereldkampioenschap in Qatar te maken.
De CHZ koers was voor de crash al flink aan het stijgen, en herstelt nu als een van de sterkste koersen op de markt, sterker nog dan XRP. CHZ daalde 50% deze week van $0,3 naar $0,15, maar komt inmiddels alweer op $0,23 uit, een stijging van meer dan 50%. Volgens de analisten lijkt het erop dat CHZ nog verder kan stijgen:
"Op het moment is de grafiek van CHZ nog bullish. Wij verwachten hier dat de cryptocurrency een ABC patroon vormt waarbij we in een opwaartse C zitten. Deze wave zal naar verwachting uitkomen rond de 100% Fibonacci, ofwel de $0,34. Om deze C te bereiken zullen we eerst nog vijf waves omhoog krijgen."
Zoals we ondertussen kunnen zien is CHZ al flink bezig geweest met de opwaartse beweging. Verdere updates omtrent deze analyse worden gedeeld in de Premium omgeving van Crypto Insiders.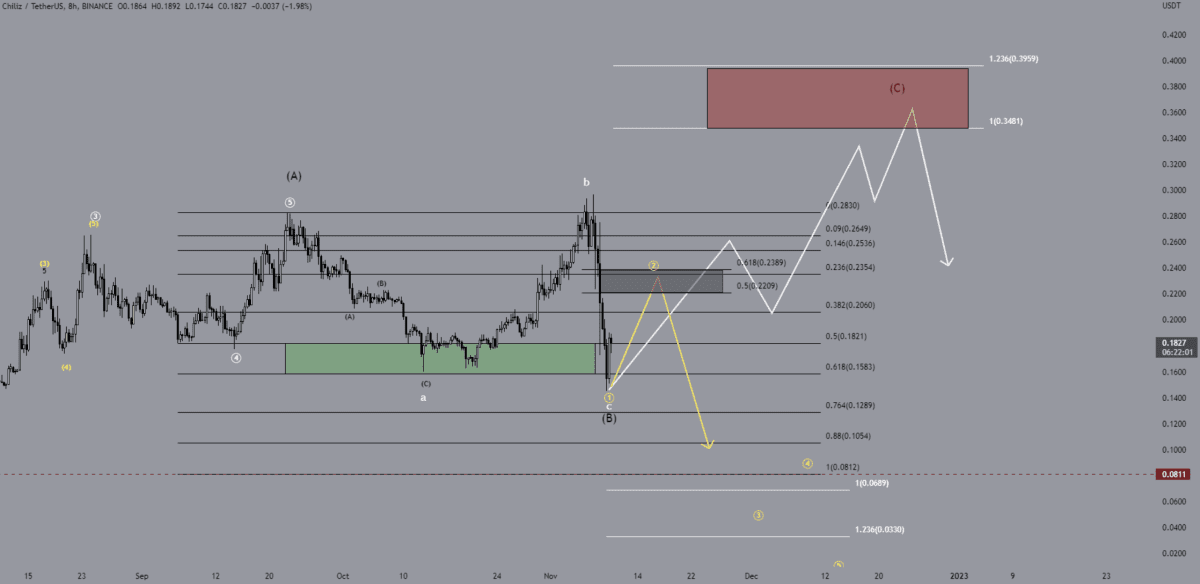 Chiliz kopen of verkopen?
Overweeg jij CHZ te kopen of verkopen? Zoek jij hulp met handelen in crypto? Dan verwijzen we je graag door naar onze Premium membersgroep. Hier ontvangen leden als eerst de nieuwste technische analyses van een groot aanbod aan crypto. Ook krijg je toegang tot exclusieve crypto-projecten, koersvideo's, handelsplannen en ask me anything (AMA) sessies met onze analisten. In onze Discord kunnen we 24/7 kennis met elkaar delen en proberen we samen met onze leden de markt voor te blijven. Word lid en probeer een Premium-lidmaatschap 30 dagen gratis.
Disclaimer: Beleggen brengt risico's met zich mee. Onze analisten zijn geen financieel adviseurs. Raadpleeg altijd een adviseur bij het maken van financiële beslissingen. De informatie en tips die op deze website zijn verstrekt is gebaseerd op eigen inzichten en ervaringen van onze analisten. Deze dienen daarom alleen voor educatieve doeleinden.