Het is weer tijd voor een korte technische analyse update, deze bestaat uit een aantal analyses welke eerder deze week door onze analisten zijn gedeeld in onze premium omgeving voor leden. In deze update vind je recente analyses van MANA, MATIC, RSR en CRV. 
De markt is de afgelopen periode erg volatiel. Dit kwam vooral door de crash van Terra (LUNA) en haar bijbehorende stablecoin UST. Deze instorting heeft ervoor gezorgd dat veel coins mee naar beneden werden getrokken. Hieronder nemen we een kijkje naar een aantal verschillende coins om te zien welke kant zij op willen bewegen. Mocht je vragen hebben over onderstaande technische analyses, stel deze dan in de Discord omgeving van Crypto Insiders. Hier kun je in contact komen met verschillende analisten die je graag helpen!
Overweeg jij een van onderstaande cryptovaluta's te kopen of verkopen? Dan verwijzen we je ook graag door naar onze Discord groep voor leden. Hier bediscussiëren onze analisten en ervaren handelaren dagelijks hun eigen in- of uitstapmomenten. Ook delen we hier regelmatig aanvullende koersanalyses en updates van projecten die we eerder in deze rubriek hebben behandeld.
Decentraland (MANA)
Het plaatje voor MANA ziet er vooralsnog positief uit. Hierbij verwachten we voor over de middellange termijn dat we zullen stijgen. 
Op het moment is er een duidelijke elliott wave A of 1 te zien. Welke van de twee het is is echter nog niet helemaal duidelijk maar zal naar verloop van tijd meetbaar worden. Hierdoor verwachten we eerst nog een kleine beweging naar beneden tot aan de groene zone tussen ($0,99 en $0,90) op de grafiek voor we weer omhoog kunnen. Wij verwachten dat we hierna richting de $1,64 kunnen stijgen.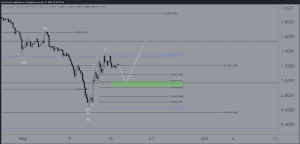 Grafiek van MANA: https://www.tradingview.com/x/d5pLpVsr/
Polygon (MATIC)
Voor MATIC is het helaas nog onzeker welke kant we opgaan. Hier lijkt het er op dat we eerst een korte beweging naar boven zullen zien. Dit komt overeen met het positieve sentiment dat we op het moment in de markt zien. 
Toch zal dit niet voor lange duur zijn. Mocht de korte stijging niet te ver omhoog gaan, verwachten we een scherpe daling richting de $0,40. Het is vooralsnog te vroeg om te zeggen, echter zou er mogelijk een verdere dip aan kunnen komen. We zullen je binnen de Discord omgeving natuurlijk op de hoogte houden van verdere ontwikkelingen. 
Beren, investeerders die inzetten op een prijsdaling, willen hun verlies nemen op $0,965.
Stieren, investeerders die inzetten op een prijsstijging, willen hun verlies nemen op $0,31.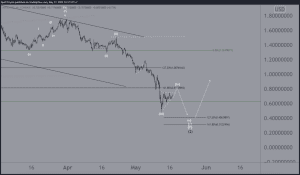 Grafiek van MATIC: https://www.tradingview.com/x/lsdZ8jPE/ 
Reserve Rights (RSR)
Discord publicatiedatum: 13-05-2022
RSR heeft onze instapzone van tussen de $0,0044 en $0,0038 bereikt. Om even technisch te worden traden wij hiermee de laatste wave 5 van de grotere cycle (C) in de supercycle Y. Hierbij is de 5 wave de kleinste wave, de C wave iets groter en de Y wave heel groot. Het verschil tussen deze verschillende waves is de tijd die nodig is om het patroon af te maken. De grotere waves duren langer voor deze compleet zijn en de kleinere waves natuurlijk minder lang. Deze waves zijn op de grafiek terug te vinden als het witte lettertype. 
Wij willen RSR niet meer vasthouden als de koers onder $0,001715 zakt. Zolang de koers hier boven blijft lijkt het erg positief en zouden we verder naar boven kunnen. Waar we RSR het liefst willen verkopen is echter nog niet duidelijk. Dit zal echter wel snel duidelijk worden. We zullen je op de hoogte houden binnen de discord. Zodra wij een mooi uitstapmoment hebben gevonden zullen we dit delen. Er is echter wel iets minder positief nieuws naar buiten gekomen rondom RSR. Handelaren kunnen namelijk geen derivaten van RSR meer verhandelen via Binance. Dit kan echter nog wel via ByBit.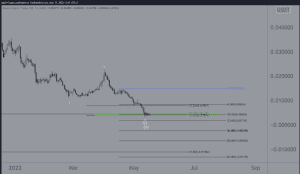 Grafiek van RSR: https://www.tradingview.com/x/nWYkLm3i/
Curve DAO (CRV)
Doordat CRV in de vorige technische analyse op 10 mei is geïnvalideerd gaan we nu kijken voor een koersdaling. Als een grafiek invalideert wil dit zeggen dat de analyse die in Discord is gedeeld niet meer geldig is. Als dit gebeurd gaan we weer terug naar de tekentafel en proberen we een nieuw plan te maken. 
Hierbij zien we dat de inner impulse wave (de witte 1 t/m 5) nog niet is afgerond. Dat betekent dat we volgens de strategie de koers eerst nog verder naar beneden zullen zien zakken. 
Om dit patroon af te maken zullen we eerst onder de $1 dalen. De koers kan uiteindelijk zelfs tussen de $0,96 en $0,79 of lager uitvallen. Toch verwachten we uiteindelijk weer een beweging naar boven zodra dat patroon is afgerond. 
Beren, investeerders die inzetten op een prijsdaling, willen hun maximale verlies nemen op $1,89 
Stieren, investeerders die inzetten op een prijsstijging, willen hun maximale verlies nemen op $0,79
Maar let op: Doordat Elliott wave analyse vrij subjectief is weten we niet precies wanneer de koers de targets kan raken. Het zou dus langer kunnen duren dan geïllustreerd op de grafieken.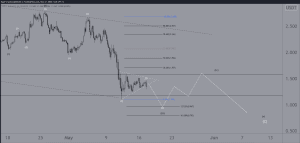 Grafiek van CRV: https://www.tradingview.com/x/mSz8FAV3/ 
Vragen over de technische analyses?
Mocht je vragen hebben over bovenstaande analyses verzoeken we je vriendelijk je vraag te stellen onze Discord omgeving. Hier kunnen we eenvoudig en 24/7 kennis met elkaar delen en proberen we samen met onze leden de markt voor te blijven. 
Disclaimer: De crypto-markt is volatiel en het marktsentiment is continu in beweging en zwaar onderhevig aan economische gebeurtenissen en traditionele aandeelmarkten. Dit maakt het bijna onmogelijk om exact het juiste moment te bepalen in een bepaald project te investeren. Beleggen brengt dan ook altijd risico's met zich mee. Onze analisten zijn geen financieel adviseurs. Raadpleeg altijd een adviseur bij het maken van financiële beslissingen. De informatie en tips die op deze website worden verstrekt zijn gebaseerd op eigen inzichten en ervaringen van onze analisten en dienen alleen voor educatieve doeleinden.