Premium leden van Crypto Insiders ontvangen dagelijks actuele technische analyses voor verschillende cryptocurrencies. Hieronder delen we recente analyses van ethereum (ETH) en ethereum classic (ETC). Ben je nog geen lid of mocht je na het lezen van dit artikel nog vragen hebben, neem dan eens een kijkje op onze Premium informatiepagina.
Bij ethereum liggen veel kansen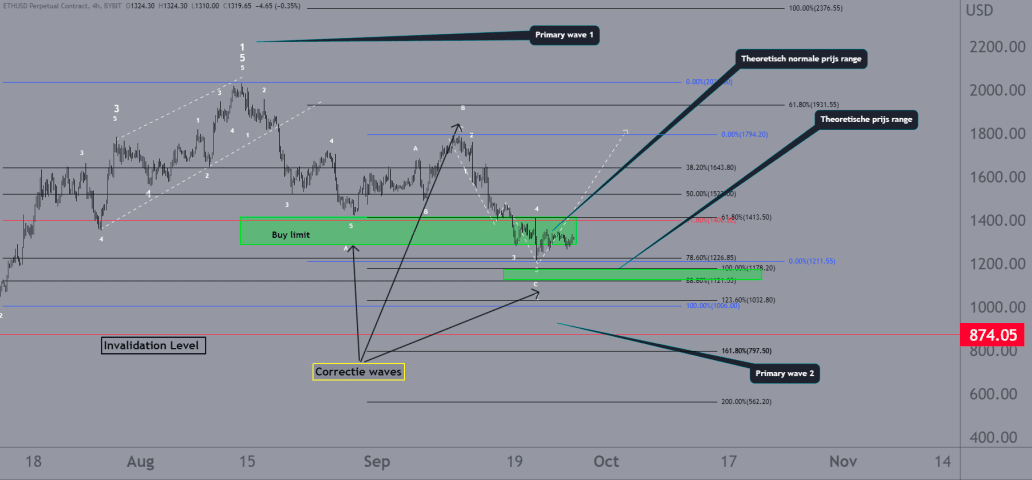 De analisten in de Discord community van Crypto Insiders zijn vooralsnog positief over ethereum. Ondanks dat de koers de afgelopen weken met een flinke daling bezig is verwachten zij dat we na deze daling weer hard omhoog kunnen. Dit komt doordat ETH op dit moment bezig is met een 12345 Elliott Wave patroon op de lange termijn. Op dit moment is de tweede wave zich aan het vormen. Deze wave zou mogelijk nog lager uit kunnen vallen, echter blijft de middellange termijn verwachting voor ETH positief.
Ethereum classic mogelijk even bullish
Naast een analyse over ethereum deelde de analisten ook nog een nieuwe analyse voor ethereum classic. De analisten zijn voor ETC ook erg positief en verwachten hier een flinke stijging te zien. De altcoin heeft net een grotere correctie afgerond op het grotere plaatje waardoor de koers in anticipatie op de Ethereum Merge een flinke stijging liet zien. Ethereum Classic is nu begonnen met een korte correctie, wat voor handelaren mooie kansen kan bieden.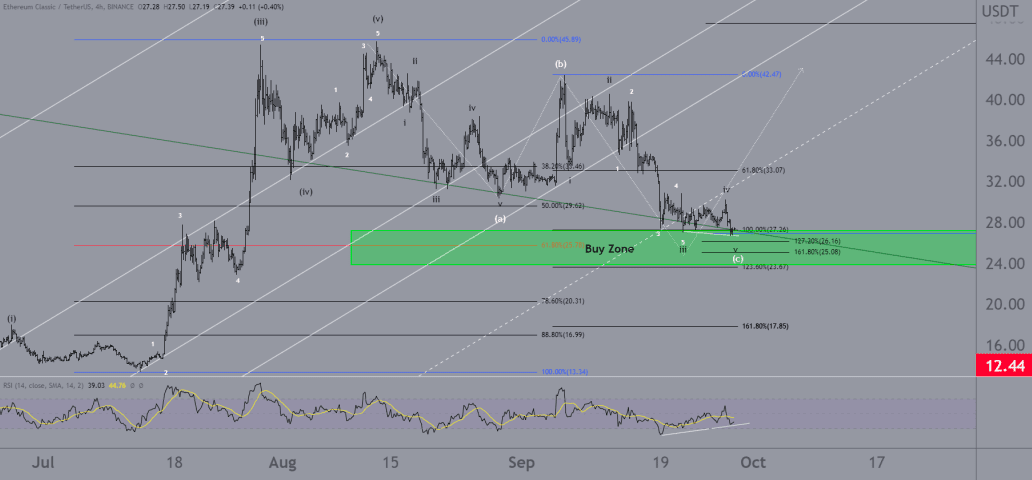 ETC heeft een mooi ABC Elliott Wave patroon afgerond. Of we op dit moment wederom een ABC of een WXY patroon zullen zien is nog onduidelijk. Om deze conclusie te kunnen trekken houden we binnen de Discord omgeving alle leden op de hoogte van eventuele veranderingen.
Ethereum of Ethereum Classic kopen of verkopen?
Overweeg jij Ethereum of Ethereum Classic te kopen of verkopen? Volg de in- en verkoop momenten van andere ervaren handelaren en analisten. Word lid en probeer een Premium-lidmaatschap 30 dagen gratis uit. Naast analyses krijg je als lid ook de mogelijkheid vragen te stellen aan onze analisten en coaches. Ook vind je een breed scala aan interessante discussiekanalen over allerlei aan crypto-gerelateerde onderwerpen!
---
Disclaimer: Beleggen brengt risico's met zich mee. Onze analisten zijn geen financieel adviseurs. Raadpleeg altijd een adviseur bij het maken van financiële beslissingen. De informatie en tips die op deze website zijn verstrekt is gebaseerd op eigen inzichten en ervaringen van onze analisten en dienen alleen voor educatieve doeleinden.