ROSE is in de afgelopen dagen met maar liefst 26,5% gestegen. In deze analyse nemen we een kijkje naar de mogelijke fundamentele reden waarom deze coin in waarde heeft kunnen stijgen en analyseren we ook de koers zodat je een duidelijke beslissing kunt maken om ROSE te kopen of verkopen.
Een van de top stijgers van de dag is een coin die wel vaker in dit lijstje heeft gestaan, namelijk Oasis Network (ROSE). Deze coin is in de afgelopen 24 uur met ongeveer 6,5% gestegen. In de afgelopen zeven dagen wist de coin een rendement te maken van ongeveer 26,5%. Door de stijging staat ROSE op de 105e plaats op basis van marktwaarde.
Wat is Oasis Network?
Oasis Network is een Layer 1-blockchain die is opgericht voor verschillende diensten binnen de gegevenscontrole branche. Denk hierbij aan het delen, analyseren en beschermen van persoonsgegevens. Oasis Network kan ook communiceren met de Cosmos (ATOM) blockchain doordat het netwerk loopt met behulp van Cosmos SDK.
Waarom stijgt ROSE in waarde?
Een mogelijke reden van de stijging van de afgelopen tijd zou deze aankondiging kunnen zijn. In deze aankondiging wordt aangegeven dat LaunchGarden is gebouwd op het Oasis netwerk. Dit zorgt ervoor dat projecten die gebouwd zijn op Oasis simpel in contact komen met de Oasis community. Dit zorgt ervoor dat nieuwe projecten snel bij de Oasis supporters terecht komt. 
Daarnaast zorgt dit ervoor dat gebruikers via dit platform als eerst kunnen zien welke nieuwe projecten er zijn en die vervolgens in kunnen staken of mee kunnen doen aan nieuwe airdrops. Dit is dus een mooie toevoeging aan het Oasis netwerk en de Decentralized Finance (DeFi) omgeving. 
Technische analyse
De onderste trendlijn wist inderdaad, zoals in de vorige analyse besproken, in stand te blijven. Vanuit dat niveau is de koers ook nog verder naar boven gegaan. Op dit moment blijft het plan hetzelfde. De koers lijkt wat weerstand te krijgen van een niveau binnen de trend. Dit is dus wel een niveau die aandacht vereist. Mochten we hier namelijk niet doorheen breken dan zal waarschijnlijk weer de onderkant van het kanaal getest worden. Tot nu toe ziet ROSE er mooi uit!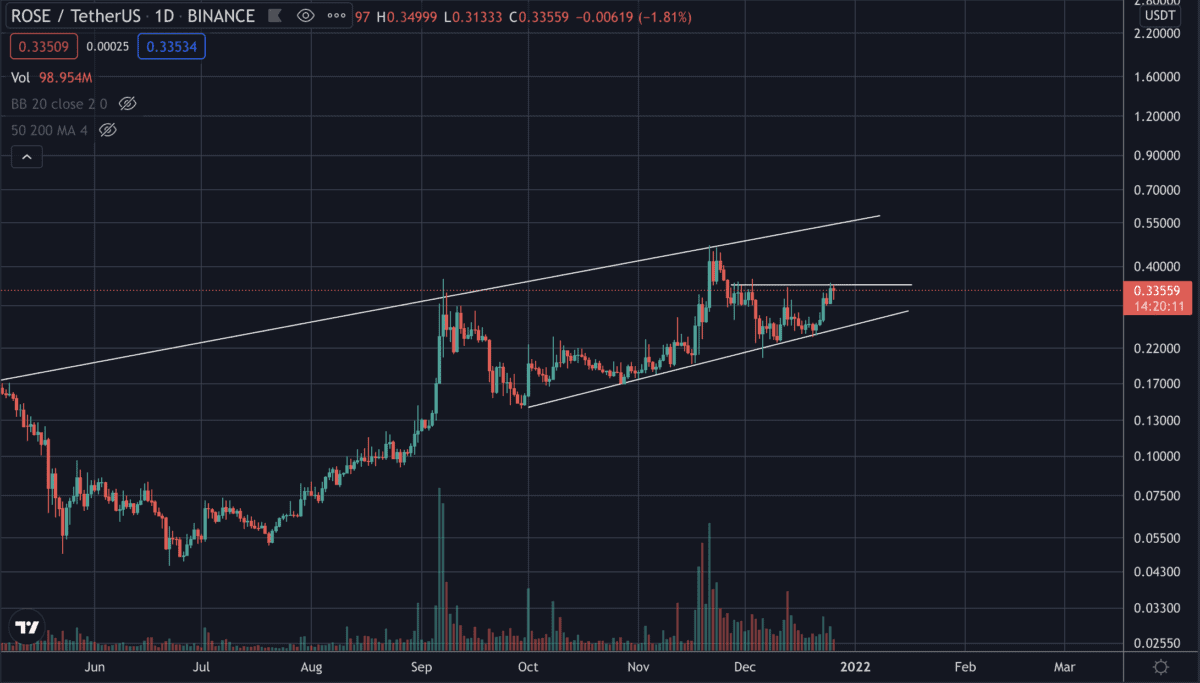 Wat zijn de verwachtingen voor de komende periode?
In het Crypto-insiders Discord kanaal voor leden bediscussiëren we het crypto nieuws en zullen we verdere updates met jullie blijven delen. Hier zullen ook additionele technische analyses worden gedeeld over de coins die in deze rubriek worden behandeld. Overweeg jij een positie te nemen in ROSE? Neem via het Discord kanaal contact op met een van onze analisten en crypto coaches, zij helpen je graag een weloverwogen beslissing te maken.