RVN heeft vandaag een prachtige stijging achter de rug van maar liefst 20%. In deze rubriek kijken we naar fundamentele redenen die de stijging kunnen verklaren. Daarnaast analyseren we de koers op basis van technische analyse zodat je een doordachte beslissing kunt maken om RVN te kopen of juist te verkopen.
De markt lijkt er vandaag helaas even geen zin in te hebben. Toch zijn er gelukkig nog wel coin die de lucht in gaan. Een daarvan is Ravencoin (RVN). Deze coin steeg in de afgelopen 24 uur met ongeveer 20%. In de afgelopen zeven dagen steeg RVN met ongeveer 24%. Door de stijging staat Ravencoin op de 83e plaats op basis van marktwaarde.
Wat is Ravencoin?
Ravencoin is een afsplitsing, ofwel hard fork, van Bitcoin (BTC). Het project is een open-source digitale peer-to-peer (P2P) netwerk dat is ontworpen met maar één doel. Dit doel is het mogelijk maken voor gebruikers om activa van de ene naar de andere te kunnen sturen. Dit klinkt misschien niet heel origineel aangezien je ook via Bitcoin of Ethereum (ETH) verschillende activa van de ene naar de andere plaats zou kunnen versturen, maar wat Ravecoin zo uniek maakt is dat dit alles is waar ze zich op focussen. Andere projecten leggen de focus weer juist ergens anders op, waardoor het verzenden van activa niet hun sterkste punt is. Dit is bij Ravecoin wel zo.
Waarom stijgt RVN in waarde?
Een mogelijke reden van de stijging zou de halving kunnen zijn. De halving zorgt ervoor dat het aantal nieuwe coins dat uit een block gemined worden door de helft gaat. Elke block krijgen miners op het moment 5.000 RVN. Na de halving zullen dit nog maar 2.500 RVN zijn per nieuw block. 
De halving zorgt ervoor dat het aantal coins dat nieuw in de omloop komen op een dag verminderd wordt. Met een gelijkblijvende of stijgende vraag zal dit effect kunnen hebben op de koers van de coin. Het kan zijn dat investeerders in anticipatie op de stijging van deze halving coins hebben ingekocht.
Technische analyse
RVN lijkt het hele afgelopen jaar nodig gehad te hebben om een symmetrisch driehoekspatroon te vormen. Op het moment lijkt de koers wel uit te willen breken. Deze uitbraak zal gepaard moeten gaan met sterk volume. Een breakout van dit niveau zou een mooie entry kunnen zijn. Mooie verkooppunten zouden de weerstanden kunnen zijn van de vorige lokale pieken. Het zal interessant zijn om te zien of de halving ook direct impact heeft op de koers of niet.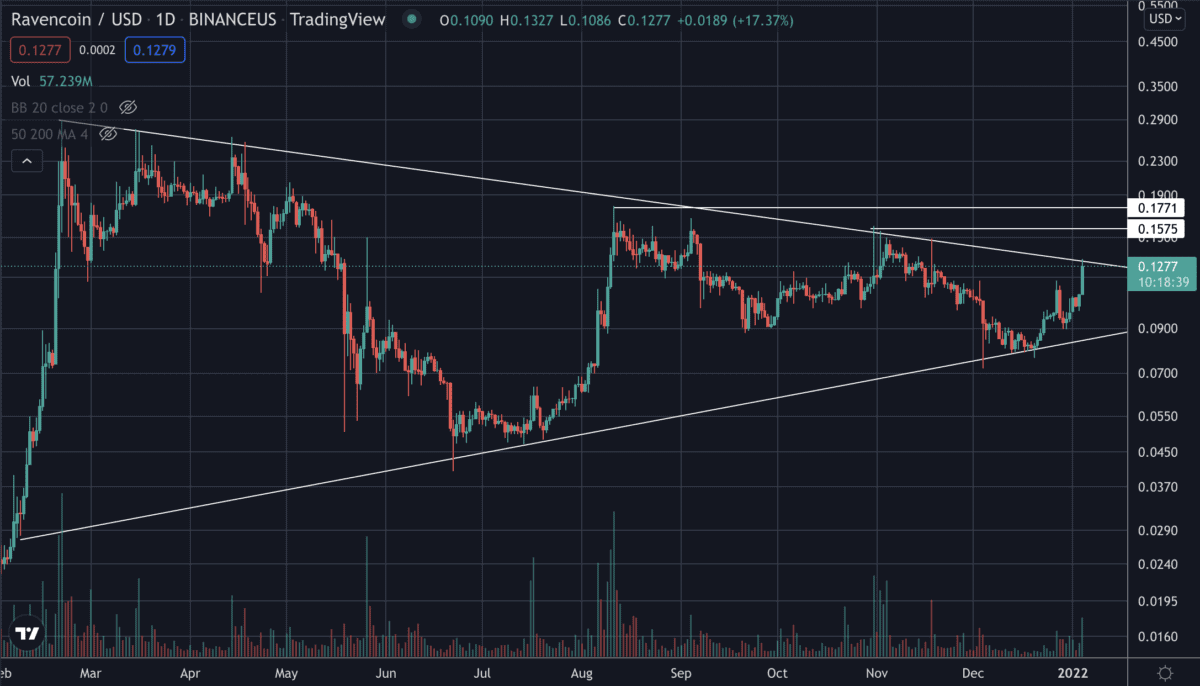 Wat zijn de verwachtingen voor de komende periode?
In het Crypto-insiders Discord kanaal voor leden bediscussiëren we het crypto nieuws en zullen we verdere updates met jullie blijven delen. Hier zullen ook additionele technische analyses worden gedeeld over de coins die in deze rubriek worden behandeld. Overweeg jij een positie te nemen in RVN? Neem via het Discord kanaal contact op met een van onze analisten en crypto coaches, zij helpen je graag een weloverwogen beslissing te maken.