In de premium omgeving van Crypto Insiders worden dagelijks actuele technische analyses gedeeld door ervaren analisten. De afgelopen periode kwam Solana (SOL) hier regelmatig ter sprake. In deze rubriek blikken we terug op deze technische analyse en brengen we de recente ontwikkelingen en verwachtingen voor de komende periode in kaart. Mocht je na het lezen van dit artikel nog vragen hebben kun je deze eenvoudig stellen in onze Discord community, hier worden onze technische analyses doorgaans 48 uur eerder gedeeld met onze leden.
SOL is over de afgelopen 24 uur met ongeveer 12% gedaald. Over de afgelopen zeven dagen viel de daling echter wel mee. In deze periode daalde de koers met ongeveer 1,5%. SOL staat op het moment van schrijven op de 9e plaats op basis van marktwaarde.
Wat is Solana (SOL)?
Het doel van Solana is het oplossen van schaalbaarheidsproblemen van decentrale netwerken. Hier willen zij voor zorgen door een manier te bieden waarop een netwerk meerdere transacties per seconde kan verwerken dan dat zij op het moment al kunnen. Dit is natuurlijk van groot belang als wij uiteindelijk al onze dagelijkse uitgaven willen kunnen doen door middel van cryptocurrencies. We zouden bijvoorbeeld geen half uur kunnen wachten in een winkel tot de transactie is bevestigd en de winkelier het geld binnen heeft gekregen.
Tevens is Solana een platform waar andere projecten op gebouwd kunnen worden en waar smart contract opgesteld kunnen worden. Dit is vergelijkbaar met Ethereum (ETH) en is daarom ook de reden dat Solana de 'Ethereum killer' wordt genoemd.
Laatste Solana nieuws
Een interessante recente ontwikkeling rondom het Solana project is de lancering van 'SMS', ofwel Solana Mobile Stack. SMS is een toolkit waarbij ontwikkelaars Web3 toepassingen en applicaties kunnen ontwerpen voor op een mobiele telefoon. Wat Solana hiermee wil bereiken is dat ze Web3 naar de telefoon halen, waar dat voor nu alleen via een desktop nog mogelijk is.
Via deze Twitter thread is precies te lezen wat er mogelijk zal worden gemaakt met SMS en waar het voor uitkomt!
Technische analyse SOL
SOL heeft onlangs de door onze analisten vooraf opgestelde koopzone bereikt en lijkt nu mooi te stijgen vanaf dit punt. Deze koopzone is op basis van een Elliott Wave analyse gevormd en valt tussen de 127,2% en 161,8% van de Fibonacci voor wave 5. Hier kwamen ook verschillende grotere tellingen samen zoals te zien is in de onderstaande grafiek. Hierdoor verwachten de analisten in de Discord omgeving van Crypto Insiders dat de koers weer omhoog kan.
In de Discord omgeving is de volledige analyse te lezen met de mogelijke instapzone. Hier kan je ook alle niveaus bekijken waar wij op zullen letten.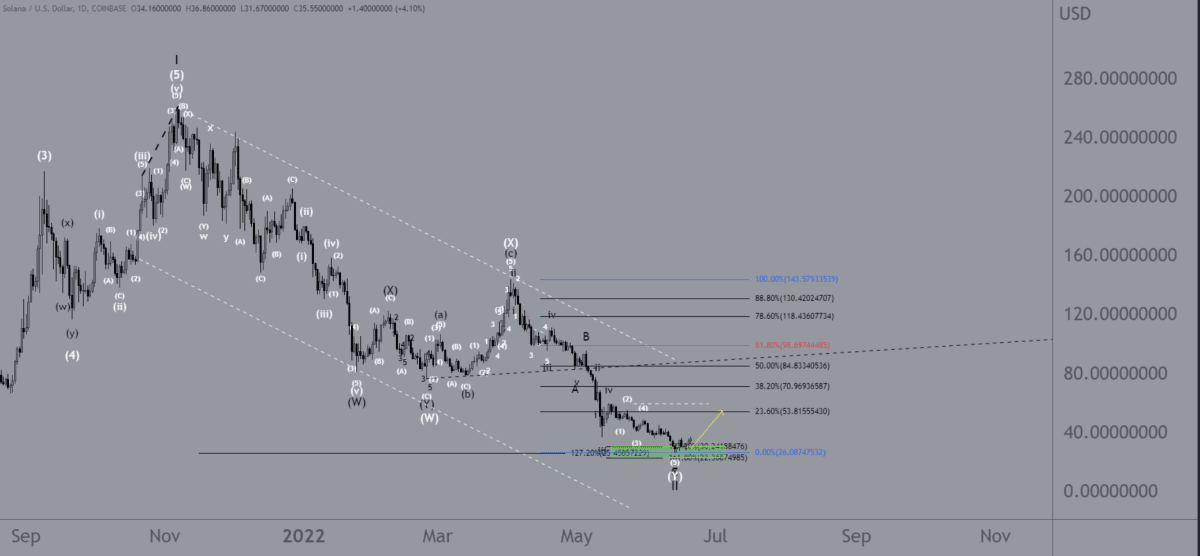 Wat zijn de verwachtingen voor Solana?
Via deze pagina zijn alle nieuwe doelen voor Solana te lezen. Hier is dus te zien waar het project in de komende maanden naar toe zal bewegen.
Of bovenstaande ontwikkelingen nog verdere impact gaat hebben op de prijs is afhankelijk van een groot aantal factoren die dagelijks verschillen. De crypto-markt en zwaar onderhevig aan economische gebeurtenissen en traditionele aandelenmarkten. Dit maakt het soms lastig om het juiste moment te bepalen om in een bepaald project te investeren.
SOL kopen of verkopen?
Wil jij graag dit soort koersanalyses van crypto eerder zien? Dan verwijzen wij je graag door naar onze Discord community voor leden. Hier bediscussiëren ervaren analisten en handelaren dagelijks hun eigen handelsplannen. Ook delen we in de Premium omgeving van Crypto Insiders regelmatig aanvullende koersanalyses en updates van projecten die we eerder in deze rubriek hebben behandeld. Via Discord kunnen we 24/7 kennis met elkaar delen en proberen we samen met onze leden de markt voor te blijven.
Disclaimer: Beleggen brengt risico's met zich mee. Onze analisten zijn geen financieel adviseurs. Raadpleeg altijd een adviseur bij het maken van financiële beslissingen. De informatie en tips die op deze website worden verstrekt zijn gebaseerd op eigen inzichten en ervaringen van onze analisten en dienen alleen voor educatieve doeleinden.