Een aantal dagen geleden hebben we in de crypto-analyse rubriek de cryptocurrency Zilliqa (ZIL) besproken en de reden van de stijging achterhaald. De analyse van Zilliqa werd aangevraagd door leden in de Crypto-Insiders premium omgeving. ZIL wist toen met ongeveer 75% de lucht in te schieten in 24 uur en 114% in die week. ZIL wist echter niet van ophouden en steeg in de afgelopen 24 uur wederom hard, namelijk met bijna 60%. Over de afgelopen zeven dagen staat ZIL hierdoor 229% in de plus. Zilliqa is door deze stijging 21 plekken gestegen en staat daarom nu op de 59e plaats op basis van marktwaarde.
Technische analyse Zilliqa (ZIL)
In de vorige technische analyse van ZIL zagen we dat de koers eigenlijk in een rechte beweging naar de weerstand op $0,095 schoot. Hier zagen wij ook al dat waarschijnlijk het volgende weerstandsniveau rond de $0,116 lag en hier enige moeite mee zou hebben om dit te kunnen doorbreken. Dit bleek uiteindelijk ook zo te zijn.
De koers moest de weerstand op $0,116 eerst drie verschillende keren testen voor we er pas doorheen konden. Ook gaven we aan dat we waarschijnlijk eerst nog even een (korte) daling of zijwaartse prijsactie verwachten. Dit kwam namelijk omdat deze twee niveaus samenkwamen met een andere technische indicator, namelijk de Bollinger Bands (BB).
De theorie schrijft voor dat wanneer de koers buiten de BB schiet, er een kort herstel moet komen om de koers weer binnen deze lijnen te komen. Dit hebben we ook gezien. De koers corrigeerde tussen de twee niveaus voor we weer verder omhoog konden.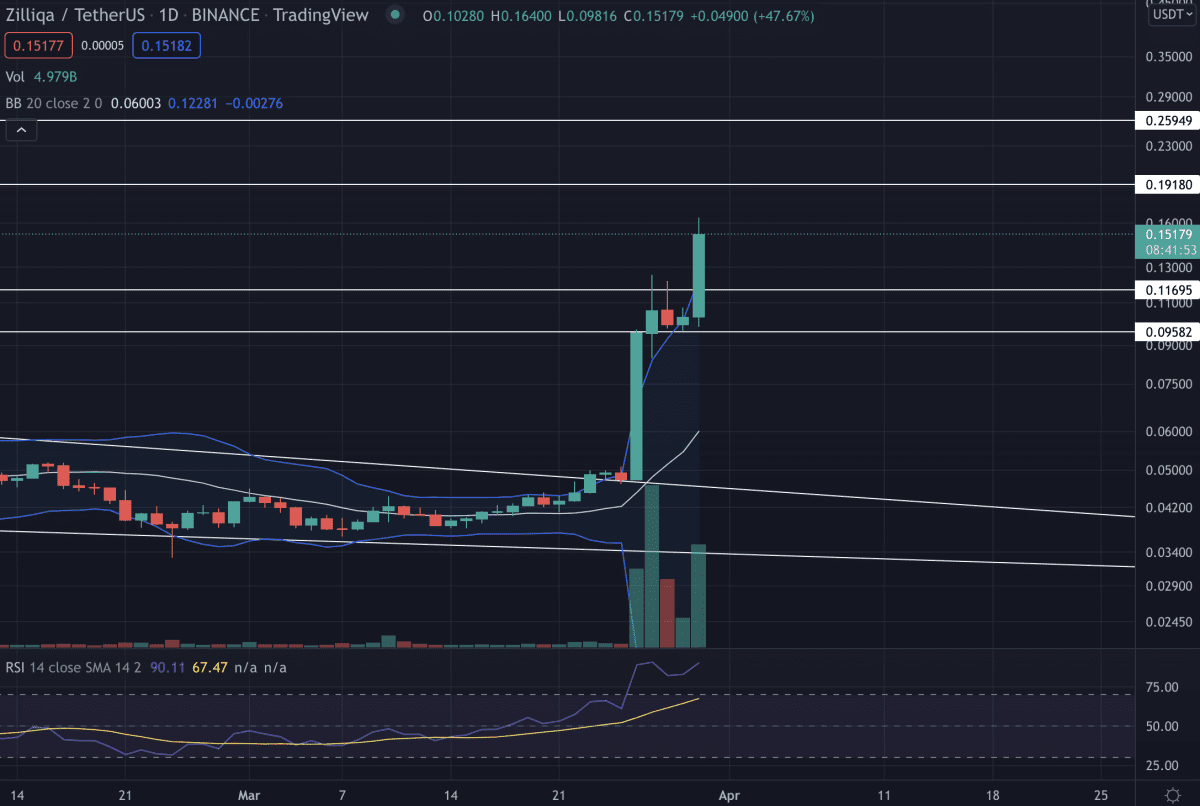 Als we iets verder uitzoomen zien we waar deze twee niveaus vandaan komen. Dit was namelijk ook steun en weerstand rond september van vorig jaar. Nu we door deze niveaus gebroken zijn kunnen we iets verder omhoog kijken. Mocht deze stijging aanhouden zou $0,191 voor problemen kunnen zorgen. Hier ligt namelijk weer een laag weerstand die is gevormd door prijsactie van mei vorig jaar. Na dat niveau zouden we langzaamaan naar de all-time high kunnen kijken.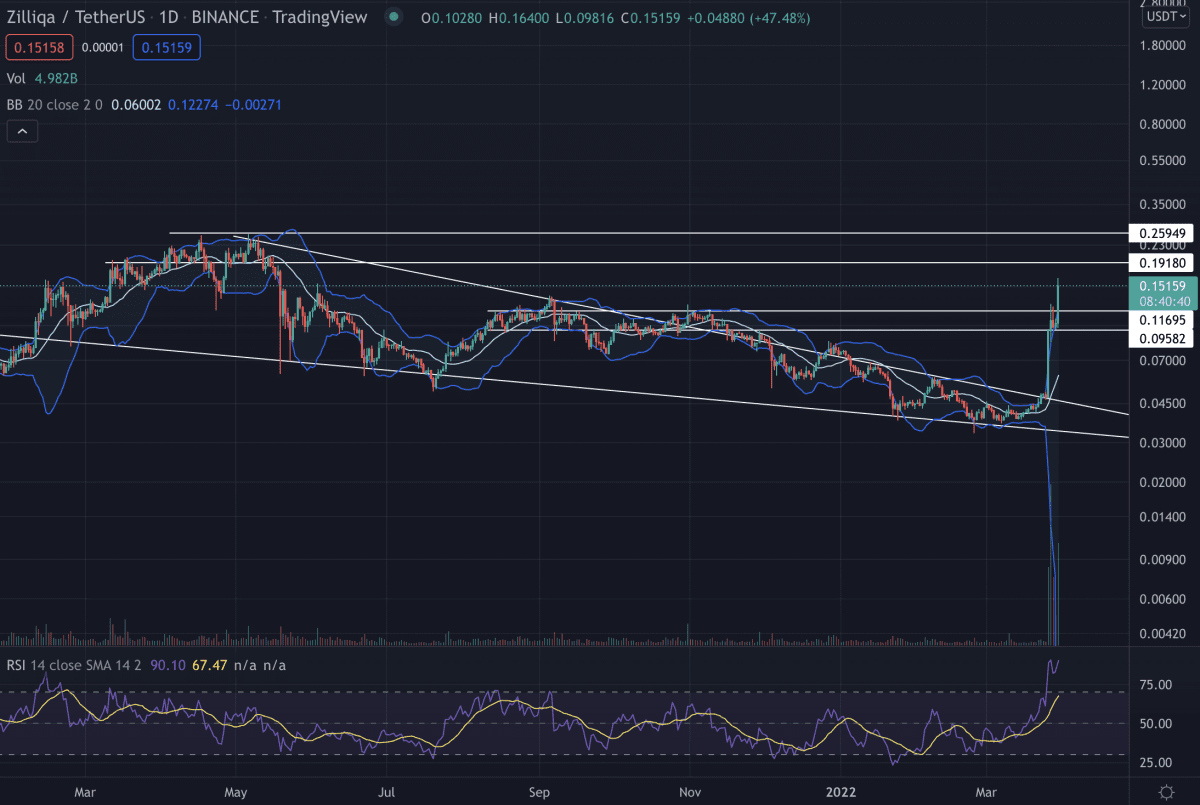 Wat zijn de verwachtingen voor de komende periode voor ZIL?
Wil jij up-to-date blijven van het nieuws, meer technische analyse voor ZIL ontvangen of hier vragen over stellen? In de Crypto-insiders premium omgeving voor leden bediscussiëren we bitcoin en crypto nieuws en blijven we verdere updates met jullie delen. Hier worden ook additionele technische analyses gedeeld over andere coins die in deze rubriek worden behandeld. Overweeg jij een positie te nemen in ZIL? Neem via de premium omgeving voor leden contact op met een van onze analisten en crypto coaches, zij helpen je graag een weloverwogen beslissing te maken.