In deze rubriek blikken we terug op de technische analyses die we via de website met jullie deelde in de dagelijkse cryptocurrency koers-analyses. Hieronder gaan we kijken naar de grafiek van Enjin (ENJ). In deze analyse gaan we onderzoeken of de koers heeft gedaan wat we dachten dat de koers zou doen. Hierdoor kunnen we stellen of het trading plan bijgesteld moet worden of al voltooid is.
Wat werd er de vorige keer gezegd?
In de vorige analyse keken we naar de onderstaande grafiek. Hier zagen we de opwaartse broadening wedge maar ook de interne steunlijn. Hier gaven we aan dat het leek alsof de koers richting de onderkant van de broadening wedge zou bewegen maar dat de steunlijn eventueel ook zou kunnen houden. Mocht dit laatste gebeuren dan zou dat een bullish teken zijn.

Hoe ziet het plaatje er nu uit?
Op het moment van schrijven ziet de grafiek er toch wat anders uit. De steunlijn wist in stand te blijven waardoor we vrijwel direct een bounce zagen op dit niveau. Door deze bounce steeg de koers met ongeveer 50%. Hierna viel de koers echter weer terug naar de steunlijn. Het was mooi om te zien dat deze wederom werd gerespecteerd. De koers wist namelijk dit niveau opnieuw te houden.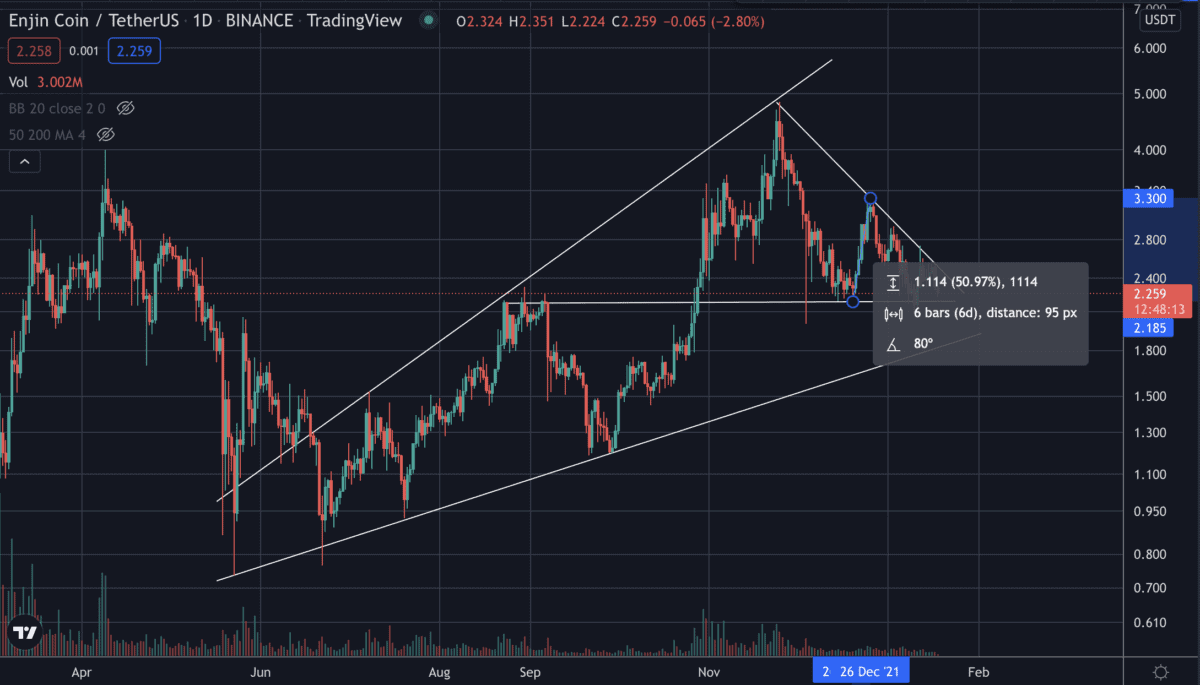 Vanaf dit niveau was daarna dus nogmaals tussen de 23% en 16% winst te behalen. Dit niveau heeft dus aardig wat op kunnen leveren. Op het moment zien we helaas een neerwaartse driehoek vormen rond dit niveau. Een neerwaartse driehoek is vaak een bearish teken. Deze breken statistisch gezien vaker naar beneden uit dan naar boven. Hierdoor is het dus opletten geblazen. 

Wat zijn de verwachtingen voor de komende periode?
Of deze neerwaartse driehoek nog verdere impact gaat hebben op de koers is natuurlijk afhankelijk van een groot aantal factoren die dagelijks verschillen. Overweeg jij een positie te nemen in ENJ? In ons Discord kanaal voor leden bediscussiëren we het nieuws en zullen we verdere updates met jullie blijven delen. Ook zullen hier additionele technische analyses gedeeld worden door een van onze analisten die dieper op de koers ingaan. Je komt hier eenvoudig in contact met onze analisten en crypto coaches, zij helpen je graag een weloverwogen beslissing te maken.