In deze rubriek kijken we naar het onderdeel 'Technische analyse' uit de voorgaande koers-analyses die elke dag worden gepubliceerd. We kijken terug naar wat er gebeurd is en of de getekende steun- en weerstandslijnen daadwerkelijk hebben gefungeerd zoals we dachten. Daarnaast kijken we of de patronen verliepen zoals we dachten dat deze zouden verlopen. Zo weten we ook of we ons handelsplan moeten bijstellen of al voltooid is. In dit artikel kijken we terug naar de crypto-analyse van ICX die op 21 december van vorig jaar is gepubliceerd.
Wat zagen we de vorige keer?
In de vorige analyse viel het ons op de de cryptocurrency een mooi technisch plaatje liet zien. We konden namelijk een lange termijn opwaartse steunlijn vinden op de grafiek. Deze opwaartse trend begon vanaf januari 2020 en was in december 2021 dus nog geldig. In deze analyse zagen we dat de koers de steunlijn opnieuw aan het testen was. Zo'n lange termijn trendlijn biedt natuurlijk een prachtig instapmoment. Op het moment dat het artikel geschreven was stond de koers op $1,25.

Wat zien we nu?
Op dit moment kunnen we zien dat dit inderdaad een prachtig instapmoment was. Over de daaropvolgende week zagen we een harde stijging van ongeveer 60% tot aan de piek. Dit had dus een erg mooie trade geweest. Helaas daalde de koers daarna hard. Deze daling is te verklaren door de correctie die we over de gehele markt zagen. De koers is uiteindelijk toch door de steunlijn gezakt. Het zal nu interessant zijn om te zien of de coin uiteindelijk toch weer boven dit niveau getrade zal worden.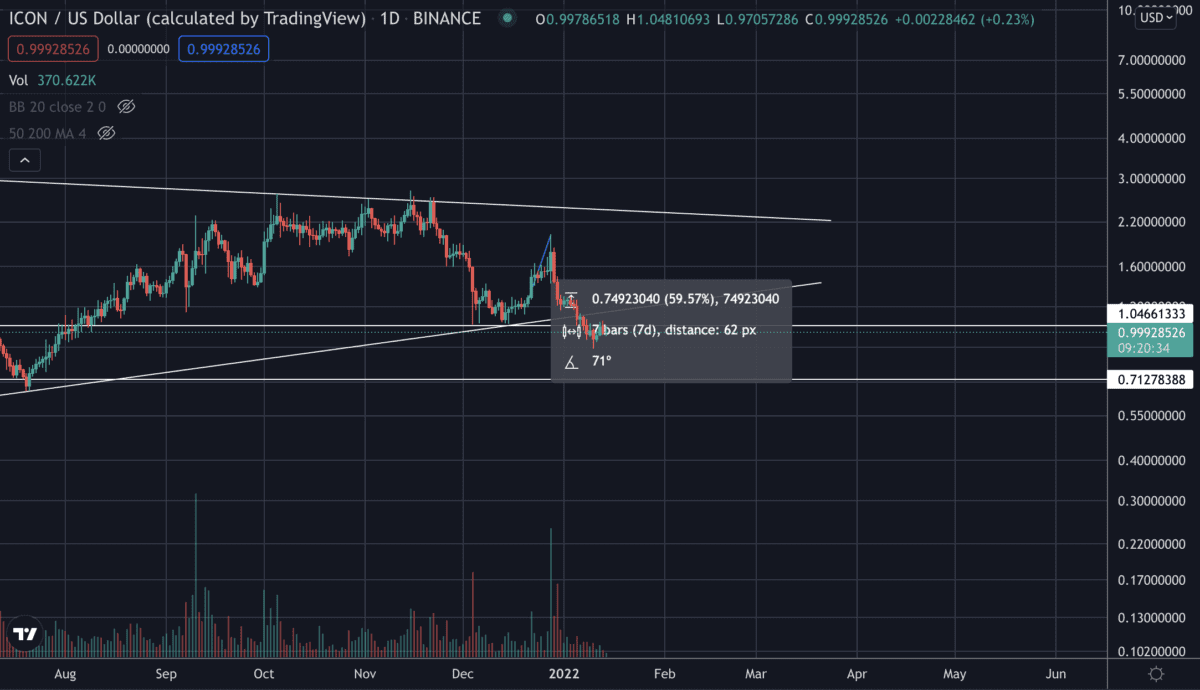 Wat zijn de verwachtingen voor de komende periode?
Of ICX nog verdere kansen gaat laten zien is afhankelijk van een groot aantal factoren die dagelijks verschillen. Overweeg jij een positie te nemen in ICX? In ons Discord kanaal voor leden bediscussiëren we het nieuws en zullen we verdere updates met jullie blijven delen. Ook zullen hier additionele technische analyses gedeeld worden door een van onze analisten die dieper op de koers ingaan. Je komt hier eenvoudig in contact met onze analisten en crypto coaches, zij helpen je graag een weloverwogen beslissing te maken.