In deze rubriek blikken we terug op de premium koers-analyses die elke dag worden gepubliceerd. Hier wordt er gekeken wat er nou precies gebeurd is en of bepaalde steun- en weerstandslijnen of patronen zich uitspelen zoals we dachten dat deze zouden uitspelen. Zo weten we ook of het trade plan bijgesteld moet worden of al voltooid is.
Wat werd er in het vorige artikel gezegd?
In onze vorige kijk naar Polygon (MATIC) zagen we een middellange termijn opwaartse driehoek gevormd worden. De steunlijn was hier al een aantal keer getest. Op dat moment van schrijven was de koers net aan de bovenkant van het driehoek uitgebroken. Hier werd de sluitingskoers van de dag waarop de all-time high is geplaatst getest.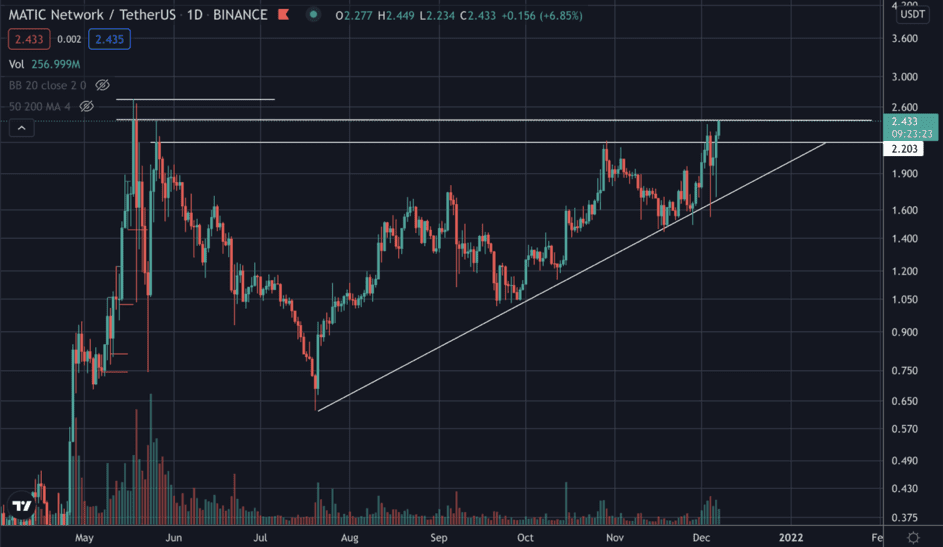 Hoe ziet het er nu uit?
Het technische plaatje ziet er nu echter toch wat anders uit. Waar we eerst naar een uitbraak over de bovenste weerstand keken, zakte de koers toch weer terug de driehoek in. Hier waren we echter op voorbereid doordat de opwaartse steunlijn was getekend. Een retest op dit niveau was al vaker voorgekomen en fungeerde daarom als sterke steunlijn. Een sterke steunlijn die al meerdere keren is getest kan vaak gebruikt worden als entry. De koers is na het bericht en de retest met ongeveer 60% gestegen. Na deze retest is er zelfs een nieuwe all-time high gemaakt. Een trade op de steunlijnen was hier dus een mooie kans.

Wat zijn de verwachtingen voor de komende periode?
De cryptocurrency markt ontwikkelt zich momenteel razendsnel en is continu in beweging. Om deze reden communiceren onze analisten gedurende de dag meerdere updates en analyses in ons Discord kanaal voor leden. Ook zullen hier additionele technische analyses gedeeld worden door een van onze analisten die dieper op de koers ingaan. Je komt hier ook eenvoudig in contact met onze analisten en crypto coaches, zij helpen je graag een weloverwogen beslissing te maken.