In deze rubriek blikken we terug op het onderdeel 'Technische analyse' uit de koers-analyses die elke dag worden gepubliceerd. Hier kijken we terug naar wat er gebeurd is en of de getekende steun- en weerstandslijnen of patronen zich uitspelen zoals we dachten dat deze zouden uitspelen. Zo weten we ook of we ons handelsplan moeten bijstellen of al voltooid is. Hier kijken we terug op de analyse van NEXO.
Wat werd er de vorige keer gezegd?
In de vorige koers-analyse van NEXO hadden we de breder wordende steun- en weerstandslijnen kunnen tekenen en viel het al op dat de koers nog niet helemaal wist welke kant zij op wilde. In het artikel gaven we aan dat het eigenlijk helemaal niet gek zou zijn als de koers terug zou zakken naar de onderste steunlijn. Dit niveau was namelijk al een aantal keer in het verleden getest en bleef elke keer in stand.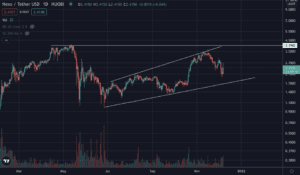 Hoe ziet het plaatje er nu uit?
Het technische plaatje ziet er uit zoals we verwacht hadden. De koers daalde uiteindelijk vrij snel terug naar de steunlijn. Deze steunlijn fungeerde opnieuw perfect als steun en instapmoment. Mocht deze steunlijn inderdaad gebruikt zijn als instapmoment dan was hier op het moment van schrijven een rendement van 26% te halen.
De steunlijnen zijn gerespecteerd door de koers. We zagen een retrace naar de onderkant van het kanaal dat we de vorige keer getekend hadden. Vanaf hier zagen we een bounce van ongeveer 25%. Op het moment van schrijven zijn we nog bezig met een stijging. Het zal interessant zijn om te zien of de koers nog verder zal stijgen. Het is geen verkeerd moment om al een deel winst te nemen.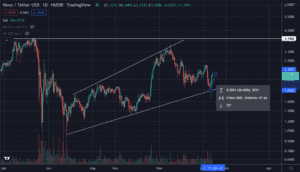 Wat zijn de verwachtingen voor de komende periode?
De cryptocurrency markt ontwikkelt zich momenteel razendsnel en is continu in beweging. Om deze reden communiceren onze analisten gedurende de dag meerdere updates en analyses in ons Discord kanaal voor leden. Ook zullen hier additionele technische analyses gedeeld worden door een van onze analisten die dieper op de koers ingaan. Je komt hier ook eenvoudig in contact met onze analisten en crypto coaches, zij helpen je graag een weloverwogen beslissing te maken.