In de premium omgeving van Crypto Insiders worden dagelijks actuele technische analyses gedeeld door ervaren analisten. De afgelopen periode kwam Ripple (XRP) hier regelmatig ter sprake. In deze rubriek blikken we terug op deze technische analyse en brengen we de recente ontwikkelingen en verwachtingen voor de komende periode in kaart. Mocht je na het lezen van dit artikel nog vragen hebben kun je deze eenvoudig stellen in onze Discord community, hier worden onze technische analyses doorgaans 48 uur eerder gedeeld met onze leden.
XRP is over de afgelopen 24 uur met ongeveer 1% gedaald. Over de afgelopen zeven dagen zagen we een diepere daling. In deze periode daalde de koers met ongeveer 13%. XRP staat op het moment van schrijven op de 8e plaats op basis van marktwaarde.
Wat is Ripple (XRP)?
Allereerst is het erg belangrijk om te weten dat er een verschil is tussen XRP, Ripple en RippleNet. XRP is de valuta die draait op het digitale betalingsplatform RippleNet, dat bovenop de gedistribueerde ledger 'XRP Ledger' staat. Hoewel RippleNet wordt beheerd door het bedrijf 'Ripple', is de XRP Ledger open-source en niet gebaseerd op blockchain, maar eerder op de eerder genoemde gedistribueerde ledger.
Het doel van XRP is om een ​​snel, goedkoper en beter schaalbaar alternatief te zijn voor zowel andere digitale activa als bestaande monetaire betalingsplatformen zoals SWIFT.
Laatste nieuws Ripple (XRP)
Santiment heeft onlangs een interessante grafiek over Ripple gedeeld op hun Twitter-account. Hieruit konden we namelijk opmaken dat, ondanks de harde crypto crash, XRP wel nog erg populair is. Zo zag het netwerk namelijk rond het eind van vorige maand een harde toename in het aantal unieke adressen die actief was op het netwerk.
😮 $XRP is holding up better than most #altcoins on a Thursday #crypto slide day. A couple days ago, the #XRPNetwork exploded with unique addresses interacting on the network, exceeding 200k for the first time since February, 2020. This is worth watching. https://t.co/WNqWhyZjh3 pic.twitter.com/c3nA7YyDn3

— Santiment (@santimentfeed) June 30, 2022
Dit getal schoot namelijk in een korte tijd naar de 200.000, dit niveau hebben we sinds februari 2020 niet meer gezien. Waar de toename ineens vandaan komt is vooralsnog onduidelijk, echter kan het wel een goed teken zijn voor het Ripple netwerk.
Technische analyse XRP
Onlangs hebben de analisten van Crypto Insiders in de Discord omgeving een nieuwe analyse van Ripple (XRP) gedeeld. Hierop is te zien dat XRP mogelijk voorlopig gevaarlijk kan zijn voor de bulls. De koers lijkt een Elliott Wave 12345 patroon te maken, waarbij we op het moment bezig zijn met het afronden van de neerwaartse 5e wave. Dit zou uiteindelijk mogelijk voor een interessante mogelijkheden kunnen zorgen.
De volledige analyse en de updates voor XRP zijn te lezen in de Discord omgeving. Ook kan je direct in contact komen met ervaren handelaren die klaar staan om al je vragen te beantwoorden.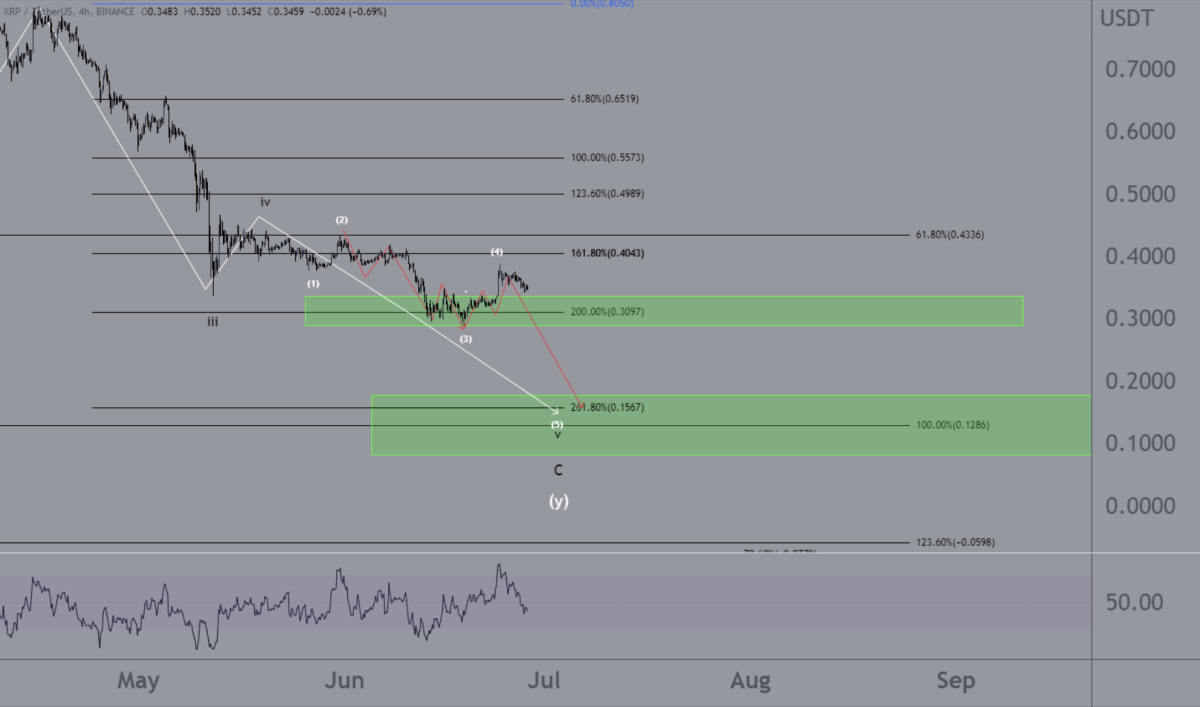 Wat zijn de verwachtingen voor XRP?
Op het moment is er helaas geen roadmap voor dit jaar beschikbaar, dus het is vooralsnog onduidelijk wat het team met het project wil bereiken. Het is echter wel zo dat Ripple op het moment nog erg diep in hun rechtszaak zit. Hier zullen zij waarschijnlijk ook nog wel even zoet mee zijn.
Of bovenstaande ontwikkelingen nog verdere impact gaat hebben op de prijs is afhankelijk van een groot aantal factoren die dagelijks verschillen. De crypto-markt en zwaar onderhevig aan economische gebeurtenissen en traditionele aandelenmarkten. Dit maakt het soms lastig om het juiste moment te bepalen om in een bepaald project te investeren.
XRP kopen of verkopen?
Wil jij graag dit soort koersanalyses van crypto eerder zien? Dan verwijzen wij je graag door naar onze Premium community voor leden. Hier bediscussiëren ervaren analisten en handelaren dagelijks hun eigen handelsplannen. Ook delen we hier regelmatig aanvullende koersanalyses en updates van projecten die we eerder in deze rubriek hebben behandeld. Via Discord kunnen we 24/7 kennis met elkaar delen en proberen we samen met onze leden de markt voor te blijven.
Disclaimer: Beleggen brengt risico's met zich mee. Onze analisten zijn geen financieel adviseurs. Raadpleeg altijd een adviseur bij het maken van financiële beslissingen. De informatie en tips die op deze website worden verstrekt zijn gebaseerd op eigen inzichten en ervaringen van onze analisten en dienen alleen voor educatieve doeleinden.