In de Premium omgeving van Crypto Insiders worden dagelijks actuele technische analyses gedeeld door ervaren analisten. De afgelopen periode kwam ripple (XRP) hier regelmatig ter sprake. In deze rubriek blikken we terug op deze technische analyse en brengen we de recente ontwikkelingen en verwachtingen voor de komende periode in kaart. Mocht je na het lezen van dit artikel nog vragen hebben kun je deze eenvoudig stellen in onze Discord community, hier staan onze technische analyses doorgaans 48 uur eerder klaar voor onze leden.
Wat is Ripple (XRP)?
Het is erg belangrijk om het verschil tussen XRP, Ripple en RippleNet te snappen. Ripple is het overkoepelend bedrijf dat XRP en RippleNet beheert. XRP is weer iets anders dan Ripple. Dit is namelijk de valuta die draait op het digitale betalingsplatform RippleNet dat op de gedistribueerde ledger 'XRP Ledger' staat.
Hoewel Ripple XRP beheert blijft de XRP Ledger een open-source netwerk. Het doel van XRP is om een ​​snel, goedkoper en beter schaalbaar alternatief te zijn voor zowel andere digitale activa als bestaande monetaire betalingsplatformen als SWIFT.
Laatste XRP nieuws
Uit data van het blockchain analyse bedrijf Santiment blijkt dat Ripple ineens enorm populair is geworden onder de whales. Het aantal transacties van meer dan $100.000 steeg namelijk naar een niveau dat sinds mei niet meer was behaald. Daarnaast gaf het bedrijf aan dat het sentiment ook op het hoogste punt is sinds april.
🐳 #XRP is seeing notable whale activity, as well as high optimism, in Friday's closing trading hours. We've picked up a spike of $100k+ $XRP transactions that hasn't been equaled since May 13th. Additionally, sentiment is at its highest since April. https://t.co/lXz1LfyrCR pic.twitter.com/DuEhLrtWfs

— Santiment (@santimentfeed) August 19, 2022
Wat zijn de verwachtingen voor Ripple (XRP)?
Of bovenstaande ontwikkelingen nog verdere impact gaat hebben op de prijs is afhankelijk van een groot aantal factoren die dagelijks verschillen. De crypto-markt is immers zwaar onderhevig aan economische gebeurtenissen en traditionele aandelenmarkten. Daarom is het soms lastig om het juiste moment te bepalen om in een bepaald project te investeren. Een technische analyse kan bijvoorbeeld helpen bij het bepalen binnen welk tijdspan een cryptovaluta interessant (kan) zijn om te kopen of verkopen. Op basis van bijvoorbeeld de beleggingsgeschiedenis en het identificeren van patronen in prijsbewegingen.
Technische analyse XRP koers
XRP heeft over de afgelopen maanden een soortgelijk patroon laten zien als dat bitcoin (BTC) liet zien. De koers bewoog namelijk in een opwaartse trend. Toch is de koers ondertussen aan de onderkant van dit kanaal uitgebroken en lijkt deze trend verbroken te zijn.
Dit is echter eerder ook al gebeurd rond juli dit jaar. De koers wist na deze uitbraak vrij snel weer in het kanaal te schieten. Mocht dit gebeuren kan de trend weer voortgezet worden. Zo niet dan kijken we naar het eerstvolgende steunniveau op $0,308.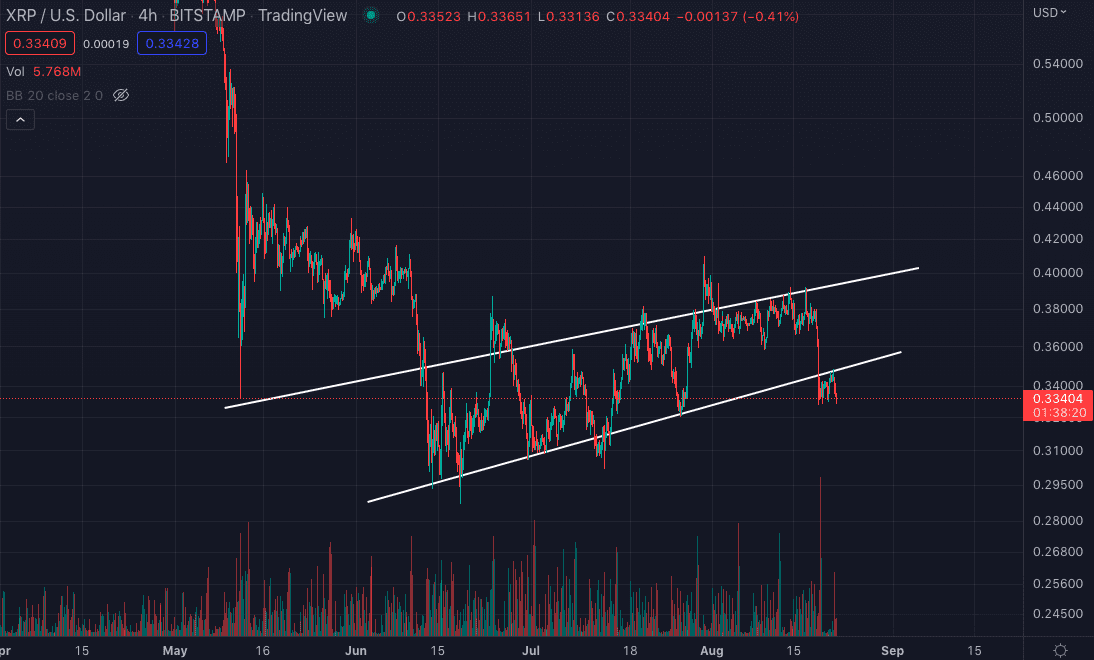 XRP kopen of verkopen?
Zoek jij hulp met handelen in crypto? Dan verwijzen we je graag door naar onze Discord community voor leden. Hier bediscussiëren ervaren analisten en handelaren dagelijks hun analyses en handelsplannen. Ook delen we hier als eerst onze technische en fundamentele analyses. In onze Discord community kunnen we 24/7 kennis met elkaar delen en proberen we onze premium leden op de hoogte te houden.
Disclaimer: Beleggen brengt risico's met zich mee. Onze analisten zijn geen financieel adviseurs. Raadpleeg altijd een adviseur bij het maken van financiële beslissingen. De informatie en tips die op deze website zijn verstrekt is gebaseerd op eigen inzichten en ervaringen van onze analisten. Deze dienen daarom alleen voor educatieve doeleinden.