Dollar Cost Averaging (DCA) is een handelsstrategie die wordt gebruikt om gespreid over een langere periode een positie op te bouwen in een financiële activa. Dit wordt gedaan door regelmatig periodiek een bepaald bedrag te investeren in een bepaalde financiële markt. Deze investeringen kunnen periodiek worden gedaan op basis van een bepaald euro bedrag of een bepaald vast aantal financiële activa. 
Door periodiek in te kopen, bijvoorbeeld elke week of maand, zorgt de investeerder ervoor dat de gemiddelde uiteindelijk inkoopprijs wordt gemiddeld met alle eerdere aankopen. Het is voor een investeerder vrijwel onmogelijk om de markt precies te timen. Een investeerder zal nooit consistent op de bodem kopen en op de top kunnen verkopen.
Deze handelsstrategie zorgt ervoor dat een investeerder de markt ook niet hoeft te timen. Mocht de markt namelijk na de eerste aankoop dalen, is dat alleen maar voordelig aangezien de investeerder bij de tweede aankoop de financiële activa voor een lagere prijs heeft kunnen bijkopen, wat ervoor zorgt dat de gemiddelde koopprijs wordt verlaagd. Mocht de koers van bijvoorbeeld bitcoin (BTC) stijgen maakt dit ook niet uit aangezien de investeerder hierdoor al winst maakt op haar eerdere positie.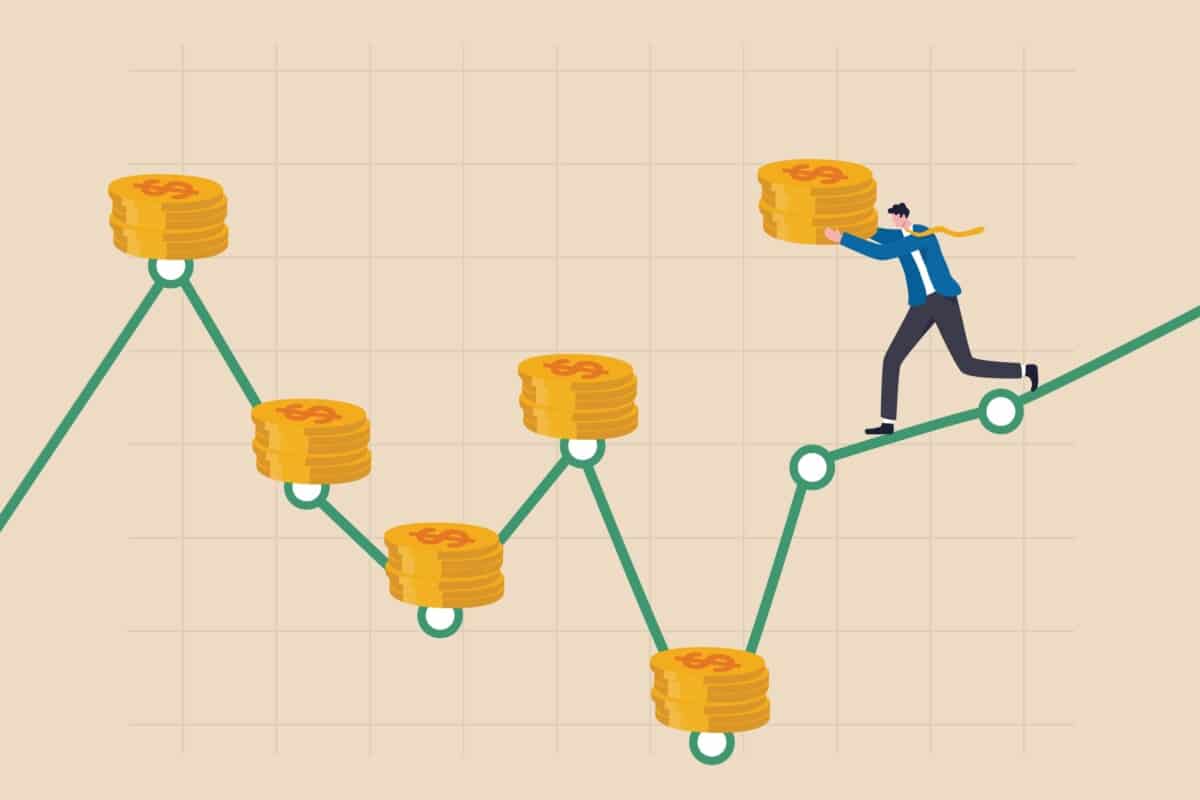 Voor- en nadelen van DCA
Natuurlijk zijn er zowel voor als nadelen aan deze strategie. Een van de voordelen aan deze strategie is dat een investeerder niet meer emotioneel hoeft te zijn in de markt. Een van de meest gemaakte fouten die investeerders maken is handelen met hun emotie. Dit kan zowel inhouden dat ze snel verkopen als de markt naar beneden gaat of te snel willen inkopen als ze FOMO krijgen. Door middel van deze strategie heeft de investeerder een plan gevormd. Zij koopt slechts 1 keer per week of maand en verkoopt pas na x aantal termijnen ongeacht wat de koers doet. 
Deze strategie zorgt er zoals hierboven al aangegeven voor dat de gemiddelde koopprijs omlaag gebracht kan worden. In plaats van dat de investeerder in een klap 10.000 euro investeert voor een bepaalde prijs, wordt dit gespreid over verschillende prijspunten. Hierdoor heeft de investeerder de kans om bij een aantal aankopen om voor een lagere koers te kopen dan dat ze zou doen op moment 1.
Tot slot is een voordeel dat iedereen kan beginnen met investeren via deze strategie. Door bijvoorbeeld elke maand een deel van het salaris te investeren zorgt je ervoor dat je een soort spaarpotje krijgt. Ook al wordt er elke maand slechts een klein bedrag geïnvesteerd, over een langere periode zal dit potje een aanzienlijk bedrag worden, waar de investeerde ook nog de kans op loopt dat het meer wordt als de koersen stijgen.
Hoewel deze strategie na de voordelen erg goed klinkt zijn er helaas ook een aantal nadelen die overwogen moeten worden. Een nadeel is dat veel investeerders zeggen dat je juist een lager rendement krijgt door DCA aangezien de markt in theorie over een langere periode juist alleen maar zou moeten stijgen. Als je je uitkopen uitstelt zou je ze in theorie dus op een later moment voor een hogere prijs moeten inkopen in plaats van dat je alles op één moment zou inkopen. 
Een ander nadeel zijn de transactiekosten. Als je alle transacties over een langere periode spreidt dan moet je per transactie ook vast transactiekosten betalen. Als een investeerder alles in één aankoop zou doen betaald zij daar slechts één keer transactiekosten over. Dit kan eventueel flink in de kosten oplopen.
Dollar cost averaging cryptocurrency & bitcoin
Natuurlijk is DCA ook toe te passen bij cryptocurrencies zoals bijvoorbeeld bitcoin elke willekeurige altcoin.. Hieronder zal een voorbeeld volgen:
Als een investeerder elke maand in 2021 bitcoin heeft gekocht zou het er zo uitzien:
 

Bitcoin

Investering

Aantal aangekocht

Totaalaantal

Totale waarde

01-01-2021

$   28.890,00

$

100,00

0,003461405

0,00346141

$   

100,00

01-02-2021

$   33.137,00

$

100,00

0,003017775

0,00647918

$   

214,70

01-03-2021

$   45.231,00

$

100,00

0,002210873

0,00869005

$   

393,06

01-04-2021

$   58.800,00

$

100,00

0,00170068

0,01039073

$   

610,98

01-05-2021

$   57.798,00

$

100,00

0,001730164

0,0121209

$   

700,56

01-06-2021

$   37.276,00

$

100,00

0,002682691

0,01480359

$   

551,82

01-07-2021

$   35.060,00

$

100,00

0,002852253

0,01765584

$   

619,01

01-08-2021

$   41.449,00

$

100,00

0,002412603

0,02006845

$   

831,82

01-09-2021

$   47.110,00

$

100,00

0,002122692

0,02219114

$

1.045,42

01-10-2021

$   43.828,00

$

100,00

0,002281646

0,02447278

$

1.072,59

01-11-2021

$   61.346,00

$

100,00

0,001630098

0,02610288

$

1.601,31

01-12-2021

$   56.998,00

$

100,00

0,001754448

0,02785733

$

1.587,81

Gemiddelde koopprijs:

$   45.576,92

Winst

$   

387,81
Hier is te zien dat deze investeerder per maand $100 investeerde in bitcoin. Door de fluctuatie in prijs koopt deze investeerder elke maand een verschillend aantal bitcoin. Zijn totale gemiddelde koopprijs over het hele jaar is $45.576,92 per bitcoin. Dit is wel hoger dan de bitcoin koers op 1 januari, maar een stuk lager dan de koers tussen april en mei of november. Zo heeft de investeerder profijt kunnen hebben van eventuele koersfluctuaties om zijn positie uit te breiden.